I have lived in San Mateo County my entire life, and I have recently re-discovered a cultural hot spot hiding at the northern end of the peninsula – San Bruno! If you haven't been here yet or experienced it recently, I highly suggest you stop by for a visit. Whether you are waiting for a flight and have time to kill, or you are looking for a hip new area to explore and enjoy a good meal, San Bruno is a hidden gem in the San Francisco Bay Area. I'm going to break down some of the top things to do in San Bruno for your next visit!

STROLL DOWN SAN MATEO AVENUE

If you are looking for a true Bay Area cultural experience, then walk the streets of San Mateo Avenue in downtown San Bruno. This quaint street is a lively and diverse restaurant scene. From Italian, Mexican, Japanese, and Indian cuisines to a thriving casino, a variety of cultural markets, a hookah lounge, and even a Starbucks – this street has something for everyone! My suggestion, visit Noori, a Pakistani and Indian restaurant offering halal, vegan, and gluten-free options along with their classic menu. The food is spectacular - you can't go wrong when ordering.
 

If you are in town for the night, I suggest staying at the Courtyard San Francisco Airport San Bruno. This convenient hotel is close to the SFO International Airport and offers an on-site restaurant that serves up American fare for breakfast and dinner. They also have a 24-hour fitness center, outdoor patio with a fire pit, free WiFi, airport shuttle, and they are within walking distance from the downtown area on San Mateo Avenue. Need more hotel options? San Mateo County has many hotels to choose from, check them out!

PRO TIP: Atlas Pizza Parlor on San Mateo Avenue has MUST-TRY Tandoori chicken wings - enough said!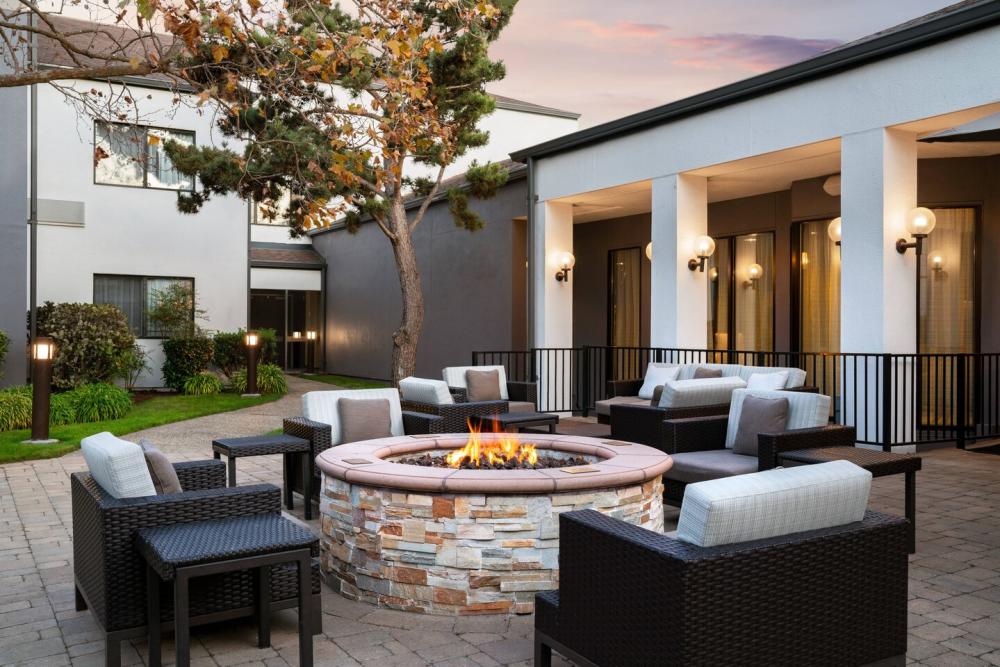 Courtyard San Francisco Airport San Bruno Outdoor Patio with Fire Pit.

UNDISCOVERED PARKS AND HIKING TRAILS

San Bruno is home to many parks and hiking trails, and one of my favorites is the spacious San Bruno City Park, offering shaded walkways and hiking trails, picnic tables, a playground, a small ballpark, a municipal swimming pool, and a recreation center that includes an indoor basketball court once used by the Golden State Warriors for training. In the summer months, be sure to check out our events calendar, as they often host free outdoor concerts in the park.

Another nearby gorgeous park with regional significance is the iconic, San Bruno Mountain State & County Park. This 2,416-acre unique open-space lies untouched amidst much of the Peninsula's urbanization and offers excellent hiking opportunities and outstanding views of San Francisco and the Central Bay Area. No dogs are allowed in this park, but when you visit you'll understand why – this park is home to many endangered local wildlife and plant species, from the San Bruno Elfin Butterfly to the Wild Iris. If you're lucky you may even catch a glimpse of a native bird of prey soaring above the ridge.

PRO TIP: The Ridge Trail is about 2.73 miles and takes about two hours, but the hike is worth the view!
 

SHOPPING!

When visiting San Bruno, I always stop in at The Shops at Tanforan to get my shopping fix. This large shopping center with ample parking is also located adjacent to the San Bruno BART station, making it easy and convenient to get to. The site the mall was built on used to be a racetrack and was home to the famous racing horse Seabiscuit, who was stabled there for some time. Today, there is a gorgeous statue of Seabiscuit greeting mall visitors as they enter. The Shops at Tanforan also have a new rewards program where you can earn points when you shop and dine at your favorite stores - collect points and receive special promotional offers, and exclusive rewards, plus you get 200 points just for signing up! New inside The Shops at Tanforan is the Peninsula Museum of Art, an art museum dedicated to engaging and inspiring the local community with art shows, education, and art programs. Admission is FREE!
 
UNIQUE PLACES TO VISIT

There are a few unique and special places in San Bruno, that have truly become part of the fabric that weaves the culture together. First, Golden Gate National Cemetery – this is a national cemetery covering 161.5 acres with 145,000 mostly military gravesites. Anyone up for some ghost hunting? Joking aside, this is a haunting yet mesmerizing display of gravestones, and the best time to visit is Memorial Day when each grave gets its own small American flag (placed by local Boy Scout troops).

Another site of interest, embedded in an area of cultural diversity and international tourism, is the Wat Buddhapradeep Buddhist temple on Poplar Avenue. If you have never been to a Buddhist temple, now is your chance. Here you can learn about Thai culture and experience this hidden and humble San Bruno gem dedicated to worship and spiritual development. The general public is more than welcome to not only come in and meditate in their spare time but also join the temple for morning and evening chants at 7:00 AM & 7:00 PM.
 

COMING SOON TO SAN BRUNO

For those that don't know, on September 9, 2010, a PG&E gas line ruptured in San Bruno leading to a fire that severely damaged a residential neighborhood, killed eight people, injured 60 others, and destroyed 38 homes. This tragic event led the city to negotiate a settlement, and with this money, San Bruno will be building a new, state-of-the-art Recreation and Aquatics Center. This center will offer a gym, indoor pool, community lounge, community hall, elevated walking track, and event space for all types of community and private events. More to come on this project, so stay tuned for updates!
San Bruno is where all cross-sections of life on the Peninsula come together. It's even where our main highways (101, 280, and 380) intersect. It is where people from all over the world with diverse backgrounds have settled and where they visit, truly creating a city with a vibrant history and colorful stories. I invite you to visit San Bruno and meet the locals, shop the markets, try the food, hike the trails, discover some of these stories for yourself, and hopefully make a few new friends along the way.
 
---

See all that The San Francisco Peninsula has to offer! Order a Visitor Guide today and start planning your trip!