Fall is here on The San Francisco Peninsula! To make the most of the autumn scenery, we've rounded up a list of notable locations perfect for a selfie or Instagram post. From pumpkin patches to apple orchards to stunning sunsets, the region comes alive with color in the fall. These locations are a quick day trip from San Francisco or San Jose, so grab your camera and head out for your next great photo!
 
Pumpkin Patches on The San Francisco Peninsula

Each year, Half Moon Bay becomes a sea of orange as pumpkins take over the landscape. One of the most popular pumpkin farms in Half Moon Bay is Farmer John's Pumpkin Farm, offering more than 60 varieties of pumpkins and squash. Though Farmer John retired in 2021, new owners Danny Lopes and Danny Bretao are maintaining the farm's legacy. The farm is open from 9:00 AM to 6:00 PM daily. Admission and parking are free. Dogs on leashes are welcome. 

Another great spot for pumpkin photography is the family-owned Webb Ranch in Portola Valley. From September 22 through October 31, pick your own locally grown pumpkins perfect for carving or baking, explore their corn maze and haunted house, and take a tractor hayride! It's a perfect event for the whole family. Reservations are required on weekends. Sorry, dogs are not allowed.
For a different kind of pumpkin experience, check out hundreds of one-of-a-kind glass pumpkins at Half Moon Bay Art Glass. Each pumpkin is personally handcrafted by owner Douglass C. Brown, who works year-round to create this spectacular display. Classes are available if you'd like to make your own—be sure to mention LEMON40 for a 40% discount! When you're finished, enjoy a picnic and bocce ball in the gardens next door at pet-friendly La Nebbia Winery.
 
U-Pick Sunflowers and Fall Gardens

Each year, Andreotti Family Farms turns into a glorious field of yellow sunflowers — a remarkable backdrop for photos. The peak season for sunflower picking is between September and October, and guests are able to walk through the fields and pick their own flowers! If you'd like to have a private photoshoot, you may book a 3-hour session when the farm is closed to the general public. If you missed the sunflowers, don't worry! The farm also has a corn maze and a variety of pumpkins to choose from, as well as "sips and snacks" you can enjoy, such as artichoke pesto bread and pumpkin apple cider.
Fall is also a wonderful time to visit the formal gardens at Filoli Historic House & Garden. There are countless paths to take and striking fall colors around every corner. Their 7-acre Gentleman's Orchard is a collection of over 500 fruit trees, including apples, pears, and plums. Orchard Days will be open on Saturdays & Sundays from September 23 to October 29, as well as Monday, October 9. Sit back in a redwood chair while sipping apple cider, and breathe in the crisp autumn air.
Nearby, explore the Elizabeth F. Gamble Garden located in Old Palo Alto. The 2.5-acre property includes formal gardens and a historic home. Relax on one of the benches overlooking the garden, and take in the fall scenery. Gamble Garden hosts several workshops and events throughout the year. Enjoy a tour of the house and garden, or learn how to make a fall flower arrangement or autumn wreath. For families and children, enjoy Second Saturdays with arts and crafts and see live bats at a fun Halloween event!
 
Best Sunset Viewing on The San Francisco Peninsula

For a spectacular fall sunset, head over to the coast and see Pigeon Point Lighthouse. The 115-foot lighthouse is one of the tallest in the United States and has been guiding mariners since 1872. The coastal views are some of the best in the area.
Another option is to head over to Crystal Springs Reservoir. A popular biking spot, the paved Sawyer Camp Trail takes you around the reservoir, offering stellar views of the fall foliage.

You can also explore the Seal Cove Cypress Tree Tunnel at Moss Beach. This beautiful canopy of trees creates an ethereal backdrop for photos.
One of the most scenic and dramatic views of the California sunset can be found at Devil's Slide. The former cliffside section of Highway 1 was sequestered off and was turned into a paved hiking trail for locals and tourists to enjoy. The path is adorned with informative plaques that detail the area's WWII and conservational history. Much of the land surrounding the trail is ecologically protected, so whales won't likely be the only wildlife you view when visiting!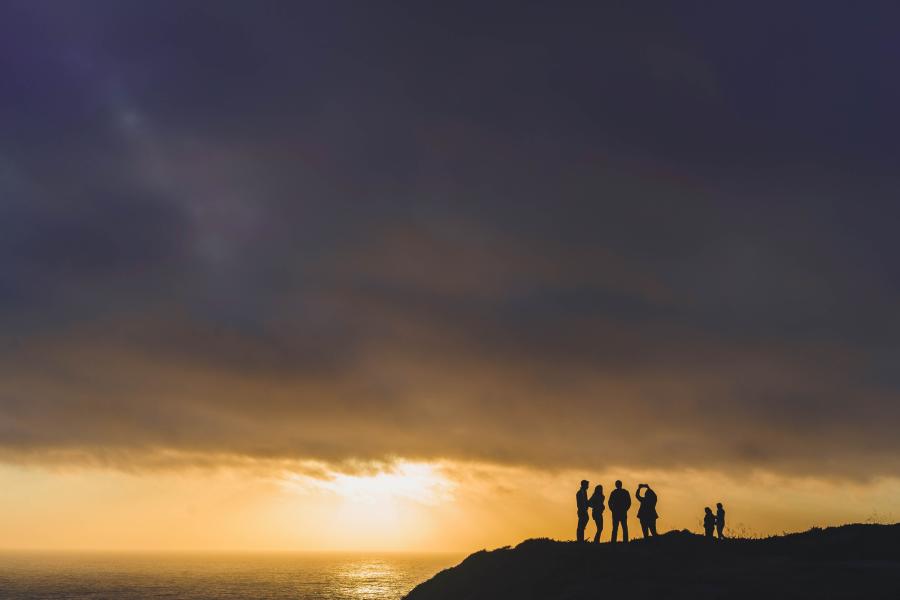 We hope you embrace this spooky season by visiting one of these fall-inspired locations on The San Francisco Peninsula. Let us know if you do by tagging us at @thesfpeninsula.