WILDFIRE UPDATE

Unfortunately, Brisa de Año Ranch was affected by the California Wildfires last week. They have set up a GoFundMe and are asking for supply donations as well as volunteer help to get the ranch back on their feet.

On Sunday, August 16th, an unprecedented lightning storm struck the Bay Area and left many afraid they would lose their homes and land. Brisa de Año Ranch in Pescadero was one of those places. Cole and Verónica Mazariegos-Anastassiou and Cristóbal Cruz Hernández, owners of the ranch, had to take matters into their own hands. "The storm started a few small fires on the mountains around our farm," said Cole. "We thought they would be under control. However, unfortunately, there were not enough resources in our community to stop the fires and they continued to spread."

Cole and Verónica depend on Brisa de Año as it is their livelihood, and as evacuation orders started, they made the decision to stay at their ranch to prevent any more damage. "By Monday night it was getting close, so we used our tractors to start the process of safeguarding our farm by creating a perimeter and moving things out of the way," commented Cole. "By Tuesday evening it started spreading much faster but we wanted to stay there as long as possible. By Wednesday night we had done everything we could to defend ourselves and create firebreaks and we ended up leaving that night. We weren't sure what we would wake up to."

The next morning, when Cole and Verónica returned to their farm, everything within the perimeter they built was still intact. "Throughout the rest of the week and weekend, we were still actively fighting flare-ups as they were coming close to our building and field. We had to turn off our water and electricity so we ended up grabbing buckets and using water from the creek to put out the fires ourselves."

Through resilience and hardship, the community came together. Cole and Verónica teamed up with other local farmers to assist one another. "Out of the 600 or so folks that live in Pescadero, about 300 of us stayed behind to help fight these fires. It was a challenge as we began to run out of resources and couldn't go into town and return because of the evacuation orders," said Cole.

Thankfully, the fires started to die down by Saturday night. "Since then, we have been trying to put back together pieces and replace everything we lost, including tools and infrastructure," commented Cole. "If we all left earlier, our ranch and half a dozen other ranches would have been destroyed."

Although Brisa has been able to manage this situation, the Pescadero community is still in need of help. PUENTE, a community resource center for the South Coast, started an Emergency Fire Relief Fund for South Coast families. Additionally, Fresh Approach, a Bay Area Non-Profit, is providing food to victims who have lost their homes.

"We see this as an opportunity for us to make this area and community better," said Cole.
---


In the small, quiet coastal town of Pescadero lies a 7.5-acre ranch run by three farmers; married couple Cole and Verónica Mazariegos-Anastassiou and their good friend Cristóbal Cruz Hernández. Brisa De Año Ranch started in 2017 and has been providing fresh, delicious produce to neighboring businesses and local folks ever since!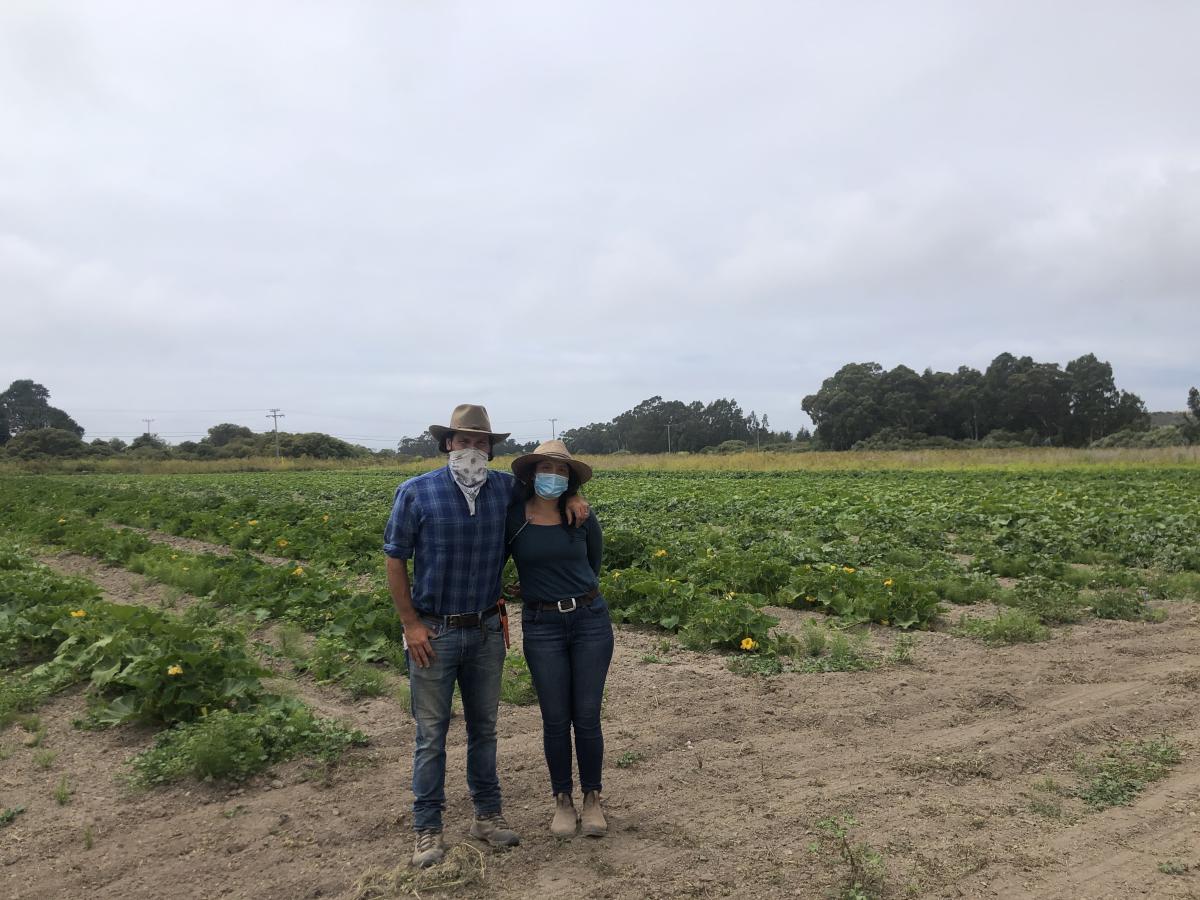 Cole and Veronica, owners of Brisa De Año Ranch
In 2015, Cole was an apprentice at Pie Ranch in Pescadero. In 2016, Cole and Verónica met when she was apprenticing there, as well. Around fall 2017, Companion Bakeshop in Santa Cruz was looking for squash for pumpkin pies. When Cole was asked if there was extra space in his field to grow, they were unfortunately maxed out on their crop plan. "Verónica and I were chatting one day and decided to rent out an acre somewhere to grow some squash. We wanted Cristóbal, farm manager at Pie Ranch and a very gifted farmer, to come on to our team and help us out," said Cole. "At the time, the Pie Ranch operation closed down, and because they had invested so much in growing organic, fresh produce, we proposed that we can help farm an acre that will go to the pies. It became a way to keep production going," said Verónica.
That following spring, Cole, Verónica, and Cristóbal planted squash crops, and it was only a matter of a few months until local restaurants reached out with interest in their products. "That's when we began to start planting more," Cole said.
Now, Brisa de Año grows over 50 varieties of crops! With a coastal climate that creates a great space for farming that is "not too hot, not too cold, but in a sweet spot," commented Cole, they have been able to maintain a wide and diverse range of crops. Plus, they are always willing to experiment with different crop varieties. They even have crops you wouldn't be able to find here. "Cristóbal is from Oaxaca, so sometimes he will incorporate seeds from Oaxaca, like the Chile de Agua pepper, a rarer heirloom pepper that is very spicy, but we love them!" said Verónica.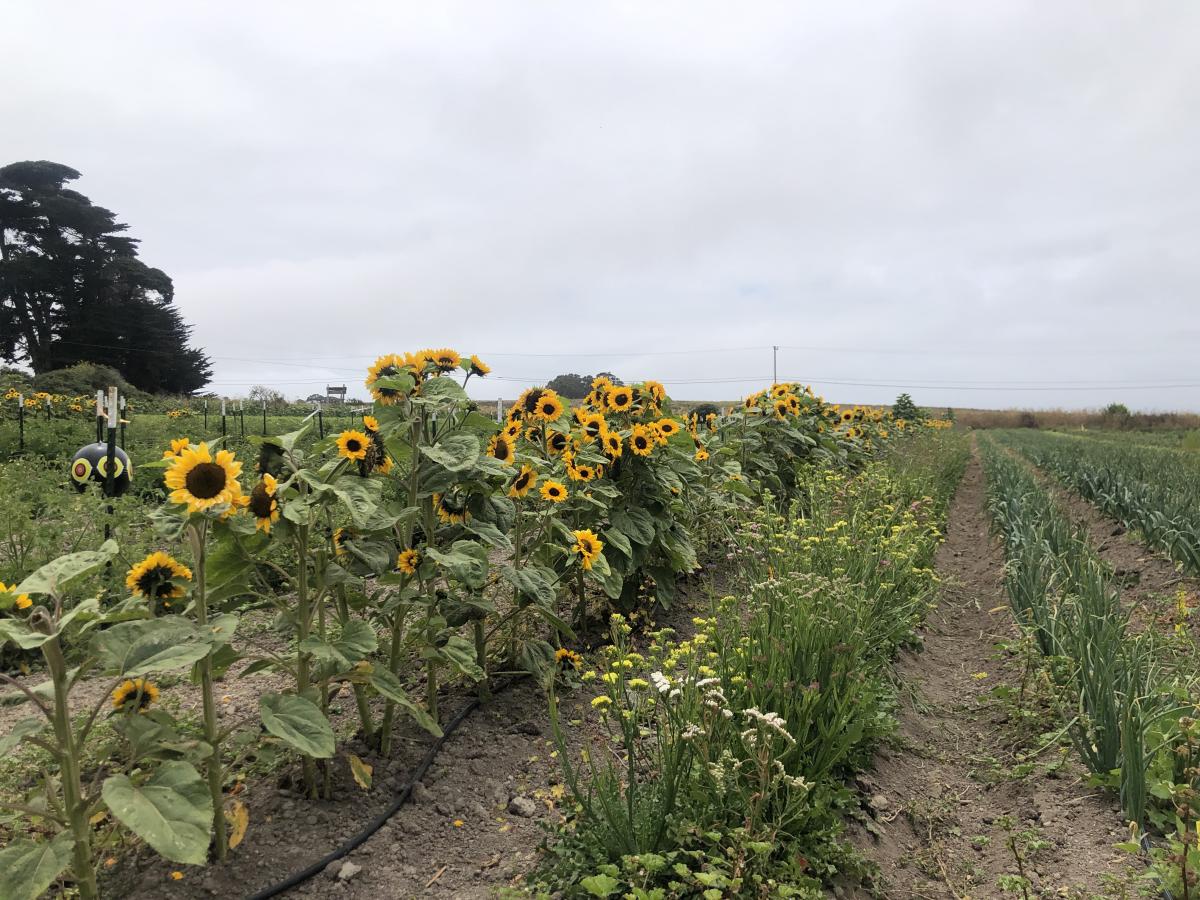 From multiple species of tomatoes, peppers, potatoes, beans, flowers, cucumber, squash, beets, spinach, herbs like cilantro and basil, and the list goes on, Brisa de Año has been extremely successful with their crops. So successful, that they are currently offering CSA boxes to folks who want fresh produce at home! Currently, they have 80 members. "We weren't planning for CSA to be that large, but it is a great outlet and way to build a community around your farm. Because of COVID, we have had to lean more into it, there is more of a demand and interest," said Verónica.
Currently, their produce is distributed to around eight or nine different local restaurants, with most of them being on the coastside, including Pasta Moon Ristorante and Costanoa's Cascade Grill & Bar. Cole admitted, "This year is different because many restaurants aren't buying as much." However, the popularity of the CSA box subscriptions has helped their business immensely. Their CSA subscription is currently full, but folks can sign up for the waitlist on the website. Their online store should be up fairly soon.
Verónica and Cole have also been able to distribute their produce in an ethical way through the USDA farmers-to-families food box program. "The idea is connecting small farmers to families that need food," Verónica explained. "This program makes it possible that we can get a fair price while giving back to families that can't pay for food right now. We feel strongly that this is important and we want to keep contributing."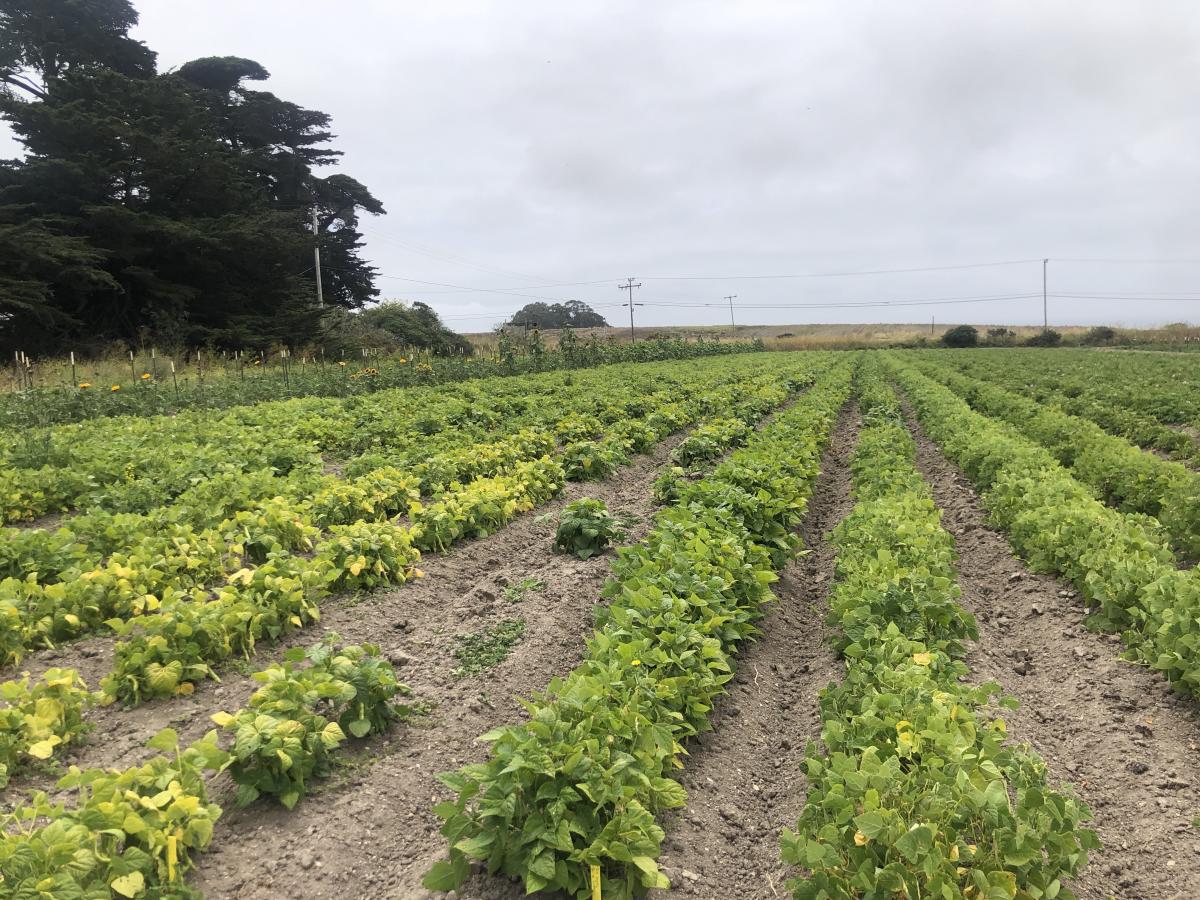 Another way Cole and Verónica have been able to sustain their business is by partnering with other local businesses. They are currently farming alongside their good friend Gabi Lee, who started a new business doing cut flowers and dry flowers, called Lunaria Flower Farm. "A big part of our farming approach and philosophy is to create a very diverse ecosystem," said Verónica. "Flowers are a huge component of that. When you're farming for food, it's hard to keep track of flowers too, so Gabi has joined us to collaborate."
Overall, Cole, Verónica, and Cristóbal have been able to create and maintain an incredible farm, all while providing a beautiful array of produce to locals, while also giving back to the community. Although their operation is fairly small, their contributions are grand. "We love it here," said Cole. "We want to be here for the rest of our lives. This is our community, and this is where we always want to farm."
 
---

See all that The San Francisco Peninsula has to offer! Download our visitor guide today and start planning your trip!