Get into the spooky season with these fun Halloween events! The San Francisco Peninsula offers several Halloween happenings in the fall, from haunted hay mazes to kid-friendly activities. Be sure to check our events calendar for even more things to do this fall. 
 
Tricks and Treats at California's Great America
Select Dates, September 23 - October 30, 2022
When you arrive to California's Great America this fall, do you dare explore the Land of Tricks full of spooky adventures? Or do you stroll the charming boulevards of the Land of Treats with all the nostalgia of a cozy fall festival? Luckily, you can do both at this family-friendly festival. Be sure to save time for their popular rides!
Webb Ranch Pumpkin Patch & Haunted House
September 23, 2022 - October 31, 2022
Find a variety of pumpkins at family-owned Webb Ranch in Portola Valley for carving, baking or decorating. Weekday activities include a bounce house, haunted house, corn maze, and obstacle course. Reservations are required on Saturdays and Sundays, which include all the weekday activities plus a petting zoo, tractor hay rides, and reptile zoo! 
Arata's Pumpkin Farm & Halloween Hay Maze
October 1 - October 31, 2022
Kids and adults alike love Arata's Pumpkin Farm, famous for its two-acre hay maze. Additional attractions include the haunted barn, petting zoo, hay rides, and pony rides. Stop by with the whole family for a day of fun and pumpkin picking.
Halloween Haunted Hangar at Hiller Aviation Museum
Saturday, October 22 - Monday, October 31, 2022
Visit the Hiller Aviation Museum this October for a frightful treat! Come in costume and see the Gallery decked out in its spooky Halloween decorations and the "Great Pumpkin" Scavenger Hunt. Join the excitement with special activities just for kids on the weekends during the Kids' Carnival and Haunted Hangar Festival & Pumpkin Drop. Activities include aircraft checkouts, cockpit exploration, glider and helicopter construction, and more.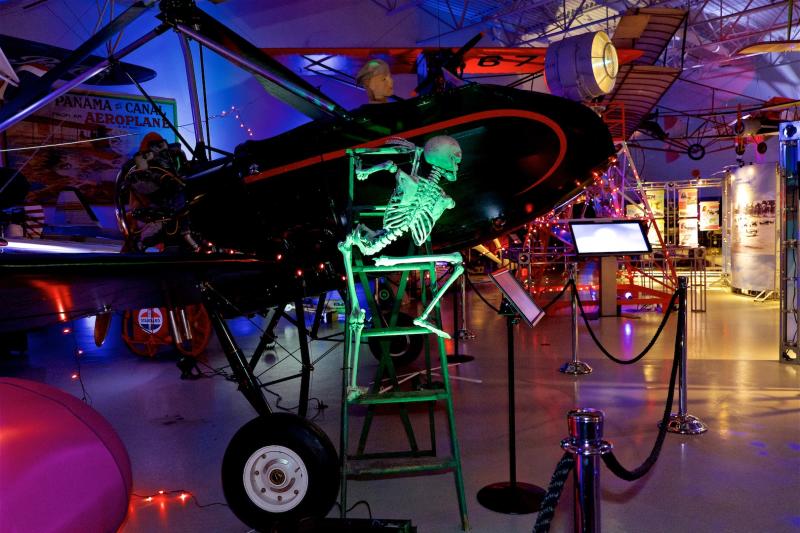 Photo courtesy of Hiller Aviation Museum
Halloween Spooktacular in Redwood City
Saturday, October 22, 2022
Step right up for some carnival games and a whole lot of fun! This event in Redwood City is geared entirely toward children ages 1-10 (with admission for two adults with each child). Enjoy a monster maze, creepy crafts, pumpkin patch, prizes, and more. Pre-Registration is encouraged to secure your spot.
Halloween Slime Workshop at Hillsdale Shopping Center
Saturday, October 22, 2022
Create your own concoction at Hillsdale Shopping Center during a one-hour Halloween Slime Workshop hosted by The Slime Kitchen in the Lower Level, Nordstrom Court. This event is perfect for kids, and you can plan to grab lunch before or after the event at one of the center's many restaurants. Space is limited, so reserve your spot today.
Halloween Spectacular in Pacifica
Saturday & Sunday, October 22 - October 23, 2022
The 18th annual Halloween Spectacular in Pacifica is back with some tricks and treats! Head to the carnival to play games and win prizes. For those who dare, enter the haunted house and try to escape your way out. (Sunday will feature a less scary house great for kids ages 10 and up.) Purchase your tickets in advance for a discount.
Blind Testing White Wines at San Francisco Wine School
Tuesday, October 25, 2022
Try something different this Halloween and learn how to distinguish different varieties of wine. San Francisco Wine School has multiple in-person and virtual courses focusing on different aspects and regions of wine. Participants will get to sample several different varieties and advance their wine knowledge.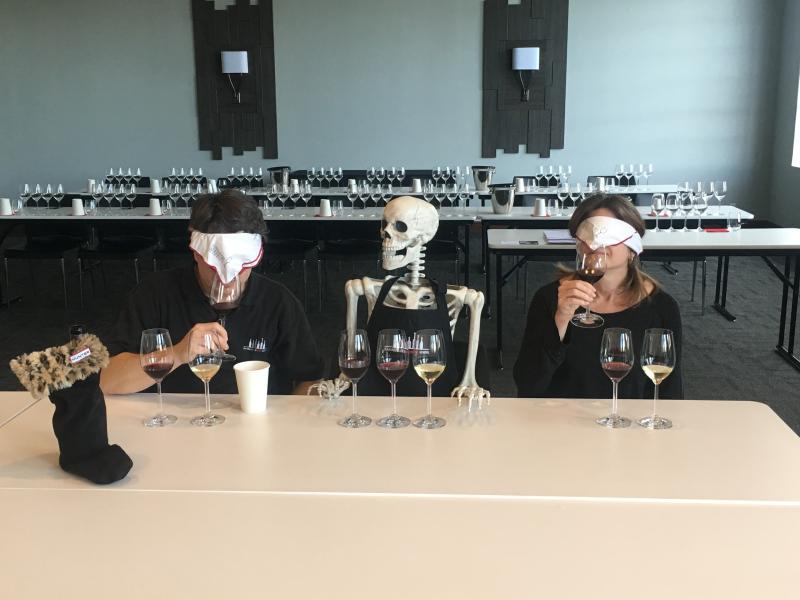 Photo courtesy of San Francisco Wine School
Bats, Bats, and More Bats at Gamble Garden!
Saturday, October 29, 2022
Start your Halloween weekend with a fun-filled morning of trick-or-treating, crafts, and live bats at Gamble Garden! Participants can choose to come in costume for this family-friendly event.
 
Fifth Annual Burlingame Fall Fest
Sunday, October 30, 2022
This free community event in Burlingame will feature live entertainment, a petting zoo, a kids' zone, a beer garden, food trucks, and much more!