Planning to head out to grab something to eat, but your dog is giving you those famous, sad "puppy eyes"? As a dog owner you have most likely experienced this, and I know how terrible you feel leaving your best bud behind. Fortunately for you and the pup, our destination features many dog-friendly restaurants that offer you the opportunity to go out together. From restaurants with dog-friendly patios and gardens, to those with gorgeous, scenic views, here are some of the best restaurants for humans and dogs alike!
 
Moss Beach Distillery Restaurant
Where: Moss Beach, CA
Let's kick things off by heading to the coast, where there are plenty of options. The first place to add to your list has to be The Moss Beach Distillery Restaurant. This restaurant overlooks the stunning Fitzgerald Marine Reserve and it is a wonderful dog-friendly restaurant that offers you and your furry friend, spectacular ocean views on one of the largest outdoor patios on the coast. This restaurant encourages you to bring your dog, and offers a wide range of amenities such as dog beds, disposable water bowls and a unique dog menu, where each dog meal is garnished with a complimentary milk bone!
 
Half Moon Bay Brewing Co.
Where: Half Moon Bay, CA
Next up is a restaurant and brewery located in Half Moon Bay . The Half Moon Bay Brewing Co. offers a spacious, dog-friendly outdoor patio with great views of Pillar Point Harbor. Dogs have water bowls and complimentary treats, as well as their own "dog menu" featuring a Doggie Grilled Burger and a Grilled Doggie Chicken Breast. So sit back, grab a beer, order some food for two, and enjoy the views!
 

Photo courtesy of Half Moon Bay Brewing Co.
Fortunately for you and the pup, our destination features many dog-friendly restaurants that offer you the opportunity to go out together.

Sam's Chowder House
Where: Half Moon Bay, CA
Continuing the coastal trend, the next restaurant on our list is Sam's Chowder House. Nestled on a cliff overlooking the Pacific Ocean, Sam's offers true oceanfront outdoor dining, with gorgeous coastal views and stunning sunsets. Their dog-friendly patio welcomes pups to enjoy the crisp, salty ocean air and experience a great coastal outing. Patio seating is first-come, first-served, and it's often filled with joyful doggies. Make sure to plan your visit with anticipation and enjoy tasty seafood together with your best friend!
 
Waterdog Tavern
Where: Belmont, CA

Head over the hill via Highway 92 to the City of Belmont, where you'll find the widely popular Waterdog Tavern. This restaurant features a newly renovated, spacious Beer Garden that offers lovely views of the oaks and, most importantly, it welcomes your four-legged friends anytime! The food is delicious, plus they offer 28 beers on tap and have a fantastic selection of hand-picked wines and amazing cocktails. Furthermore, Water Dog Lake Park & Open Space is just a short drive away, so you and your dog could head there and walk off the meal.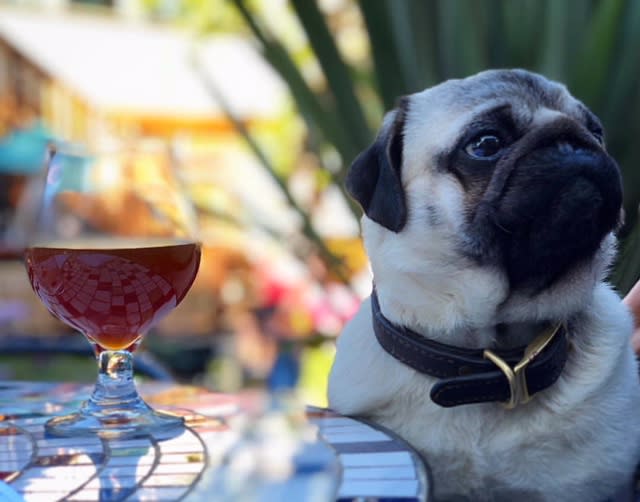 Photo courtesy of Waterdog Tavern
 
Kincaid's
Where: Burlingame, CA
Last but definitely not least is Kincaid's. Located in Burlingame, it sits right on the water and offers magnificent views of the San Francisco Bay. An outdoor patio is dog-friendly, so your furry friends are welcome to join you for lunch or dinner. Their menu features artfully served quality steaks and fresh, innovative seafood every day. They also have weekly Happy Hour, which gives you a perfect excuse to come out for a visit!
 
Photo above courtesy of Moss Beach Distillery Restaurant
 
For more information on pet-friendly establishments and activities, please visit the pet-friendly section on our website.
 
See all that The San Francisco Peninsula has to offer! Order a visitor guide today and start planning your trip!