THE BEGINNING

Dominick Chirichillo's first wine memory took place in his grandfather's basement in Staten Island, New York. He vividly remembers fighting with his cousins over who got to press the bar of his grandfather's wine press when he was just two years old. Now, owner of Domenico Winery & Osteria, Dominick tells us how it all got started.
Back in 1987, Dominick was in the real estate business in New Jersey. One day out of curiosity he decided to make a couple of barrels of wine using his grandfather's press and hand crusher. "It took six hours just to crush the grapes!" exclaimed Dominick. The wine came out great and he shared it with family and friends. With great reviews, Dominick invited more people to taste his wine and within the next year, what was once two barrels of wine, turned into 20!
As he continued to grow as a winemaker, Dominick proceeded to officially receive a license to make wine in the state of New Jersey. He created the Bacchus Winemaking Club, where people could be taught how to make their own wine. He owned the business for many years until finally selling it three years ago. Nevertheless, he continues to teach people in-house at Domenico Winery.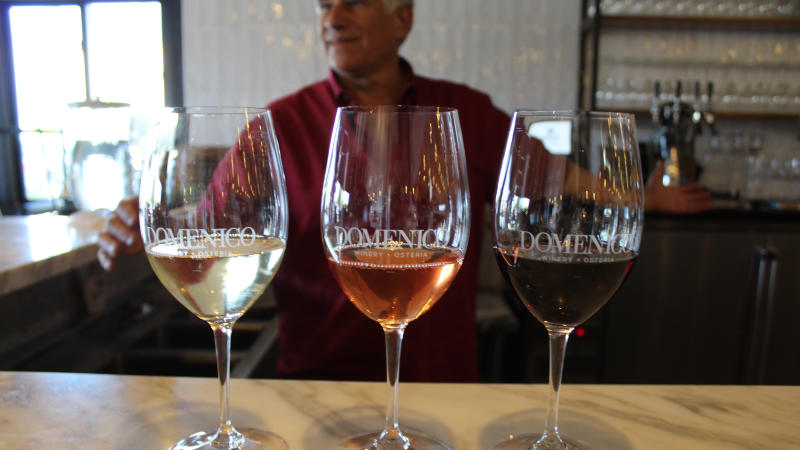 THE WINERY

Located in San Carlos, CA, Domenico Winery & Osteria first opened its doors on June 2004. It all started when Dominick and his wife, Gloria, decided to move to San Mateo County from the east coast in order to establish their own vineyards in Amador County. The winery was named after Domenico Giovinazzo, Dominick's grandfather and winemaking mentor. Dominick's passion is to make Italian varietals—he's currently pushing about eight to ten varietals of Italian descent—producing over 22 different types of wine. Just last year, they crushed 180 tons of wine, and this year they project about 150-160 tons. Dominick loves his Syrah since he grows it himself, and the Primitivo, which is one of the biggest sellers.
We asked which one was his favorite. Dominick smiled and said, "My favorite wine is the one in my glass."
Regardless, Dominick still believes the wine business is not easy and is truly a business of passion. "I read somewhere that being passionate means to struggle and persevere. Here, the competition is huge as there are about 600 wineries just in California," Dominick exclaimed regarding the competitive nature of winemaking. Nonetheless, Dominick is always open to help others venture into the industry. They serve as an incubator for wineries that want to get started, offering the use of their in-house equipment and custom crushes.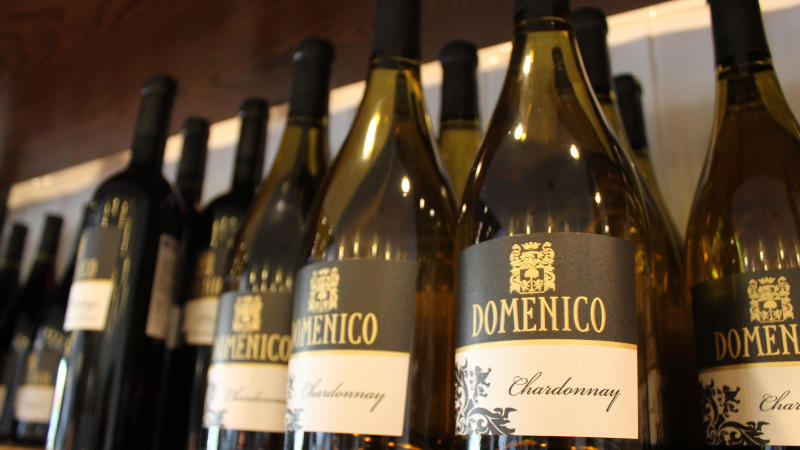 Although Dominick helps teach people how to make wine, he admits that he is still researching and teaching himself as much as he can about winemaking and continuously looking for ways to make better wine. "You can never know enough!"
Domenico Winery just finalized a major renovation and the winery has expanded to an Osteria, which serves stone hearth pizzas, Paninis, salads and more. "Our pizzas are dynamic. The food is good and most of it is predominantly from scratch," Dominick said about his new Osteria menu.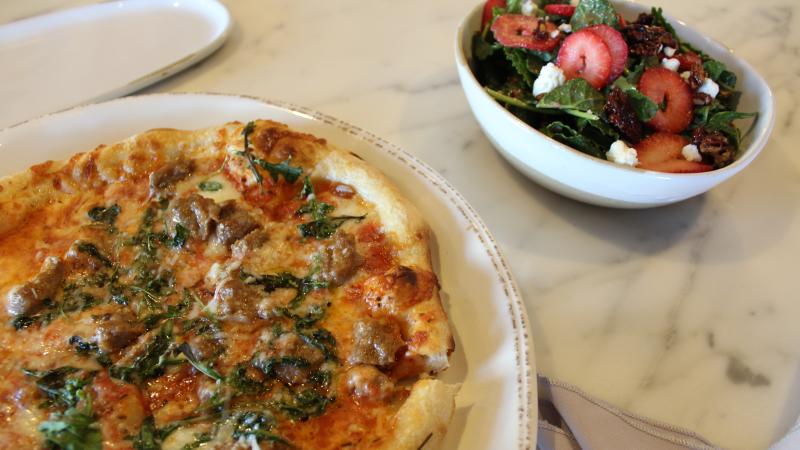 They also have a wine club that offers great discounts. There's no fee—just a guarantee that you'll purchase at least two bottles four times a year. You get a 20% discount on bottles and a 30% discount on cases. In addition, when you're having dinner, there's no corkage fee and you may also use the discount at the Osteria.
Check out the newly remodeled Domenico Winery & Osteria, open Wednesday through Saturday 11:00 AM to 7:00 PM and Sunday 12:00 to 6:00 PM.

In honor of California Wine Month, Domenico is offering a "Pizza and Wine Pairings" deal. Enjoy a different pizza and wine bottle pairing each week of the month at a discounted rate.
Here's the menu schedule:
September 12-13, 2019: Nero d'Avola & Margherita Pizza - $42
September 18-20, 2019: Sagrantino & Truffle Pizza - $46

Domenico Winery & Osteria is located at 1697 Industrial Road, San Carlos, CA 94070. 
 
---

See all that The San Francisco Peninsula has to offer! Order a visitor guide today and start planning your trip!