Springtime is finally upon us, and that means Easter is just around the corner! If you're on the hunt for some fun Easter activities to do on The San Francisco Peninsula, there are plenty of options that will satisfy both kids and adults alike. From egg hunts to brunches and more, there's something for everyone to enjoy this season! 

Fill Your Baskets With Easter Treats

No Easter celebration is complete without indulging in some delicious treats. If you're looking for local businesses to support and unique Easter sweets to try, check out these recommendations.
1. Sweet55, located in Half Moon Bay and Palo Alto, is whipping up some gourmet chocolate Easter bunnies and eggs. Their Easter assortment boxes tied up with a pink bow are simply too cute to resist!
2. Gourmet Haus Staudt brings one-of-a-kind German goods right to downtown Redwood City and is a must-visit for those looking for unique Easter candies, chocolates, and more. They also have a beer garden in the back of the store, making it the perfect spot for a refreshing drink after browsing their market in the front.
3. Bonjour Bakehouse in San Mateo is offering a delectable Easter box filled with mouthwatering goodies. Enjoy assorted cookies, mini scones, a choice of hot drinks, and more. 
4. Sibby's Cupcakery, located in San Mateo, always knocks it out of the park with their seasonal baked goods. Check out their Easter offerings for some sweet treats that are perfect for sharing with loved ones.
5. Half Moon Honey packages their local honey in the most adorable mini-bear bottles, which make for the perfect topper for any Easter basket. 
6. See's Candies, made in South San Francisco, is a well-known and beloved candy company that has been offering delicious chocolate Easter treats for over 100 years. 

Easter Brunch: Where to Eat on The San Francisco Peninsula
Easter is the perfect time to gather with loved ones, enjoy delicious food, and celebrate the spring season. If you're looking for the best Easter brunch spots on The San Francisco Peninsula, we've got you covered! 
Navio, located at The Ritz-Carlton, Half Moon Bay, offers an impressive selection of culinary delights along with stunning ocean views. From April 8-9, 2023, guests can enjoy a delicious Easter Brunch. Reservations can be made on Tock.
The Four Seasons Hotel Silicon Valley is also hosting an Easter Brunch at Quattro on April 9, 2023, offering a luxurious and delicious dining experience. Executive Chef Daniel Garcia and his culinary team have put together an extensive menu that includes live stations featuring fresh seafood, a carving station, and a mimosa and cocktail station. Children will also enjoy the time-honored egg hunt! Reservations can be made online via OpenTable.
Another great option for an Easter Brunch is at Osteria at Domenico Winery. On April 9, 2023, from 10:30 AM to 3:00 PM, indulge in traditional breakfast favorites as well as omelet and carving stations. Reservations are recommended via OpenTable.
Par 3 at Poplar Creek is also offering an Easter Brunch on April 9, 2023, with a carving station, fresh seafood station, and more. Enjoy the beautiful golf course views while you indulge. Don't forget to save room for the seasonal desserts! Make your reservation via OpenTable.
In Redwood City, Grand Bay San Francisco is hosting a delectable Easter Brunch on April 9, 2023, from 11:00 AM to 2:00 PM. Menu highlights include assorted charcuterie and cheeses, a raw seafood bar, prime rib, roasted leg of lamb, and more. Make a reservation on OpenTable.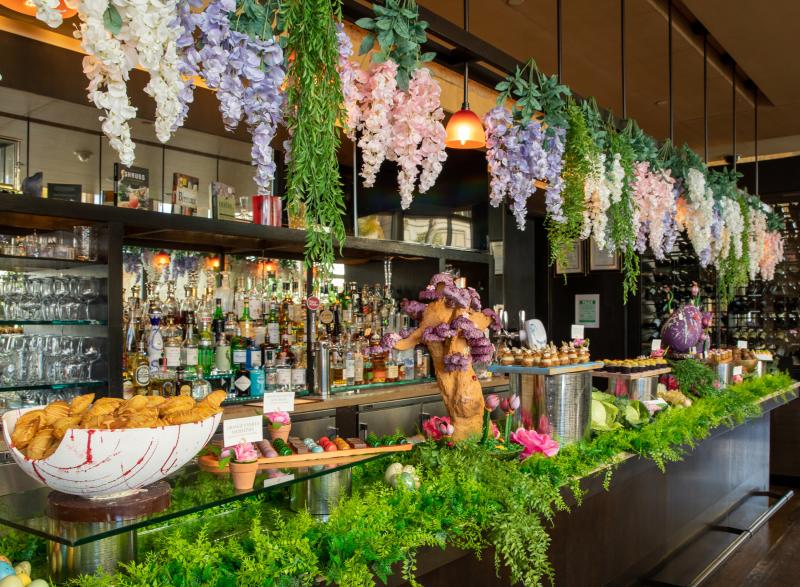 Photo courtesy of Four Seasons, Silicon Valley

Easter Bunny Pictures

Get ready to hop into the Easter spirit with some fun and festive photo opportunities! The South San Francisco Parks and Recreation Department is hosting its 92nd Annual Easter Bunny Experience on Saturday, April 1 at the Joseph A. Fernekes Building patio in South San Francisco's Orange Memorial Park. You won't want to miss out on the chance to take a photo with the Easter Bunny and participate in a small-scale Easter egg hunt. Registration is required, so make sure to sign up ahead of time!
If you're looking for another exciting Easter Bunny photo op, head over to the Hillsdale Shopping Center in San Mateo. From April 1-2 and 6-8, the Easter Bunny will be nestled in his cozy garden corner, ready for photos with the kids. Catch the Easter Bunny in action at Macy's Center Court, The Dining Terrace, and North Block.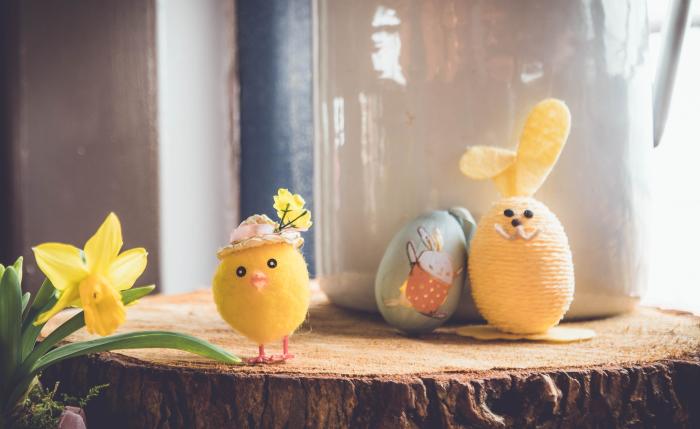 Easter Events on The San Francisco Peninsula

Looking for some egg-citing Easter events and activities on the San Francisco Peninsula? Look no further! Check out some of our top picks.
Eggstraordinary Easter Egg Hunt at Roaring Camp Railroads - Hop aboard the Redwood Forest Steam Train to Bear Mountain for an Easter Egg Hunt on April 8 and 9, 2023. Don't miss your chance to meet the Easter Bunny in person!
Easter Bunny Arrives by Helicopter at Hiller Aviation Museum​ - Get ready for a high-flying Easter celebration at the Hiller Aviation Museum's Easter Eggstravaganza on April 8, 2023. Watch as the Easter Bunny arrives by personal helicopter, and enjoy face painting, a bounce house and slide, and a model train display.
For more fun ideas for things to do this spring, be sure to check out our dedicated page for all things Spring!
 
---