As our destination continues to move through phases of reopening, outdoor dining in San Mateo County and Silicon Valley is now available at many of our favorite restaurants. And now that we are in the summer months, you can safely enjoy a meal in the warm, fresh air!

With the weather warming up, many of our downtown locations have closed streets to offer safe, social distancing while dining outdoors. Everyone is welcome but if you are planning to dine outside, please make sure to bring and wear a face covering. Although, face coverings are not required while seated at your table while dining, it is mandatory to wear them while walking in public. Please help us keep our visitors and residents safe and healthy during the reopening.

Scroll down to learn more about the downtown areas in San Mateo County & Silicon Valley offering outdoor dining!

DOWNTOWN SAN MATEO

Moving south, the City of San Mateo has closed B Street between Third and First Avenues to vehicular traffic in order to allow outdoor dining in downtown San Mateo. They have also installed parklets by creating barricades parallel to the sidewalk so that tables and chairs can be placed in the on-street parking spots. These parklets are ADA-accessible, and there are short-term parking spaces near some corners to accommodate deliveries and curbside pickup orders.​

If you're looking for Asian cuisine, Attic, located on B Street between Second and Third Avenues, serves delicious fare that is a modern interpretation of dishes from the Philippines, Thailand, Vietnam, Malaysia, Indonesia, China, Korea, and more!

Perhaps you're craving pizza? Amici's East Coast Pizzeria on Third Avenue offers delicious pizza, pasta, and salads, all cooked with high-quality ingredients and to perfection! Inspired by the traditional Italian brick oven pizzas of New England, their stone ovens produce thin crusts that are crisp yet slightly chewy -- if you're a crust lover, you will find their pizzas to be absolutely scrumptious!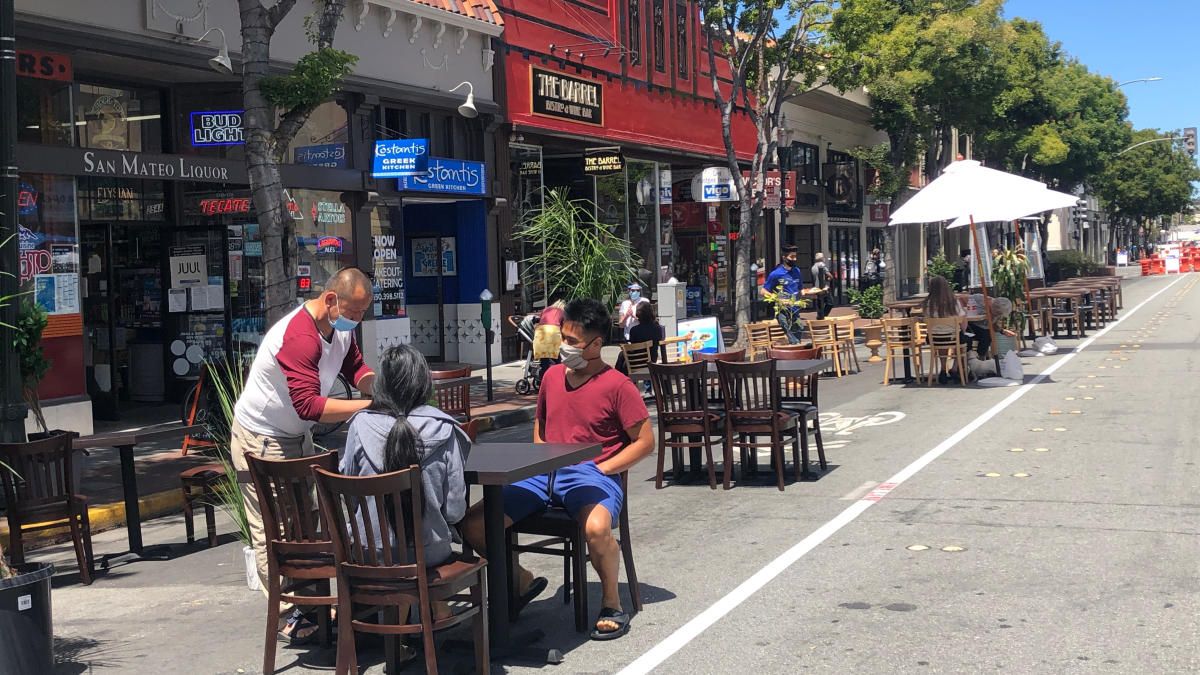 Photo courtesy of City of San Mateo

DOWNTOWN REDWOOD CITY

Down in Redwood City, the city recently announced the launch of "Eat, Sip & Be in RWC," an open-air dining experience! This campaign allows local restaurants to expand dining to the streets, seven days a week through September 30. Businesses will take over Theatre Way, Broadway between Middlefield Road and Main Street, and Main Street from Broadway to Middlefield Road. A complete map of the street closures can be found on Redwood City's website. Automatic hand sanitizer stations for public use will be placed throughout the area and, as always, social distancing protocols are enforced. The city also recommends that diners make reservations in advance.

If you're planning a visit, LV Mar Tapas & Cocktails on Broadway Avenue serves creative tapas and artisanal cocktails that make this Michelin-recommended community restaurant a hit! Offering a variety of exciting and new flavors, LV Mar's dishes use locally sourced ingredients meant to delight your palate.

Or, if you're looking to relax and enjoy a beer, Gourmet Haus Staudt on Broadway Avenue is a three-generation; family owned and operated German market and Biergarten, serving a great selection of craft and German bottled beers. They also have delicious German fares such as jumbo pretzels and yummy Schnitzel!

DOWNTOWN PALO ALTO

Down in the heart of Silicon Valley, the City of Palo Alto launched its "Summer Streets" program in downtown Palo Alto to expand outdoor dining and retail opportunities. This initiative includes the temporary closure of University Avenue from Cowper Street to High Street to vehicles. The closure will continue every day from Friday, July 3 at 10 AM through Sunday, August 2 at 10 PM. Visitors are encouraged to park in the City's garages and lots or walk or bike downtown.
 


Neighborhood favorite MacArthur Park Restaurant on University Avenue offers contemporary American fare, including delicious new dishes as well as old favorites, and warm hospitality. They are currently open for curbside pickup and delivery through DoorDash, UberEats, and Postmates. Outdoor dining will be available beginning July 9.

Nobu Palo Alto Restaurant at the Nobu Palo Alto Hotel on Hamilton Avenue serves some of the best Japanese fare and drinks in the area! Indulge in world-renowned signatures including Yellowtail Sashimi with Jalapeño and Black Cod with Miso, along with locally-inspired dishes and signature cocktails. Currently, they are offering outdoor patio dining and takeout/delivery through Postmates.

Or head to Saint Michael's Alley, near downtown on Homer Avenue, was once a bohemian beatnik café but is now a refined spot for the modern Californian fare. They are offering dining on their beautiful outdoor patio Tuesday-Sunday from 5:00-8:30 PM as well as offering takeout.

FRIENDLY REMINDER

Please keep in mind that these are just some suggestions. If you do not feel comfortable venturing out to these downtown locations at this time, do not feel pressured! We all have our own comfort level when it comes to leaving the house during this pandemic. We assure you that all these locations will welcome you with open arms when YOU are ready!
Nonetheless, if you DO feel comfortable heading downtown, please share your safe outdoor dining experiences with us by tagging us in your photos @visit_smc_sv, and using the hashtag #playbythebay. Stay safe!
 
---

See all that The San Francisco Peninsula has to offer! Download our visitor guide today and start planning your trip!