Spring is a beautiful time of year on The San Francisco Peninsula. From stunning displays of colorful flowers to tranquil Japanese landscapes, there are many gardens to explore in this part of California. Whether you're a gardening enthusiast or just looking for a peaceful escape from the city, these three gardens are not to be missed. So grab your camera and get ready to discover the beauty of springtime on The San Francisco Peninsula!
Filoli Gardens
If you are visiting beautiful gardens this spring, you'll definitely need to add Filoli Historic House & Garden in Woodside to your itinerary! Filoli gives you an opportunity to step back in time and explore the beauty and tranquility this one-of-a-kind garden has to offer. Spring is the perfect time to visit to see fruit blossoms begin to bloom, daffodils peek from the earth, and fragrant magnolias fill the sky. Plan a visit and watch the garden transform as the weather warms up and a new season begins! Tulips are usually in full bloom beginning in late March. Filoli is open to visitors every day from 10:00 AM – 5:00 PM.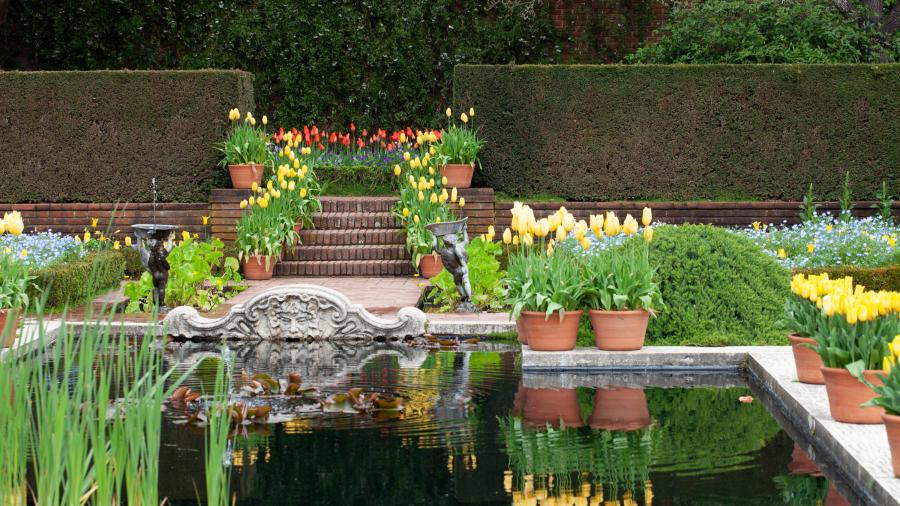 Photo courtesy of Filoli
Elizabeth F. Gamble Garden
Hanging out in Silicon Valley and in need of a mental break? We highly suggest visiting the Elizabeth F. Gamble Garden. This historic property is a precious and uncommon resource for everyone, with a rich legacy, a commitment to education, and year-round beauty. This stunning venue features a rose garden, a cutting garden, a formal herb garden, a demonstration bed, a wisteria garden, and an allée. In addition, Gamble Gardens hosts numerous fun events throughout the year that are perfect for the entire family. Children can see the magic of growing plants, and would-be gardeners will learn from Master Gardeners and a horticultural reference library. To top it all off, Gamble Garden is FREE and open to the public every day during daylight hours.
 

Japanese Tea Garden
Back in 1922, the city of San Mateo purchased the Kohl Mansion property and transformed this 16.3-acre property into the city's signature park, Central Park. The Japanese Tea Garden is located inside Central Park and it's one of the finest gardens in California. Designed by a landscape architect, Nagao Sakurai of the Imperial Palace of Tokyo, the garden features a granite pagoda, tea house, koi pond, and bamboo grove. It is open to the public Monday through Friday from 10:00 AM to 4:00 PM and Saturday & Sunday from 11:00 AM to 4:00 PM.

The Koi feedings are also very popular, and they're done during public viewing hours, Monday – Friday at 11:00 AM and 3:00 PM, but only during spring and summer months (April – October). The Japanese Tea Garden is beautiful throughout the year, but we suggest visiting in early spring when the cherry blossoms are in full bloom!
 
---

See what else is happening on The San Francisco Peninsula! Check out our Insider's Guide for itineraries and start planning your trip!