Hi there! My name is Kristen! As a local who has lived in San Mateo County & Silicon Valley my entire life, I have had the pleasure of exploring the wonderful outdoor beauty our destination has to offer. Whether you're looking for a rewarding hike or a quiet spot to sightsee, our region has exceptional parks that can be enjoyed all year round!
So, I wanted to share my top five favorite parks in San Mateo County and Silicon Valley, in order to inspire you to venture outside and explore our destination. Here they are:

BAYLANDS NATURE PRESERVE

Want to know why I love this place? Well, because this 1,940-acre preserve is one of the largest tracts of undisturbed marshland remaining in the San Francisco Bay Area! Located in Palo Alto, The Baylands Nature Preserve offers about 15 miles of multi-use trails and access to a unique mixture of tidal and freshwater habitats, you can surely spend a whole day here. Personally, I like to sit on one of the benches along the trail and birdwatch, as it is known as one of the best bird-watching spots on the west coast. Currently, parking lots, restrooms, and benches are open, however, BBQs, picnic tables, and water fountains remain closed. The park is open every day from 8 am until sunset.
 

PULGAS RIDGE PRESERVE

I especially love it here because there is an off-leash area for dogs. This 366-acre preserve provides numerous trails for hiking, running, and walking one's dog. The Pulgas Ridge Preserve in Redwood City offers about six miles of trails with access to beautiful canyons and a ridge top with views towards the San Francisco Bay. My favorite time to go is in early spring, as that is when you can see the most brilliant wildflowers. The preserve is home to about 90 native species of trees, flowers, and other plants. Make sure to wear comfortable walking shoes, and bring a mask for when you cannot achieve a physical distance.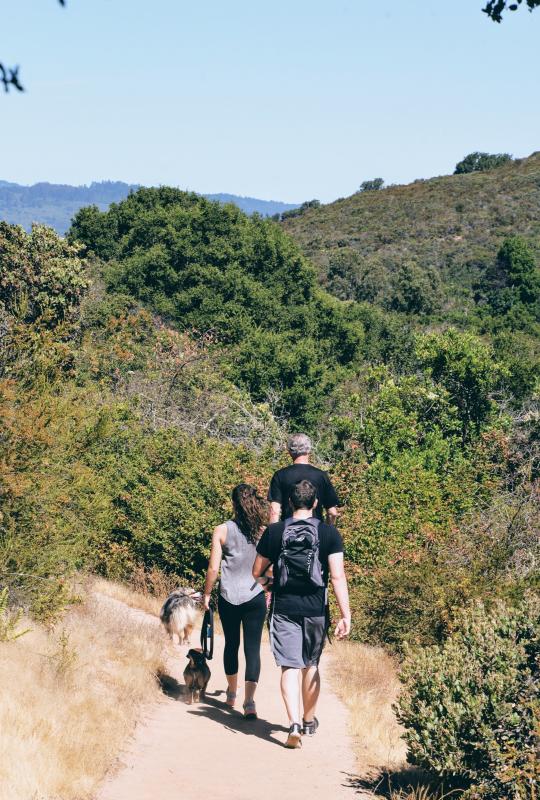 WATER DOG LAKE OPEN SPACE

This is another of my favorite parks, as well as my dog's favorite park! Water Dog Lake offers a few different trails to choose from, some shorter and some longer. The trail my dog and I walk is along a creek and leads to the beautiful lake, where my dog enjoys swimming and playing fetch. This is definitely one of the best pet-friendly trails in the peninsula, just remember that pets must be on leashes at all times. Check out this page for a more detailed trail map.
 

JAPANESE TEA GARDEN

This San Mateo park is one of my favorites for many reasons, one being that I used to visit this park with my grandparents once a week. It's quiet, yet bright nature allows for both a relaxing yet colorful visit. It also is very rich in history! In 1922, the City of San Mateo purchased the 16.3-acre Kohl Mansion property and transformed it into the city's signature park that today is known as Central Park. The Japanese Tea Garden was designed by landscape architect Nagao Sakurai of the Imperial Palace of Tokyo and features authentic amenities such as a granite pagoda, tea house, koi pond, and bamboo grove. The best time to visit is late winter/early spring as that is when the cherry blossoms are in full bloom!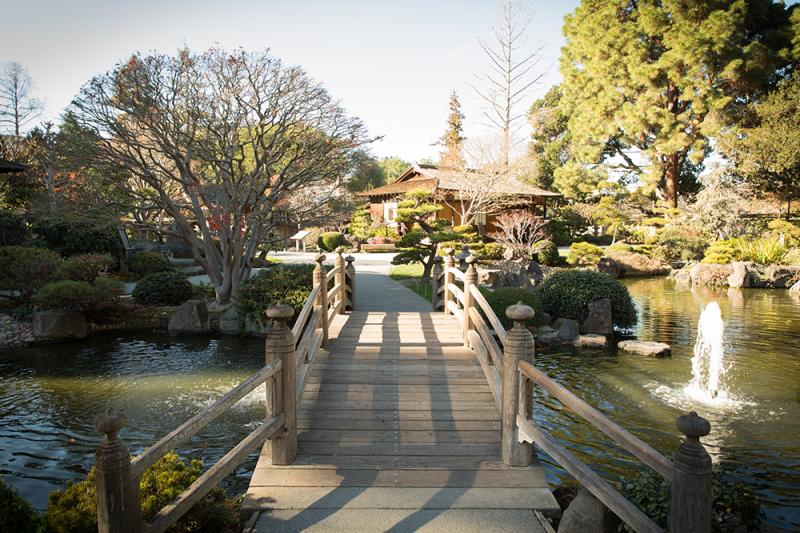 Photo courtesy of San Mateo Downtown Association
SWEENEY RIDGE TRAIL

This is a perfect park for a clear and sunny day on the Peninsula! Trails are open to hikers and bicyclists every day from 8 am to sunset. I personally love this park because of its rich history. When San Francisco Bay was first discovered by Native Americans and later the Spanish, a Catalonian expeditionary happened to "miss their turnoff" at Monterey Bay and ended up atop a coastal ridge which is now known as the City of Pacifica.
 

Now considered the San Francisco Bay Discovery Site, this park offers stunning panoramic coastal views. There are four main walking trails, ranked from easy to hard: they are Sneath Lane Trail (3.2 miles round-trip), Baquiano Trail (2 miles round trip), Mori Ridge Trail (4 miles round-trip), Skyline College trail (2 miles round-trip) and the Equestrian Trail. With gorgeous and diverse wildlife from birds to deer to wildflowers, Sweeney Ridge is truly a beautiful adventure.
 
---

FRIENDLY REMINDER
Please keep in mind that these are just suggestions. If you do not feel comfortable venturing out to these parks at this time, do not feel pressured. We all have our own comfort level when it comes to leaving the house during this pandemic. We assure you that these locations will welcome you with open arms when you are ready.

If you do feel comfortable going to these parks, please remember to keep a physical distance of six feet and wear a face mask -- and share your park experiences with us by tagging us in your photos @visit_smc_sv and using the hashtag #playbythebay. Have fun and be safe!
 
---

See all that The San Francisco Peninsula has to offer! Download our visitor guide today and start planning your trip!