Whether you have been interested in purchasing local products for a long time, or you have recently heard the news about PROP 12 (a new law that went into effect January 1, 2022, that calls for more humane treatment of farm animals by setting space requirements at farms), purchasing local and sustainable meat products from San Mateo County has never been easier!

Thanks to a few passionate farms, who for decades have been humanely raising pasture-raised animals far beyond the basic standards of PROP 12, our restaurants, locals, and visitors can all experience delicious farm-fresh and easily accessible products.
 
POMPONIO RANCH

Pomponio Ranch, a 2,700-acre ranch tucked away in a canyon among rolling hills along the Pacific coast between San Gregorio and Pescadero, has a great history of being a long-time cattle ranch and at one time hosted rodeos. The new owners have brought the ranch back to its roots, and their priority has been to restore the grasslands to a vibrant ecosystem. If you are looking for pasture-raised pork and beef, they have all the cuts and options to choose from in their online store. For pork products, Pomponio Ranch raises old-time heritage breeds like the Duroc, Berkshire, and Old Spot. These breeds produce pork that is well-marbled, tender, and tastes great! They also recently started selling pasture-raised chickens and have their own line of delicious jerky, YUM!

If you're looking to taste a bite of expertly prepared Pomponio Ranch meat for yourself, be sure to visit Cascade Restaurant & Bar inside the Costanoa Lodge & Resort in Pescadero.
For restaurant wholesale options, reach out to Morgan Nicodemus at Morgan@pomponioranch.com or call 650-726-2925.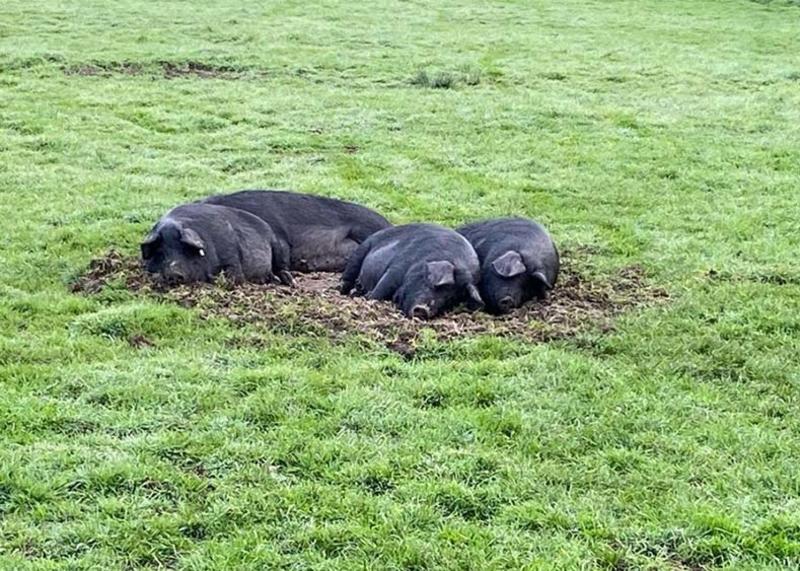 Happy pasture-raised heritage pigs at Pomponio Ranch enjoying the day.
 
MARKEGARD FAMILY GRASS-FED

Markegard Family Grass-Fed located in Half Moon Bay provides the community with locally born, raised, and processed certified grass-fed and grass-finished beef and lamb, and pasture-raised chicken and pork. Customers may order regenerative meats online through their shop to be delivered around the Bay Area or at Farmers' Markets. Make sure to check out their CSA (Community Supported Agriculture) subscription boxes to join the other committed members who benefit from regular access to limited products, sales, and special events at only $120 per year – not to mention CSA members have exclusive access to Markegard bacon!

If you are interested in purchasing wholesale products, please email info@markegardfamily.com or call 650-670-7984.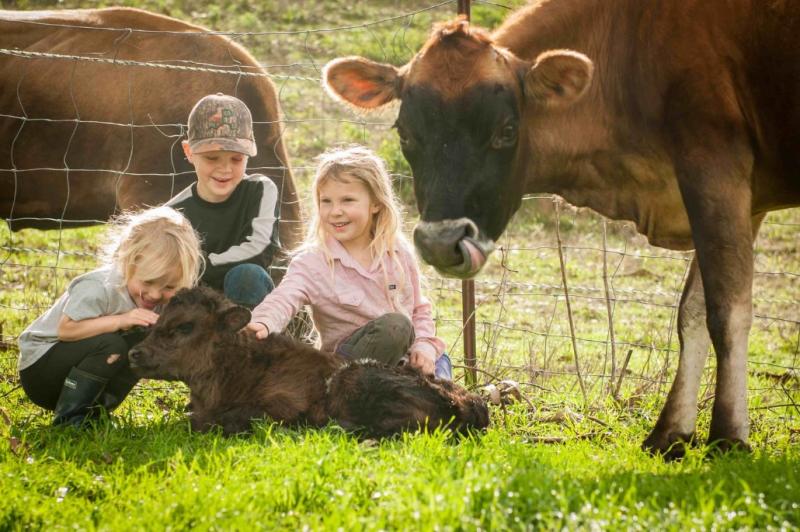 Markegard family helping birth a new calf in the pasture.

ROOT DOWN FARM

Specializing in pasture-raised poultry and pork, Root Down Farm prides itself on raising the healthiest animals possible by working within our ecosystem to responsibly steward the land, improve soil health, and produce honest meat. They raise a slower-growing breed of chicken called the 'Freedom Ranger'. These birds provide an alternative to the conventional rapidly grown chicken breed, giving the birds a chance to behave like they naturally should. In addition to chickens, they pasture-raised ducks, heritage-breed turkeys, and heritage pigs. All of their animals live happily outdoors on pastures where they are free to eat grubs, grass, seeds, and scratch & root around the dirt.

Root Down Farm sells its products at three local Farmers Markets every weekend. If you are interested in wholesale or whole hog options, please email info@rootdownfarm.org.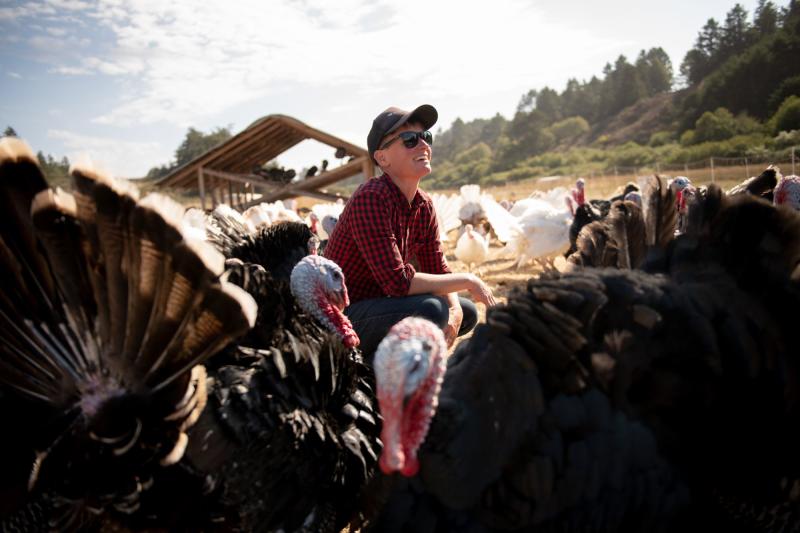 Root Down Farm owner Dede enjoying the California sunshine with her turkeys.
If you're looking to experience local farm-to-table fare without cooking or preparing it yourself, be sure to visit Loma Mar Store & Kitchen and try their famous Root Down Farm Duck Tacos. You will thank us later!
 
---

For more information on purchasing San Mateo County-grown products, please visit our As Fresh as it Gets website and check out all of our local farms, farmers' markets, and to learn more about our "As Fresh as it Gets" Program.