Celebrate Women's History Month at these woman-owned restaurants in San Mateo County. Despite a taxing two years during the pandemic, these owners and chefs pushed through with the support of their communities. Read on to learn more about the women behind these well-established, local favorites!
 
7 MILE HOUSE, BRISBANE | VANESSA GARCIA

Vanessa Garcia didn't have restaurant experience when she first decided to purchase 7 Mile House, the award-winning sports bar in Brisbane. She was in tech, and before that, she was a musician in the Philippines. "But I'm the type of person who jumps in if the opportunity looks good," she acknowledged.

Mile houses, established during the Gold Rush era, served as rest stops for wagon travelers and their horses. 7 Mile House is the only mile house in the San Francisco Bay Area standing in its original location. "I really embraced the history that no one knew about. But at the same time, I wanted to figure out what would attract customers," Garcia said. Working alongside her mother and ex-husband, they started off with Italian-American food and incorporated their native Filipino food into the menu. "At that time, Filipino food was not as popular. My mom and I tried to cook food every day to attract people who hadn't had Filipino food before. We didn't start making money until eight years after," she recalled.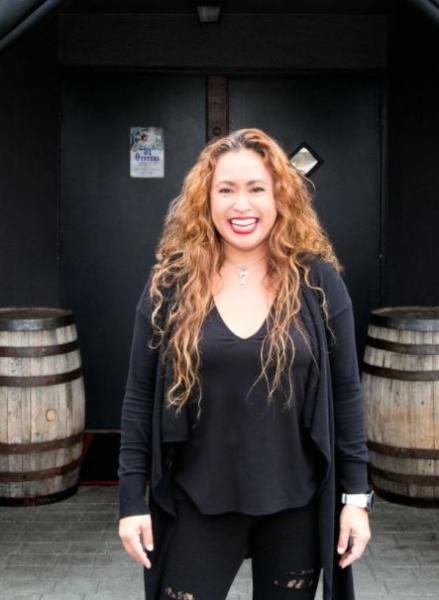 Vanessa Garcia, owner of 7 Mile House
Fast forward to today, 7 Mile House has become a local favorite. Prior to the pandemic, there was loud music playing every day and Niners fans cheering at the TVs. "Our goal during 2020 was simply survival. I realized that through all of the years of hard work, I've created something bigger than a restaurant or a bar. It is a community and gathering space." Garcia went on to say, "I've never had a problem with staffing because no one wanted to leave. I don't pay as much as other restaurants, but I can provide a happy and comfortable place to work. A lot of my employees came from bosses or owners that didn't appreciate or protect them. Treating people well goes a long way."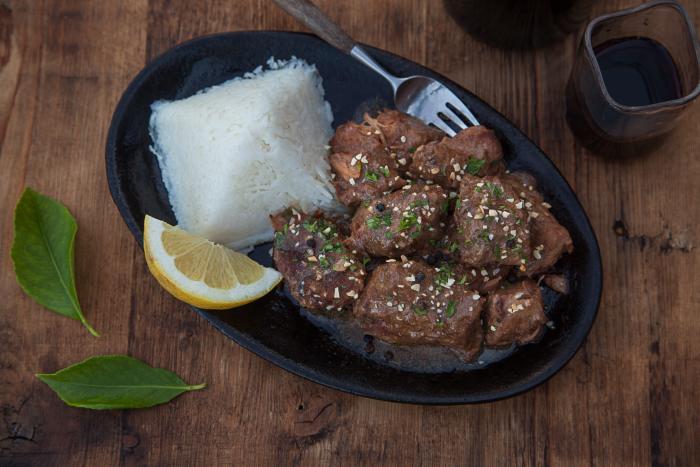 Adobo with Rice at 7 Mile House 
For 2022, the focus at 7 Mile House is to keep cooking great food and giving great service. They are embracing their title of "Best Dog-friendly Restaurant" for five years in a row by SF Weekly's Reader's Choice Awards. "We want to go further and do doggy parties. It's been a big hit!" Garcia exclaims.

Her advice: "If it's a dream of yours and you want it, go get it and do whatever it takes to succeed. Don't be afraid to make mistakes. You can't survive if you're timid and don't grab the opportunities."
 
GIGI'S CAFE, BURLINGAME | TERESA GEE

Located in the heart of Burlingame's Hotel Row, Gigi's Cafe is a full deli and espresso bar, with favorites like their famous "Thanksgiving Dinner" sandwich. Teresa Gee, owner and chef, was 24 years old when she first purchased the cafe. "I went to culinary school at 17," Gee explains. "It was very intimidating. But now when I look back on it, I'm so proud of myself."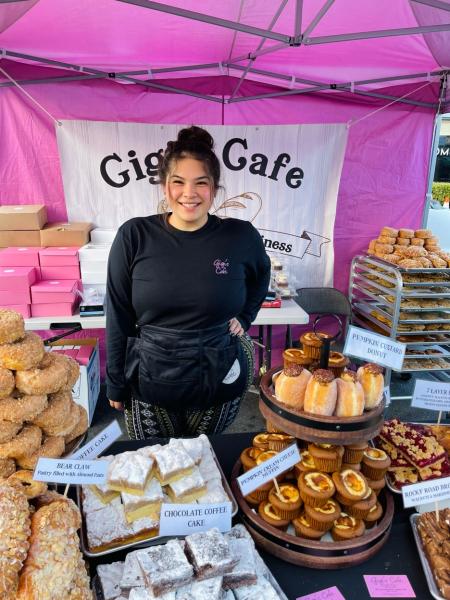 Teresa Gee, owner of Gigi's Cafe
Gee started off at other restaurants as a sous chef, then quickly worked her way to head chef. "I got to the point where I had so many great ideas and someone else would take the credit," she said. The desire for creative freedom led her to purchase her own restaurant, but that didn't eliminate other challenges. "My biggest struggle of being woman-owned and young is being taken seriously," she said. "It's been hard not only being a female business owner but a young one. People can walk all over you."

During the pandemic, it became clear that Gee had made an impact on the community. "When COVID hit and we were closed for six months, people donated to help us afford rent. That showed me that people really wanted me there," she said. "I don't even know how to put it into words to thank them. It touches me that people wanted me to succeed."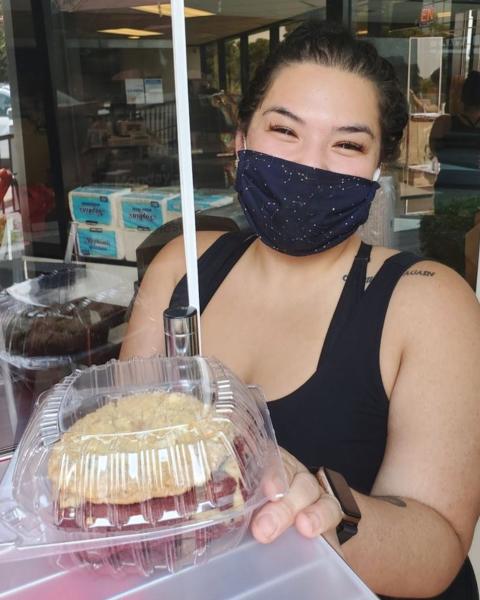 When Gee isn't at the Cafe, you can also find her in the community at the Sunday Burlingame Fresh Market every other week. Since Gee graduated with a baking and pastry degree, she's usually serving up sweet treats like red velvet chocolate chip swirl cookies & S'mores bar.

Her advice: "Keep pushing, even if it's in the food industry or any industry. You always have to push yourself to your limits because if you don't, you won't know how much you're able to do. I don't think I would have gotten here if I didn't do things that scared me."
 
ANGELICA'S, REDWOOD CITY  | ANGELICA SOLORZANO-CUSCHIERI

Angelica's is a popular restaurant in Redwood City known for its brunch, dinner, and outdoor gardens. Before owning the restaurant, Angelica Solorzano-Cuschieri and her husband first owned a consignment shop. A few years later, they opened a bistro cafe before opening Angelica's in 2013. This is where Solorzano-Cuschieri learned she loves cooking. "I learned so many different recipes," she expressed. "I'm from Mexico, and we are a very large family of ten. My mother used to cook all the time, and our favorite thing was eating and enjoying our food. I was always inspired by her cooking."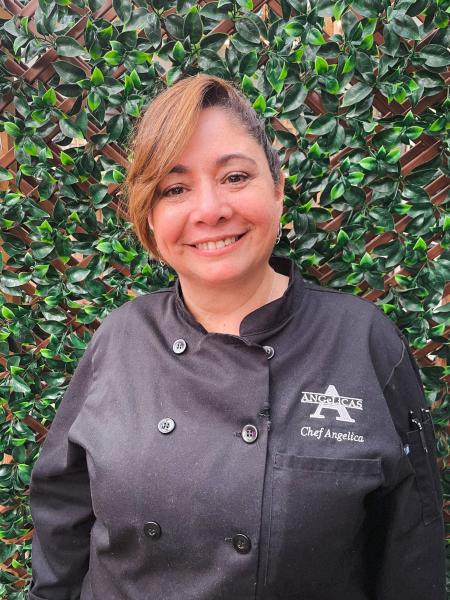 Angelica Solorzano-Cuschieri, owner of Angelica's
Solorzano-Cuschieri's menu is Latin-flair, influenced by many international cuisines. "I like to have a twist to all my meals," she said. "When you add Latin flavor to American food, it just adds more wonderful flavors that you can combine!" Solorzano-Cuschieri shared her sentiments about being a woman-owned business. "It's been very tough," she expressed. "People don't see you the same. They think my husband is the owner and I am the cook. I feel that as a woman you have to work harder in order to get the same respect."

She aims to source local ingredients as much as possible, even having an herb garden in the back of the restaurant. "Eventually, I would like to promote all my own fresh herbs like basil and thyme," she explains.

Her advice: "If you really want to pursue this industry, it's not easy. But if you pursue your passions anything can be accomplished. You just have to follow your dreams, and don't let anyone stop you."
 
SAM'S CHOWDER HOUSE, HALF MOON BAY | JULIE SHENKMAN

Nestled on a cliff in Half Moon Bay and overlooking the Pacific Ocean, Sam's Chowder House is reminiscent of a New England-style seafood house, serving fresh fish, local crab, and award-winning lobster rolls.

Co-owner Julie Shenkman had a long career in technology marketing before joining her husband, who previously owned several other restaurants, in the restaurant business. "I was able to combine my marketing and business expertise with my husband's operational and restaurant expertise to form the perfect partnership," Shenkman said.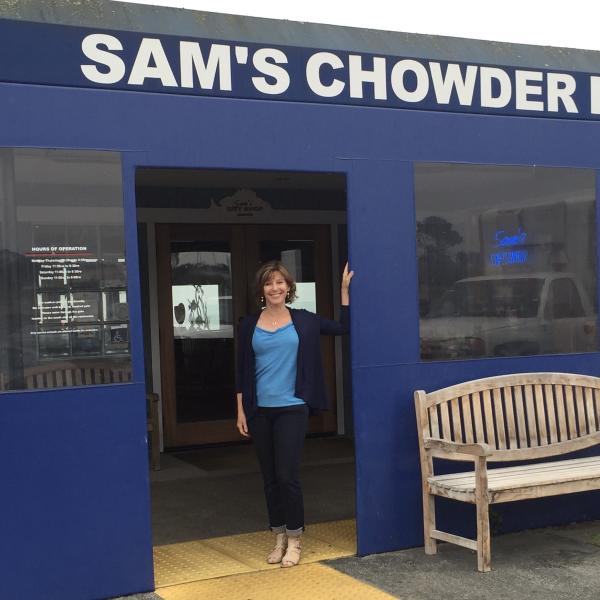 Julie Shenkman, co-owner of Sam's Chowder House
When asked about the New England-style concept, Shenkman explained, "My husband and our executive chef/partner both hail from the East Coast, so it was a natural fit for the concept to be based around New England-style seafood. When we created Sam's, lobster rolls were something that only people on the East Coast typically enjoyed, and we changed that by being one of the first to bring them out to the West Coast. Now you see them everywhere! The New England style concept is great ingredients, prepared simply, to bring out the delicious flavor of the seafood. We also try to use fresh, local, and seasonal products whenever possible, from our fresh local crab to farm-fresh ingredients from the fields in Half Moon Bay."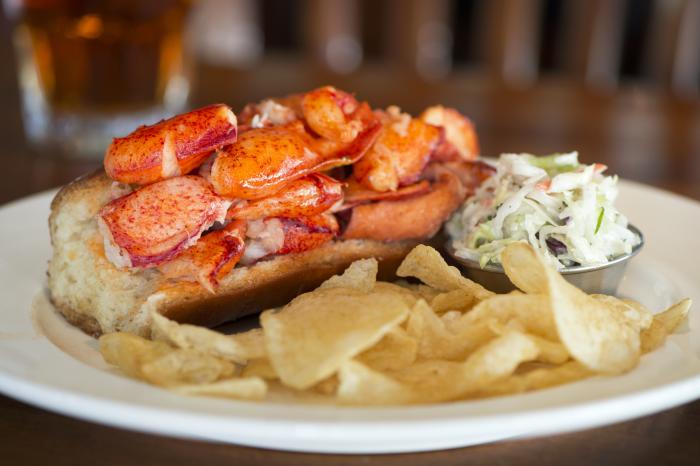 Lobster Roll at Sam's Chowder House
With panoramic views of the Pacific Ocean, it's no surprise that Sam's Chowder House is a popular spot for celebrations. "I love it when a guest has a 'life' experience at our restaurant," Shenkman said, "From an engagement overlooking the ocean, to a wedding on the beach, or a life celebration for a close friend or family member, it's more than just the food – it's the ambiance and the whole atmosphere of the restaurant that creates special moments. It makes what we do so worthwhile."

Her advice: "Jump in – don't be afraid – there is so much opportunity! Find a mentor; there's always someone who has gone before you to learn from. Try not to make mistakes that can be prevented by tapping into the knowledge of others. Use the technology – there are so many tools available now, and it's more critical than ever to use them given the labor shortages. Enjoy it! This business is all about serving people, making them happy, and creating 'experiences'…which is the best reward of all."
 
---

See all that The San Francisco Peninsula has to offer! Download our visitor guide today and start planning your trip!