Filming on The San Francisco Peninsula

It is an exciting time to film in Northern California, especially on The San Francisco Peninsula, just south of San Francisco. The region is bordered on the east by the San Francisco Bay and on the west by the Pacific Ocean, offering your production team both scenic beauty and the excitement of a cosmopolitan community for featured films, commercials, television shows, and media productions.
With 20 charming and picturesque cities and towns, including miles of stunning coastal and Bayfront shores, redwood forests, country roads, and the renowned high-tech Silicon Valley, we can assist you in finding just the right location for your filming needs.

Ready to get started? Contact us today to get your next film project started in the Best of the San Francisco Bay Area!
---
Top Film Locations on The San Francisco Peninsula
1. Devil's Slide
Devil's Slide Trail is a 1.3-mile multi-use trail, converted from a former segment of Highway 1 with access to the rocky cliffs above the Pacific Ocean. 
2. Highway 1
Offering views of coastal bluffs and stunning beaches, Highway 1 is a top choice for filming.
3. Half Moon Bay
Half Moon Bay is a quaint small town in the heart of The San Francisco Peninsula's coastal region and is home to many local farms and the world-famous Mavericks surf. Chasing Mavericks (2012) celebrates the city's surfing legends. 
4. Filoli
Established as a private residence in 1917, Filoli is considered one of the finest remaining country estates of the 20th century featuring a 54,000 square-foot Georgian revival-style mansion and 16 acres of exquisite formal gardens. Filoli was featured in the Wedding Planner (2001).
5. Pigeon Point Lighthouse
 The 115-foot Pigeon Point Lighthouse is one of the tallest lighthouses in the United States, guiding mariners since 1872. The lens stands 16 feet tall, 6 feet in diameter, and weighs 2,000 pounds.
---
Films Shot on The San Francisco Peninsula

Examples of films shot on The San Francisco Peninsula include:
Chasing Mavericks (2012) starring Gerard Butler, Elisabeth Shue, Abigail Spencer, and Leven Rambin and directed by Curtis Hanson and Michael Apted, shot in Half Moon Bay.
 
Harold and Maude (1971) starring Ruth Gordon, Bud Cort, Vivian Pickles, Cyril Cusack, and Tom Skerritt and directed by Hal Ashby. This hilarious classic used several San Francisco Bay Area locations including the site of the former Southern Pacific Railroad Bayshore Yard in Brisbane. 
 
The Right Stuff (1983) starring Sam Shepard, Scott Glenn, Ed Harris, and Dennis Quaid and directed by Philip Kaufman. The indoor party scene involving a barbecue and fan dance was filmed at the Cow Palace arena (2150 Geneva Avenue). 
 
Sweet November (2001) starring Keanu Reeves, Charlize Theron, Jason Isaacs, and Greg Germann and directed by Pat O'Connor. The house located at 166  Santa Cruz Avenue in Daly City was featured as Keanu Reeves's character's childhood home. 
 
The Wedding Planner (2001) starring Jennifer Lopez, Matthew McConaughey, Bridgette Wilson, and Justin Chambers and directed by Adam Shankman. Filoli was used as a location for scenes.
 
Dynasty (1980) pilot for TV series starring John Forsythe, Linda Evans, Pamela Sue Martin, and numerous others was filmed at Filoli. The aerial shots of the mansion and the famous clock tower were shown during the opening credits for the series' entire run from 1981 to 1989. Sets were created duplicating the rooms of Filoli to shoot the interior scenes of the series. Additional filming of background shots was done in 1981. 
 
Memoirs of a Geisha (2005) starring Li Gong, Ziyi Zhang, and Michelle Yeoh. Fitzgerald Marine Reserve was used as one of the filming locations.
 
Bicentennial Man (1999) starring Robin Williams with Embeth Davidtz, Sam Neill, and Oliver Platt and directed by Chris Columbus. Green Gables Estate at 329 Albion Avenue in Woodside was used as the family home in the movie. 
 
 Poetic Justice (1993) starring Janet Jackson, Tupac Shakur, Regina King, Joe Torry, and Billy Zane and directed by John Singleton. Devil's Slide and Gray Whale Cove on Highway 1 just south of Pacifica and north of Montara were used as background.
---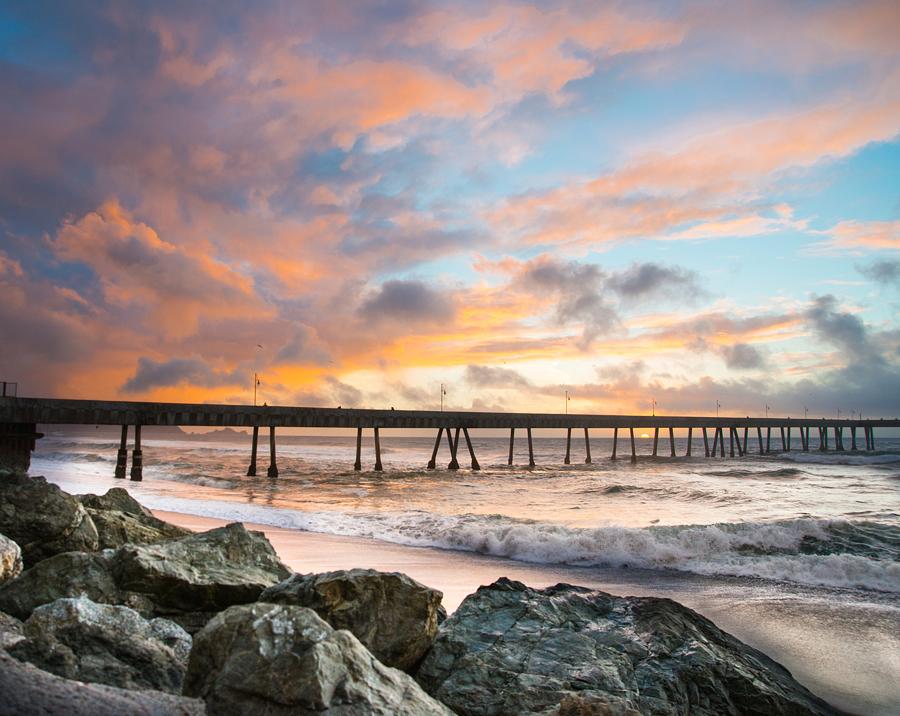 Pacifica Pier by Bradley Wittke
 
---