Things to do on The San Francisco Peninsula

Waiting just outside San Francisco International Airport is a whole destination to explore. That's why people from all around the world come to explore The San Francisco Peninsula. Beautiful beaches, fun museums, outdoor adventures, wine tasting — the California dream is on full display here.
Familiarize Yourself

Get to know the area by exploring a few of our cultural offerings. Our county's world-class museums display art, history, technology, and science. You'll also find plenty of entertainment options here. And don't forget to visit our busy harbor district.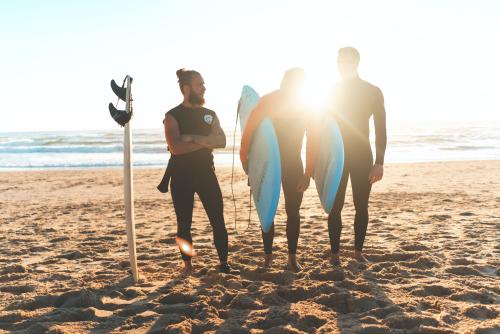 If history is your passion, Redwood City has many of the county's historical sites, including the San Mateo County History Museum. Or go back in time to 1769 when a Spanish expedition accidentally sighted the San Francisco bay from this heritage trail.

Pop culture buff? Visit Half Moon Bay, where Chasing Mavericks, the motion picture based on the life of surfing legends Jay Moriarity and Rick Hesson, was filmed. Mavericks is a destination for some of the world's best big wave surfers, where waves can crest at over 25 ft and top out at over 60 ft. Don't forget to look out for the Mavericks just north of Pillar Point Harbor.
 
Discover Nature

Though the county borders the big city, there is enough outdoor fun to be had. Visitors can go horseback riding, visit local farms and ranches or simply take in the city lights from one of our many wonderful parks. The Bay Area offers plenty of fresh air and green spaces for you and your furry companion. If golf is your outdoor activity of choice, we've got that too.

From deep blue water to stunning cliffs, the San Mateo County coastline is packed with some of the most gorgeous scenery in the country. There are many outdoor adventures to have in Half Moon Bay and other beach cities in the county. The surfing scene alone is legendary. Even those that don't ride the waves can appreciate the giants crashing onto the soft sand. From whale watching and touring lighthouses to exploring marine reserves, there is an ocean adventure for all ages.
Take a Tour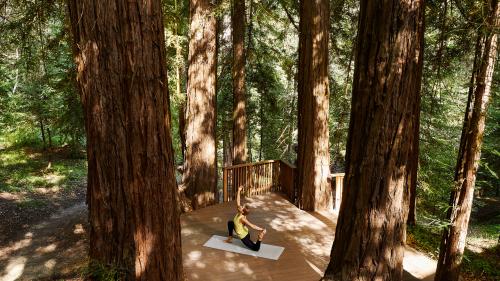 If you're looking to sightsee with some guidance, San Mateo County has some of the best tour companies in the area. These businesses offer one-of-a-kind sightseeing and adventure opportunities, from the San Francisco Bay to Silicon Valley.

Silicon Valley is known for being today's hub for technological innovation. In fact, San Mateo County is home to the headquarters for Facebook and Oracle, the 5th and 16th largest tech companies in the world. If you want to learn more about these innovation giants, many tour companies offer special tours to get you a closer look at the tech industry.
Relax
Central Park's Japanese Tea Garden is the oasis where locals escape for a moment of zen. Seal Point Park is right on the bay and provides breathtaking views across the water—the heart of Northern California.

If you need more rest and rejuvenation, the area offers a wonderful selection of spa and wellness options to keep you relaxed. Don't forget the wineries and breweries that will keep you refreshed during your visit. For those who take comfort in retail therapy, there's shopping ranging from upscale luxury to local makers.
TRENDING
With miles of Pacific Ocean coastline and mild temperatures year-round, you can expect The San Francisco Peninsula to have incredible surfing — and it doesn't...
Read More
Book Your Staycation
During your visit, you will have plenty of hotel options for you and your family – from the gorgeous California Coastal Side to the heart of Silicon Valley, luxury resorts, quaint inns, full-service hotels, and bed & breakfasts all await your stay. Take advantage of these great hotel deals and book your staycation today!