San Francisco Bay Trail

Outdoor Activities
The San Francisco Bay Trail, is a planned 500-mile walking and cycling path around the entire San Francisco Bay that will run through all nine Bay Area counties, 47 cities, and across our region's seven toll bridges. With over 350 miles already in place, the Bay Trail connects communities to parks, open spaces, marinas, transit and to each other, and also provides a great alternative commute corridor.

A large section of the San Francisco Bay Trail runs through San Mateo County and Palo Alto, providing scenic recreation for hikers, joggers, bicyclists, skaters, and wheelchair riders. The Bay Trail offers access to marinas, fishing piers, and natural and cultural locations in our destination such as Oyster Point Park & Marina in South San Francisco, Coyote Point and Seal Point Park in San Mateo, the Port of Redwood City and the Palo Alto Baylands Nature Reserve.

In addition to the Bay Trail, our destination features other trails located in various parts of the county. For more information about the Peninsula's trails, please click here.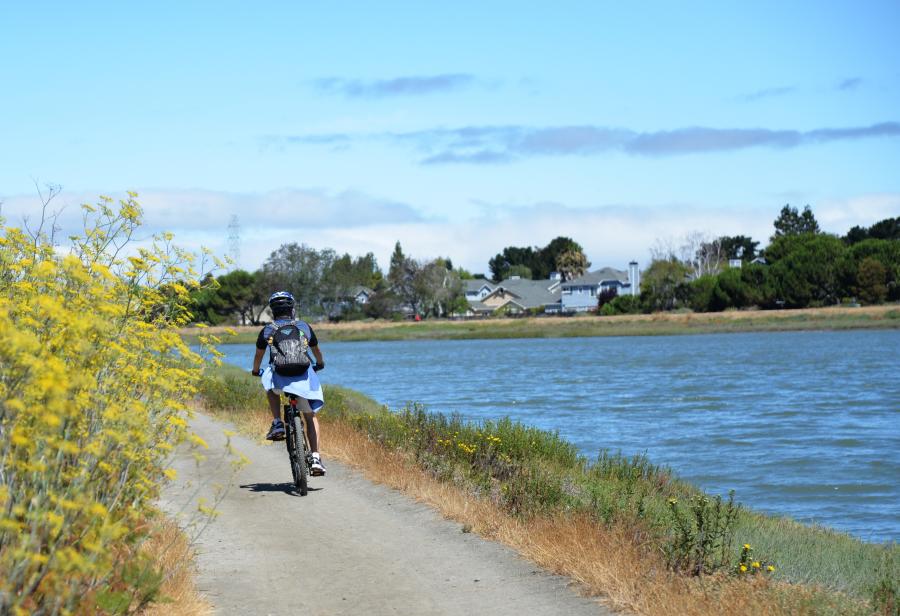 BAY TRAIL SECTIONS IN SAN MATEO COUNTY & PALO ALTO

 
Brisbane Lagoon to Bayside Park: This section of the trail allows you to visit the Brisbane Lagoon, Oyster Point Park and Marina, San Bruno Point Park, Bayfront Park and Bayside Park. Trail Map
Burlingame to Redwood Shores: This section of the trail allows you to visit the Anza Lagoon, Coyote Point Recreation Area, Seal Point Park, Belmont Slough and the Redwood Shores Ecological Reserve. Trail Map
Redwood Shores to Ravenswood Slough: This section of the trail allows you to visit Bair Island Ecological Reserve, the Port of Redwood City and Bedwell Bayfront Park. Trail Map
Ravenswood Slough to Alviso: This section of the trail allows you to visit Ravenswood Open Space Reserve, San Francisquito Creek, the Palo Alto Baylands Reserve, the Lucy Evans Baylands Nature Interpretive Center, Byxbee Park, all the way down to Alviso County Park in Santa Clara County. Trail Map
 
OUTING OPTIONS
 
Birding:
 
Bair Island: Grab your binoculars and explore a shorebird paradise at the restored wetlands of Inner Bair Island, part of the Don Edwards San Francisco Bay Wildlife Refuge. The Bay Trail leads to raised observation platforms with views out over 1,400 acres of new vegetated marsh. This is a featured Vizzit Tour. Helpful Map: Map Card #5
Colma Creek Public Shore: This marsh at the end of Colma Creek is a busy feeding zone for shorebirds and ducks, despite its proximity to Highway 101 and San Francisco International Airport. Look for activity along the marsh islands at low tide. Helpful Map: Map Card #3
Palo Alto Baylands Preserve: This well-established preserve is one of the best bird-watching destinations in the Bay Area. The marshlands are host to a sizable local population of shorebirds and a migratory stopover on the Pacific Flyway. Helpful Map: Map Card #6
 
Bicycling:
 
Coyote Point to Redwood Shores: Ride 17 miles one direction through three cities along a continuous, mostly paved Bay Trail including towering Eucalyptus and an elegant bicycle/pedestrian bridge to restored wetlands teeming with shorebirds. Helpful Maps: Map Card #4 & Map Card #5
 
Walking:
 
Bedwell Bayfront Park: Stroll along this paved, 2-mile trail that loops around a former landfill-turned park. From the park's top knoll, a 360-degree view of the Don Edwards San Francisco Bay National Wildlife Refuge tempts willing hikers. Helpful Map: Map Card #5

Sierra Point to Oyster Point: Walking the 4 miles along this paved trail between two marinas brings you back in time to a place where oysters were farmed and ships were built along the edge of a calm inlet called Oyster Cove. Helpful Map: Map Card #3


The San Francisco Bay Trail Project
Association of Bay Area Governments
Metropolitan Transportation Commission
375 Beale Street, Suite 700
San Francisco, CA 94105
415-778-6700
www.baytrail.org