Get ready to experience the beautiful outdoors, breathe fresh air, and enjoy nature on The San Francisco Peninsula. Here you'll find the perfect backyard to start on a new path. To get you started, we've listed five of our favorite hikes!
Crystal Springs Regional Trail

This planned trail reaches from San Bruno to Woodside and extends more than 15 miles. Visitors of all ages can be seen on any given day, from parents with children in strollers to distance runners. Crystal Springs Regional Trail is perfect for walkers, runners, skating/rollerbladers, bicycling, and even horseback riding. The path offers picturesque views of the Crystal Springs Reservoir, the Pacific Ridge mountains, and the iconic fog that rolls over the hills as the sun sets over Silicon Valley.
Unfortunately, no dogs or pets are allowed on any part of the trail. While the road is not very busy, be sure to be mindful of traffic coming from either direction. The trail is divided into three distinct segments: San Andreas, Sawyer Camp, and Crystal Springs. Parking is free, you will likely see other visitors' cars parked along the side of the road.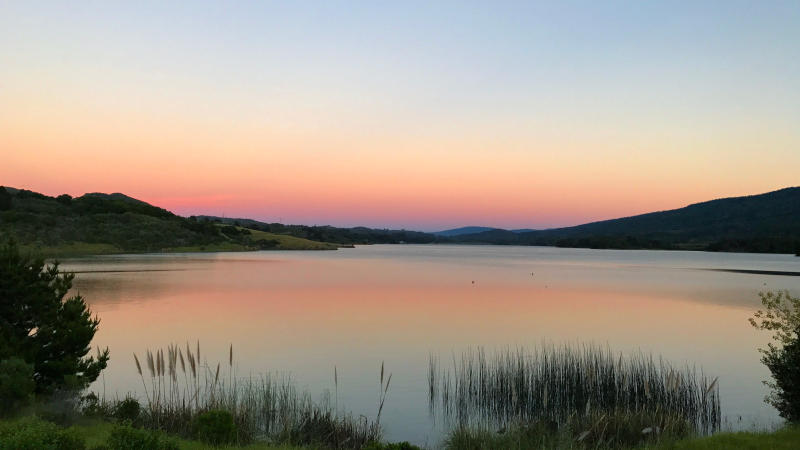 Crystal Springs Reservoir - Photo by Larisa Gleyzer

Sweeney Ridge

"I can see my house from here!"
Located between San Bruno and Pacifica, Sweeney Ridge is a popular hiking spot for locals and visitors alike. After making it up the incline, you will be rewarded with a 360-degree view of the San Francisco Bay Area and along the ocean coast as far as Point Reyes. The breathtaking summit of the hike offers views of the Farallon Islands, Mount Tamalpais, San Pedro Point, and more distinct features of the bay. 
This hike is a total distance of 5.66 miles roundtrip and dogs are allowed on leashes.
 

The Stanford Dish

Easily recognizable for those who commute via I-280, this one is a local favorite! The Dish is located in Palo Alto, sitting on Stanford University's land, and serves many purposes including academic programs, environmental restoration, and for the purposes of this blog – recreation! The path is perfect for hiking and jogging and it is open daily from sunrise to sunset throughout the year. The lush grasslands and plethora of wildlife that occupy the land make for stunning photography and birdwatching. Unfortunately, no pets or animals are allowed within the Dish Area except for trained service animals.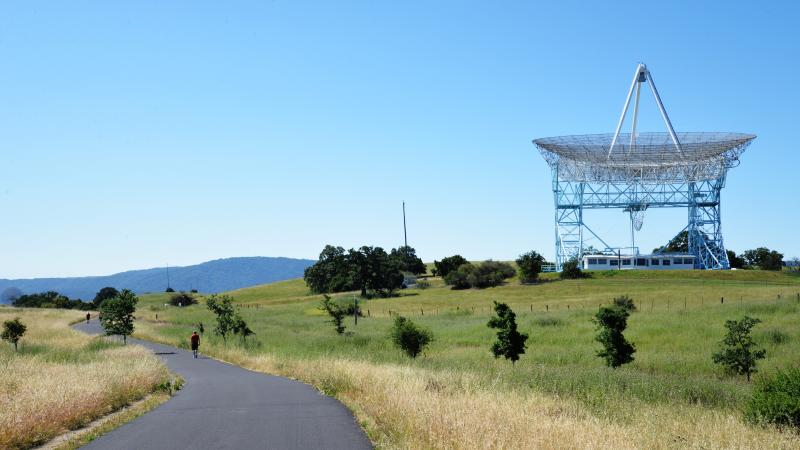 Devil's Slide Trail

This paved trail is a converted portion of Highway 1 dedicated to hikers, runners, and bicyclists. Devil's Slide Trail overlooks the Pacific Ocean and offers beautiful coastal views and sunsets. The trail is fairly short at 1.3 miles, but as we mentioned, very rewarding in regards to the view. The path is more hilly than flat, so it is a great place to work on cardio while being cooled by the fresh ocean air. Dotted along the path are informative plaques that describe the area and how different sections of the area were operated by the US Army during WWII. Whales, dolphins, and seals have been spotted during the migration season from the capacious viewing areas. The trail allows dogs on leashes and is one of the most beautiful, fun, and recognizable spots in Pacifica!
   
 
Sam MacDonald Park

This park at the south end of San Mateo County has several unique trails including Big Tree, Heritage Grove, and Towne Fire. Sam McDonald Park actually represents a contrast between two separate natural environments. The northwestern half between Pescadero Road and Highway 84 is principally a lush growth redwood forest, while the southeastern half is a primarily open ridge with grassy knolls and patchy brush areas. The park is open to hikers, runners, bicyclists, and equestrians, but does not allow pets on any of the trails. The trail distances range from 1.2 miles to a 5.0-mile loop.
 
See all that The San Francisco Peninsula has to offer! View our Insiders' Guide and start planning your trip!