Looking for a fun way to enjoy the outdoors this summer and beautiful fall weather? San Mateo County is home to multiple "U-pick" farms where you may take home fresh fruits, vegetables, and more.  You'll find information on many farms and fresh items below!
 
STRAWBERRIES, RASPBERRIES, HERBS AND MORE

BLUE HOUSE FARM

Blue House Farm is located in San Gregorio and hosts U-pick every Saturday and Sunday from 12:00 PM to 5:00 PM beginning in March through pumpkin season in October. Blue House Farm offers fresh strawberry picking at $6 per pound, with no other additional fees required.
Blue House Farm proudly stocks a farm stand on Highway 84 which offers organically grown veggies, fruits, and flowers straight from the farm! Hours are 12:00 PM to 5:00 PM on Saturdays and Sundays. Click here for directions. Check out their Facebook and Instagram for updates on their U-pick season.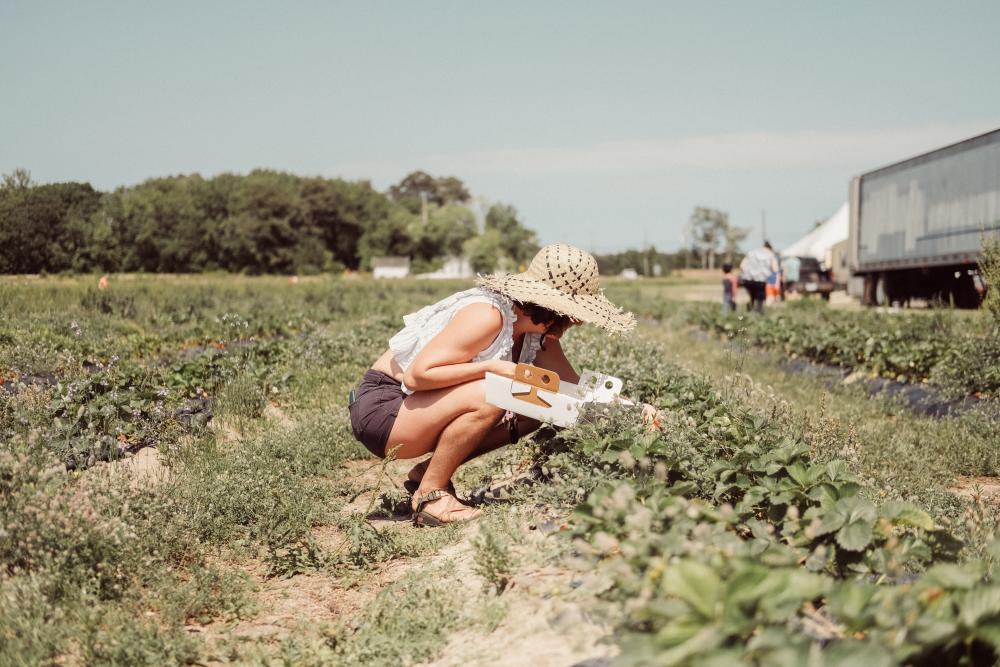 R&R FRESH HERBS

R&R Fresh Herbs in Pescadero offers U-pick harvesting daily from 10:00 AM to 6:00 PM. Fill up a basket with fresh, organic raspberries, blackberries, and olallieberries for $4 per pound or $2.50 per basket. Large groups are welcomed and encouraged at this family-friendly farm.
After picking some fresh berries, stop by the farm stand for fresh rosemary or pasture-raised duck eggs for $7/half dozen and $14/dozen.

WEBB RANCH

Webb Ranch's U-pick season will open in June and run through July/August, depending on the weather. Please visit the website for the opening date. The Portola Valley farm is open Tuesdays and Thursdays from 8:00 AM to 1:00 PM, and Saturdays by appointment. Berries are $6.00 per pound. A variety of berries are available to pick, including olallieberries, blackberries, boysenberries, and Marionberries.

The entrance fee is $4.00 per person (ages 2 and under free). No entrance fee for Seniors 65+ on Tuesdays and Thursdays. Call the Produce Hotline for weekly updates and produce availability at 650.854.5417.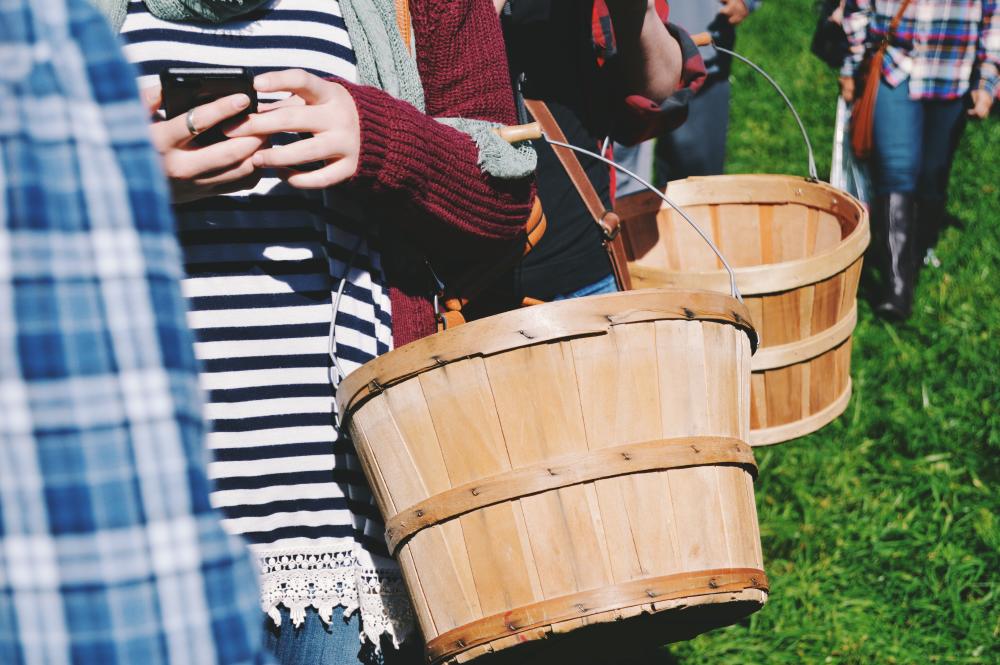 PUMPKIN FUN FOR THE FAMILY

ARATA'S PUMPKIN FARM

Arata's Pumpkin Farm in Half Moon Bay is the oldest sustainable pumpkin farm in San Mateo County. The farm features a large variety of pumpkins, from small to extra-large, and everything in between, including specialty pumpkins and pumpkin seeds! Prices vary based on type and size.
The kids will love all the attractions, including the Minotaur's Labyrinth Hay Maze, Haunted Barn, Petting Zoo, Hay Ride, Pony Ride, and Train Ride. New in 2021 is a VIP Package and Premium Parking Passes that give you a VIP experience when visiting the farm.
Visit daily during July–September from 9 a.m. to 6:30 p.m. In October, visit Sunday-Thursday from 9 a.m. - 6:30 p.m. and Friday-Saturday from 9 a.m. – 10:30 p.m.
 

FARMER JOHN'S PUMPKINS FARM
 
Just a mile north of Highway 92 along the ocean resides John Muller, a real farmer, who runs Farmer John's Pumpkin Farm with his wife Eda. This farm grows a variety of pumpkins, from Cinderella and Fairy Tale pumpkins to red, white, and speckled pumpkins to mini pumpkins of different shapes and sizes. You definitely don't want to miss seeing the Atlantic Giant! Hay bales and corn stalks are also offered for fall décor needs.
Everyone is welcome, including your canine pals. Please check the website for the opening date and hours.
 
LEMOS FARMS

Lemos Farm is open year-round Saturday and Sunday from 10:00 AM to 5:00 PM. During September and October, Lemos Farm transforms into a "Halloween Palooza" with the opening of pumpkin season, seven days a week. The farm is covered in hay, spooky decor, corn stalks, and pumpkins. Enjoy a scoop of pumpkin ice cream while riding the ghost train, dig into a piece of pumpkin pie on top of a hay bale on the hayride or snack on some award-winning pumpkin bread.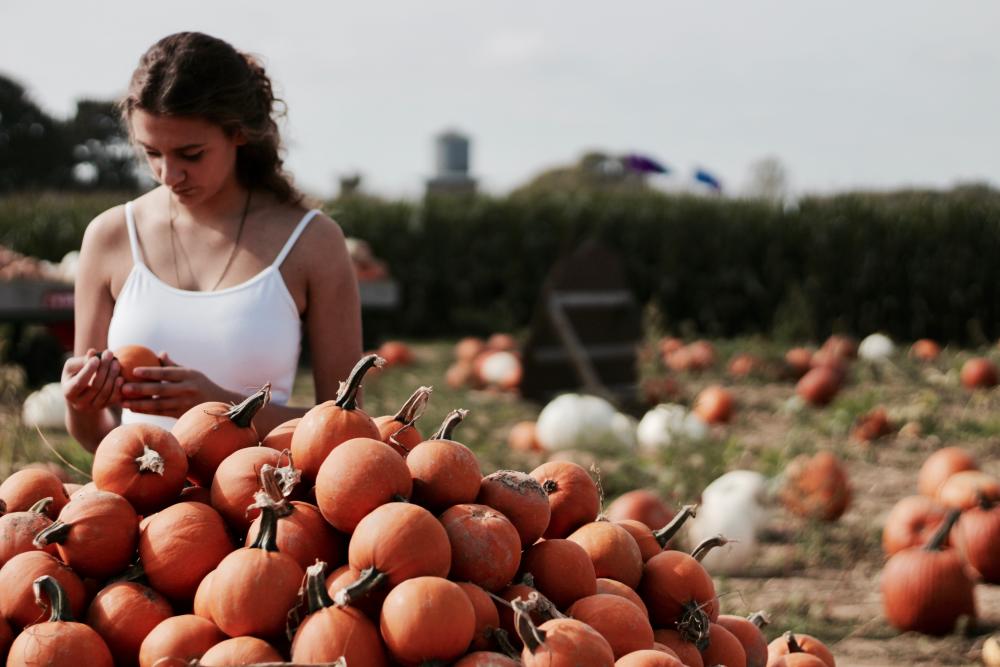 Nuts & Honey

SKYLINE CHESTNUTS

Go on a chestnut hunt through Skyline Chestnuts in La Honda in mid-October and November, and venture among the trees at this pick-your-own type of orchard.
Skyline Chestnuts proudly offers a rare, premium, chestnut, honey. Housing their own honeybees in the chestnut trees are their most requested item which often sells out before the season ends. Throughout the year, raw, ultra-local honey from the surrounding hills is sold. Delicious and exotic varietals of honey are also offered, such as eucalyptus and sage, as well as blends of local wildflowers. Click here for directions to taste these delicious fresh chestnuts and honey.
Don't have time to visit the farms and pick on your own? Greenhearts Family Farm's CSA is part of a locally grown food delivery service bringing together eco-positive, sustainable pasture-based, and organic farmers and craft food producers. Each week Greenhearts delivers a thoughtful selection of local, seasonal fruits and vegetables and artisanal products your family will love. Get the best of the farmers' market delivered straight from the farm to your doorstep!
 
---

See all that The San Francisco Peninsula has to offer. Order a Visitor Guide today and start planning your trip!