With warmer months coming to The San Francisco Peninsula, it's the perfect time to gather with loved ones for a delicious meal with a view. The region offers numerous options for visitors to dine overlooking the San Francisco Bay, the Pacific Ocean, or scenic lagoons. Here's a list of restaurants with beautiful views in order to make your next dining experience an unforgettable one! Be sure to also visit some of our featured restaurants for the 2023 Peninsula Restaurant Week.
 
Oceanview Restaurants

Sam's Chowder House

Nestled on a cliff overlooking the Pacific Ocean in Half Moon Bay, Sam's Chowder House offers true oceanfront dining, stunning sunsets, and fresh local seafood. The restaurant's famous Lobster Rolls were selected by the Food Editor as one of the five "Best Sandwiches in America" and are a must when visiting Half Moon Bay. Sam's menu also features other dishes such as their New England clam chowder or an enormous Seafood Paella. While visiting beautiful Half Moon Bay, keep Sam's in mind and watch the crashing surf by a fireplace, dine outside under a cozy heat lamp, or settle into an Adirondack chair with a view.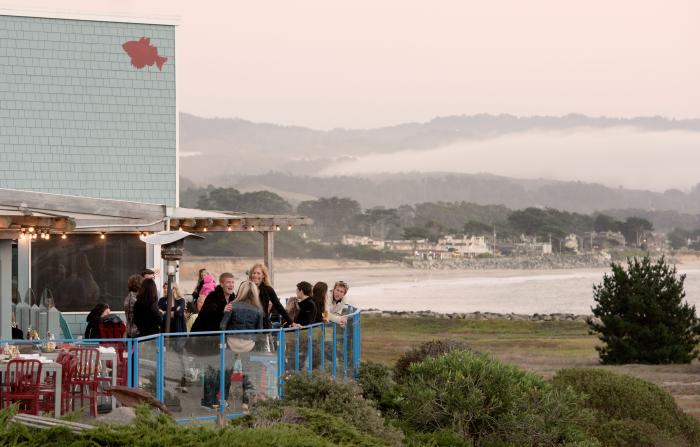 Nick's Seafood Restaurant

Located in Pacifica, Nick's Restaurant offers breakfast, lunch, and dinner daily in a relaxed atmosphere with extraordinary views of the Pacific Ocean. Fresh seafood is always available, and their extensive menu is sure to contain at least one of your cravings. Nick's bar and lounge are open daily for cocktails and appetizers and feature live music and dancing on the weekends. Listen to the sound of the waves rolling on the beach's edge and enjoy the beautiful cove, Rockaway Beach gives to its visitors. Tucked away from the hustle and bustle Nick's Restaurant and Sea Breeze Motel welcome and invite you to unwind.
 
Half Moon Bay Brewing Company

This award-winning brewery and restaurant has become a favorite for locals and is also a very popular destination for international travelers. The Half Moon Bay Brewing Co. offers striking views of Pillar Point Harbor and the Pacific Coast. Their selection of beer is quite unique; we highly recommend trying their "Full Swing" IPA or their "Calf-eine" Coffee Milk Stout or both! In addition to beer, the brewery also offers a wonderful menu that features locally sourced produce and seafood. The artichoke hearts and clam chowder are our favorites. To top it all off, if you happen to be visiting with your dog, the brewery is a dog-friendly establishment that welcomes your pooch with house-made dog treats and its very own Dog Menu!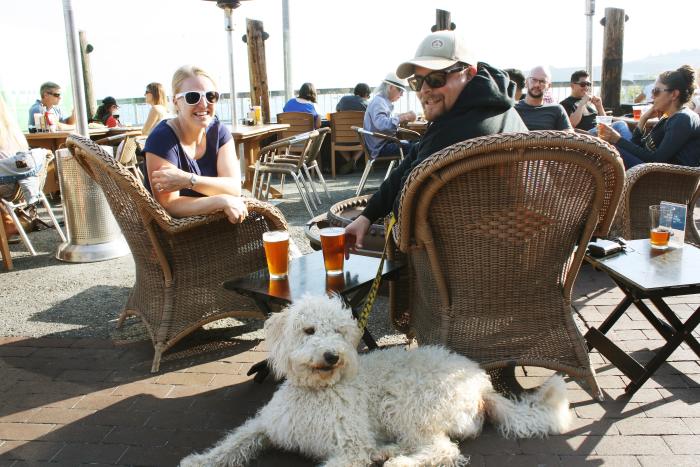 La Costanera

La Costanera spans two floors and provides diners with modern Peruvian cuisine and a stunning ambiance featuring ocean views and floor-to-ceiling windows. With a new location in Half Moon Bay, their outdoor patio includes fire pits and string lights, a perfect atmosphere for an evening drink, and with two full bars, they are certain to satisfy everyone's taste. Be sure to try the Pisco Sour, a classic Peruvian cocktail. Their dining areas can also be reserved, making them an excellent location for your next private event or party!
 

Miramar Beach Restaurant

Originally built as a speakeasy during Prohibition, Miramar Beach Restaurant has proudly kept the historical ambiance of the era while providing exceptional food and an unbeatable view of the Pacific Ocean. Try their weekly special every Thursday night or classics like their Crab Cakes, Seafood Chowder, or Filet Mignon. Their menu also includes a large selection of imported and domestic wines and cocktails. Enjoy live jazz music Wednesday-Sunday featuring pianist Terry Dinsley, named London's Best Jazz Musician of the Year. Perhaps best of all, the restaurant has a heated, pet-friendly dining patio, perfect for those chillier evenings in majestic Half Moon Bay.
Navio

Navio is the refined seafood restaurant at The Ritz-Carlton, Half Moon Bay. This elegant venue combines our county's local coastal flavors with fresh textures and savory accompaniments. The restaurant faces the gorgeous Half Moon Bay Golf Links and the Pacific Ocean, both offering a very relaxed atmosphere. Navio's exquisite menu features delicious dishes such as Mount Lassen Trout, Diver Scallops, and flavorful Pumpkin Soup!
 

Bayfront View Restaurants

AC Waterfront Lounge

This cool lounge is located inside the AC Hotel San Francisco Airport/Oyster Point Waterfront and is open to the public. The AC Waterfront Lounge's menu features a variety of Spanish-inspired entrees and shareable plates. The lounge also has a full bar featuring craft and signature cocktails (be sure to try the Karl the Fog cocktail!) local beer and wine selections. When in South San Francisco, make a reservation at the AC Waterfront Lounge for a nice dinner or drink (or both) and enjoy a wonderful view of the San Francisco Bay.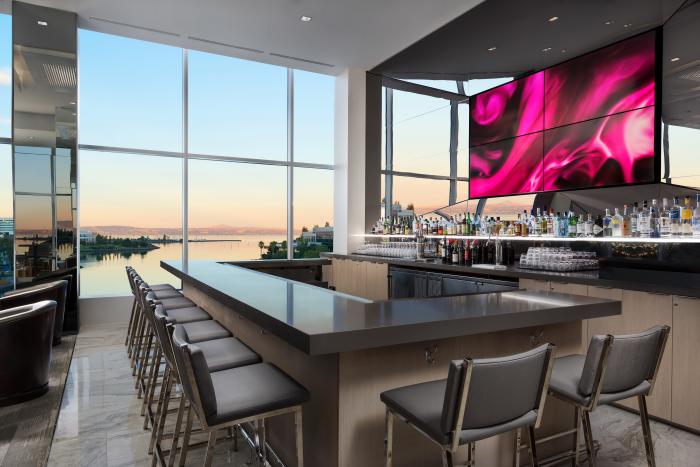 Kincaid's
For those traveling around San Francisco International Airport, Kincaid's is an absolute must! Located in Burlingame, this restaurant boasts a breathtaking location right next to the stunning San Francisco Bay. Their menu highlights delicious, American fare including seafood and steaks. From small plates to their impressive wine selection, Kincaid's menu features a little something for everyone, and it's a restaurant for any occasion. We highly recommend the exquisite oven-roasted crab & artichoke dip!

The Fish Market

Located alongside a quiet lagoon, The Fish Market in San Mateo features a tranquil atmosphere while serving fresh, locally sourced seafood. The Fish Market's menu features popular seafood items such as ceviche and fresh oysters. This lovely restaurant offers a full-service cocktail bar and lounge area. In addition, you can purchase fresh fish directly from their retail market or subscribe to their seafood box featuring chef recipes and a house condiment delivered monthly in the Bay Area. The Fish Market has been a dining destination for Bay Area residents since 1982 and is a great choice for dining when you visit the Peninsula!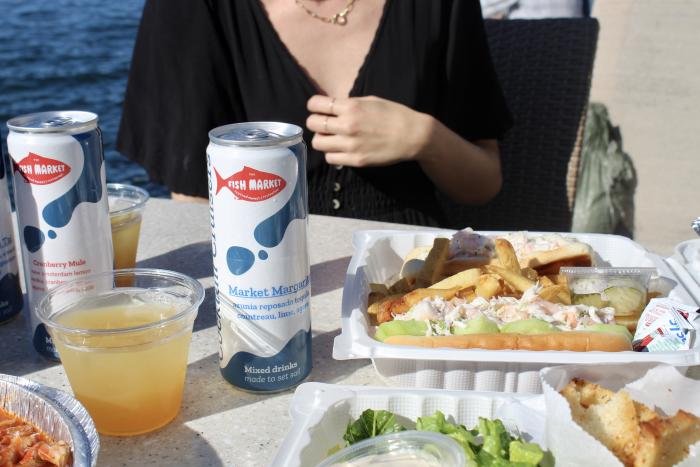 Golf Course View Restaurants
 
Par 3 at Poplar Creek

At the end of a beautiful green fairway on the Poplar Creek Golf Course sits Par 3, where you can enjoy a delicious meal and cocktail from the comfort of their outdoor patio. With Alicia Petrakis as Executive Chef, you can expect to find fresh, seasonal ingredients on the menu. Try their Oregon Cod Fish Tacos or Salmon Cakes with Lemon Caper Aioli. They also have a rotating selection of draft beers and signature craft cocktails. Head over for live music Saturday nights or even book your own private drive-in movie night!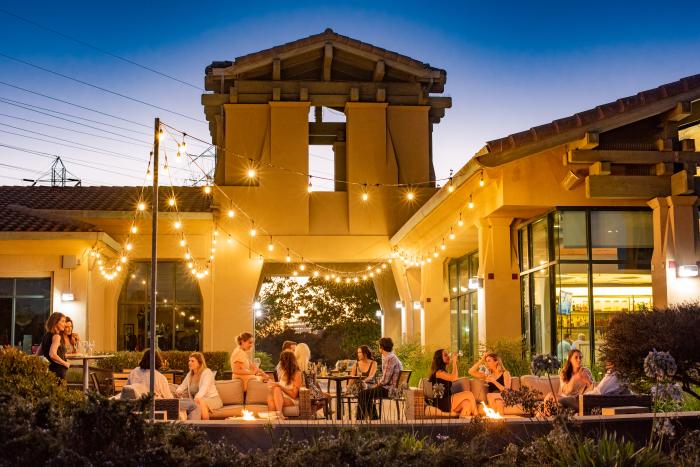 Mullins Bar and Grill

Located at the Half Moon Bay Golf Links next to The Ritz-Carlton, Mullins Bar and Grill serves locally sourced seafood and classic California fare. Their dining area is open to the public and offers panoramic views of the scenic golf course and the Pacific Ocean. Join them on Fridays for live music or on Wednesdays for a variety of made-to-order fresh pasta.
 
---

See all that The San Francisco Peninsula has to offer! Check out our digital visitor guide or order a printed version today and start planning your trip!