Latin Restaurants on The San Francisco Peninsula

Mexican, Peruvian and more!
There's nothing like Taco Tuesday! And luckily for you, we have amazing Mexican restaurants on The San Francisco Peninsula. Whether you're looking for a healthy and sustainable Mexican restaurant in Pacifica, CA or for a Latin tapas restaurant in Redwood City, you will find it here.

Or, maybe you're looking for a spot with great cocktails and appetizers. Downtown Burlingame is home to one of the best cantinas in the entire peninsula, offering handcrafted cocktails using some of the best and many local spirits and tequila.

Scroll down to learn more about some of the best Latin restaurants on The San Francisco Peninsula!
The Green Enchilada – Located in Pacifica, CA, this delicious and sustainable Mexican restaurant serves authentic and fresh Mexican cuisine. This restaurant follows authentic Mexican recipes for every menu item offered and they strive to help their customers discover the benefits of eating healthy Mexican food.

La Costanera – Experience the culinary richness of Peruvian cuisine at La Costanera. This modern Peruvian restaurant is located on the scenic California coast in Montara and overlooks the Pacific Ocean. The restaurant also offers a full bar featuring their famous "Pisco Sour", Peru's signature cocktail.

La Viga Seafood & Cocina Mexicana – This restaurant showcases Chef Manuel Martinez's unique bold flavors in his preparations of fresh ceviches, tapas, and entrees such as his grilled Mediterranean bass with saffron rice to grilled mahi-mahi filet with plantain rice. Visit this great Redwood City Mexican restaurant and enjoy an exciting selection of vibrant dishes and cocktails with your family, friends, and the local community at this bustling Michelin Restaurant.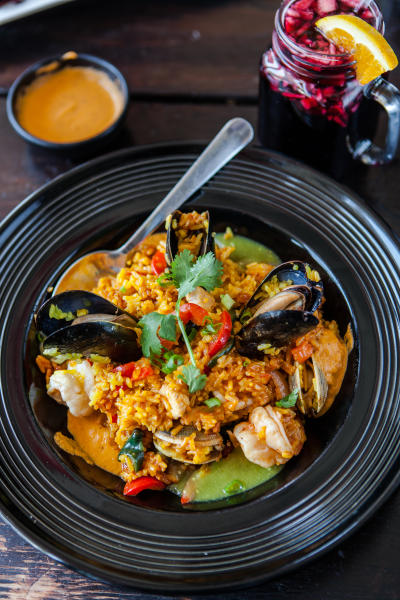 LV Mar Tapas & Cocktails – Creative tapas and artisanal cocktails make up the innovative menu at this Michelin Recommended restaurant in Downtown Redwood City. Taste and share a variety of exciting flavors from a diverse offering of tapas, highlighting all-natural taste characteristics – from sweet to savory to tart to tangy – of locally sourced ingredients into flavorful combinations meant to surprise and delight your palate.

Sixto's Cantina – Enjoy the combinations of home-cooked Mexican food using the freshest ingredients in a warm and contemporary atmosphere. This great Mexican restaurant in Burlingame offers delicious food that is best paired with one of their handcrafted cocktails using some of the best and many local spirits & tequilas.

The Cantina at San Benito House – This cantina features craft beer, tequila, & Mexican Fare located within one of the oldest buildings in Half Moon Bay. The atmosphere is fun, and the service is warm and friendly. Plus, live music and events are scheduled throughout the year.