Celebrate Women's History Month at two woman-owned distilleries on The San Francisco Peninsula. The region's coastal community and abundant agriculture have inspired the creation of locally crafted gin, vodka, and bourbon. Read on to learn more about the women behind these growing establishments and be sure to try their handcrafted spirits!
Half Moon Bay Distillery
When Jamie Baddour took over ownership of Half Moon Bay Distillery in 2021, she saw the opportunity to give it a new look that represented the beautiful city of Half Moon Bay. "I wanted to ensure I was giving the community a business and product everyone could be proud of," she said. Baddour commissioned local artist, Pete Collom, to design the bottle labels. "Choosing a local artist to capture the quintessential Half Moon Bay was important to me," she said.
With a new look and support from the community, Half Moon Bay Distillery has grown in the spirits market. They offer three handcrafted, small-batch spirits — HMB Vodka, HMB Gin, and HMB Lavender Vodka, which have received silver and gold awards in spirit competitions. The award-winning HMB Gin is made with botanicals from local San Mateo County farms, and it has a distinct citrus and floral-forward profile. The HMB Lavender Vodka received Double Gold in the Crafts Spirits Competition. 
Visitors can stop by the storefront to purchase bottles, and private tastings are available for $35 to try all three spirits. For team building events, Half Moon Bay Distillery can also host on-site cocktail-making classes!
Baddour also helped coordinate the Harvard Neighborhood Market, which brings local vendors from all over Half Moon Bay every 2nd Saturday of the month on the 100 block of Harvard Avenue. "We wanted to do something where people were outside and felt safe and could support local businesses," she said. Learn more about the market on their Instagram.
Baddour shared that "being a woman in a male-dominated industry and having my voice heard has been challenging. It takes longer for people to listen and learn from me than it would a man." Her advice for anyone starting out in the industry is to learn from each other and reach out to other distillers. "The community is a great one and supportive! There are more of us here than you think." 
Learn more about Half Moon Bay Distillery and contact them for private group options.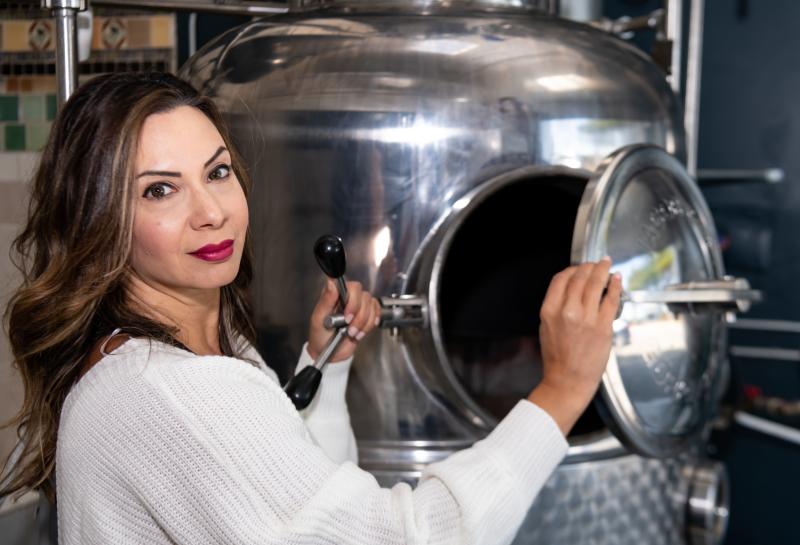 Owner Jamie Baddour, courtesy of Half Moon Bay Distillery
Jettywave Distillery, Half Moon Bay
Spend some time in Half Moon Bay and you'll come across an outdoor garden lounge filled with patrons and many of their dogs. The lounge is at Jettywave Distillery, a small-batch distillery that serves up delicious food and cocktails inspired by the California coast. Jettywave was started by three friends turned business partners — Mishelle Westendorf, Lucy Gillies, and Tanya Slye. "We decided at the beginning of COVID that we had to provide this community a fun and safe place where they can enjoy food and cocktails and sit outside during that wretched pandemic," Westendorf said. 
The first two years were a tremendous period of growth for Jettywave, with the launch of craft spirits including Half Moon Shine and Coastal Gin that quickly earned several awards. "We are now plotting out exactly how and when to add capacity, which in costly Silicon Valley real estate is difficult to plot," said Westerndorf. Though the high demand has been overwhelming, "our amazing staff and partnership are ready for this next great chapter," she added.
Westendorf is especially proud of their new Jetty Barrel Bourbon, which has pronounced hints of kettle corn and sea salt from the new oak aging in the harbor. "It is a true representation of the emerging new wave of California bourbon, which embraces the terroir of our awesome coastline," she said. "It is a fun time to be in the spirits business as a female management team." 
Westendorf's advice to anyone starting out in the industry is to attend the American Craft Spirits Association's 'Distillery 101' seminar. "It provides an unbelievable roadmap to the illogical complexity of this crazy Prohibition-era business," she said. "Have fun no matter what is thrown your way!"
Learn more about Jettywave Distillery and shop for their bottles here.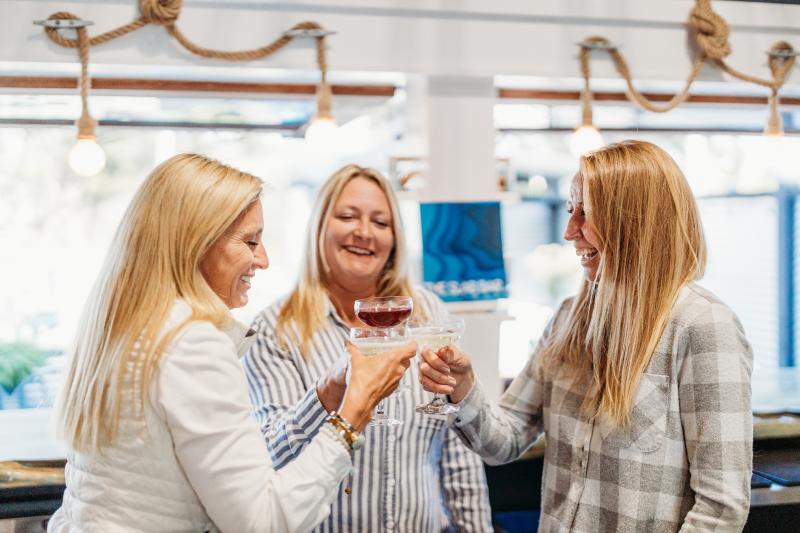 Partners Mishelle Westendorf, Tanya Slye, and Lucy Gillies, courtesy of Jettywave Distillery
---

Looking for more food & drink options on The San Francisco Peninsula? View our Insider's Guide and start planning your trip!