Calling all Instagrammers! Scroll below for all 10 locations and start snapping that camera. Most locations are completely up to your creative expression, but a few do have some special requirements. Happy sightseeing!

1. Sign Hill—South San Francisco
Welcome to the Bay! That's the kind of greeting you'll get at Sign Hill—which reads, "South San Francisco, the Industrial City," to be exact. Make sure to also wander around the trails as well; there are five and all offer picture-perfect views of the city below.
2. Japanese Tea Garden—San Mateo
Considered one of the finest gardens in California, the Japanese Tea Garden was designed by renowned landscape architect Nagao Sakurai of the Imperial Palace of Tokyo. Located in San Mateo, the garden features a granite pagoda, a charming tea house, a bamboo grove, and the koi pond. Speaking of which, make sure to get a snap of a koi fish in the background.

3. "Top of the World" Views—Hillsborough, Pacifica, San Carlos, San Mateo
The Peninsula is not only home to tech giants, but also amazing views and nature. There are many "Top of the World" locations and vista points scattered around the area with can't-miss views. Check out some of these in Hillsborough, San Carlos, Pacifica, and San Mateo!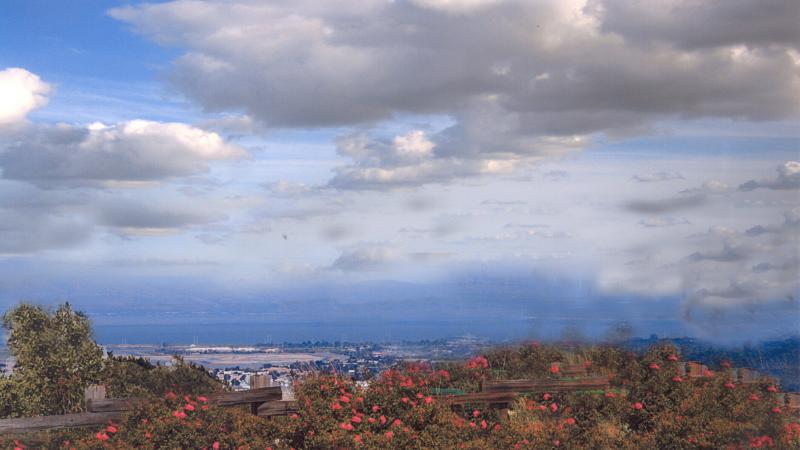 San Carlos Views - Photo by Sterri T. Creswell

4. Pulgas Water Temple—Redwood City
Built in 1938, the Pulgas Water Temple commemorates the completion of the Hetch Hetchy Aqueduct which brings water to Crystal Springs Reservoir from the Sierras 150 miles away. This is one of only three such temples in the U.S., modeled after those erected near canals and waterways by the ancient Greeks. The perfect location to get that perfect selfie!
 
5. Seal Point Park—San Mateo
Seal Point Park in San Mateo runs along the edges of the San Francisco Bay with stunning views across the water, pathways for walking and cycling, and a dog park. Visit the park on a clear fogless day and snap a photo with the San Francisco skyline and bay water in the background for an iconic Bay Area shot!
 
6. HP Garage—Palo Alto
Speaking of innovative companies, Hewlett-Packard was one of the first to make it big. The HP Garage in Palo Alto is not so much a garage as a private museum. Located at 367 Addison Ave., this is the exact spot where the company got its start. In fact, it's considered the "Birthplace of Silicon Valley." It might not look like much from the outside, but so much creativity happened behind these doors.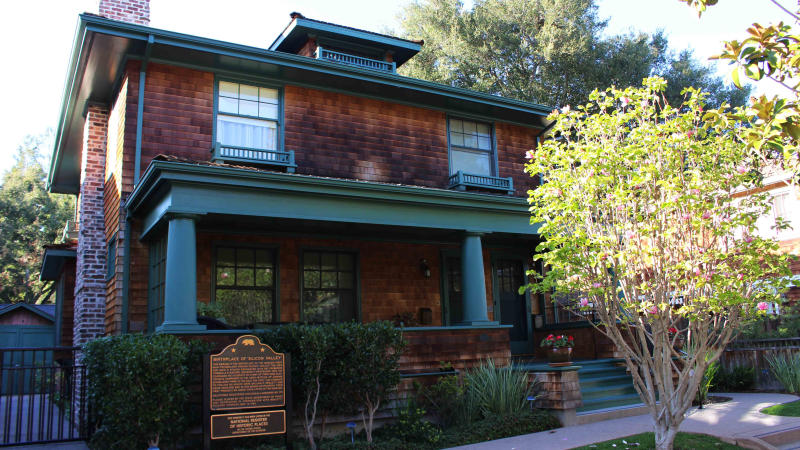 HP Garage - Photo by The San Francisco Peninsula CVB

7. Devil's Slide—Between Pacifica and Montara
Don't be fooled by this ominous name. Devil's Slide is one of the most gorgeous lookout points in the area, located between Pacifica and Montara on the San Mateo County coast, and you'll have unrestricted views of the water below. Granted, the cliffs are jagged and the slopes steep, but the paved path should help you keep your footing while taking a selfie. Devil's Slide is just south of Pacifica and north of Half Moon Bay, which leads into our next selfie stopping point.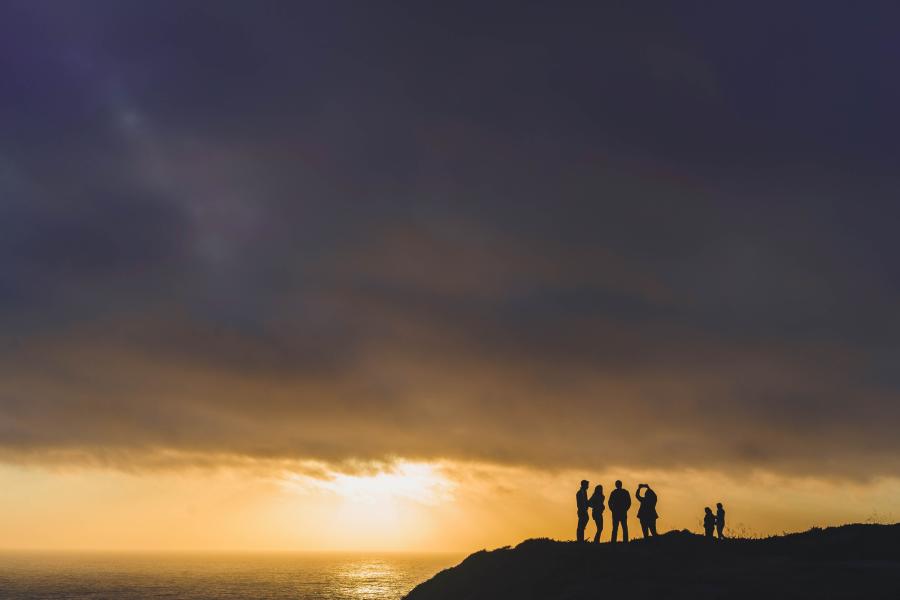 8. Cameron's Pub & Restaurant—Half Moon Bay
You don't have to cross the pond to experience a taste of Britain. Try Half Moon Bay hangout Cameron's Pub & Restaurant, which serves pub grub, beer, and several fresh seafood dishes, among other offerings. Best of all is the decor. The walls are lined with eclectic memorabilia, and outside are two double-decker buses straight from London. While here, snap a photo in the telephone booth.

9. Pillar Point Harbor—Half Moon Bay
Also in Half Moon Bay is Pillar Point Harbor, a boat harbor created by a riprap jetty. If you didn't order seafood at Cameron's Pub, definitely stop at one of the area's many restaurants for some fresh fare. Bonus entry if you get some of the seafood on one of the many boats in the photo. There are several hotels as well, in case you decide to spend the night…or a few. Plenty of water sports rentals as well, so plan a couple of hours for this jaunt.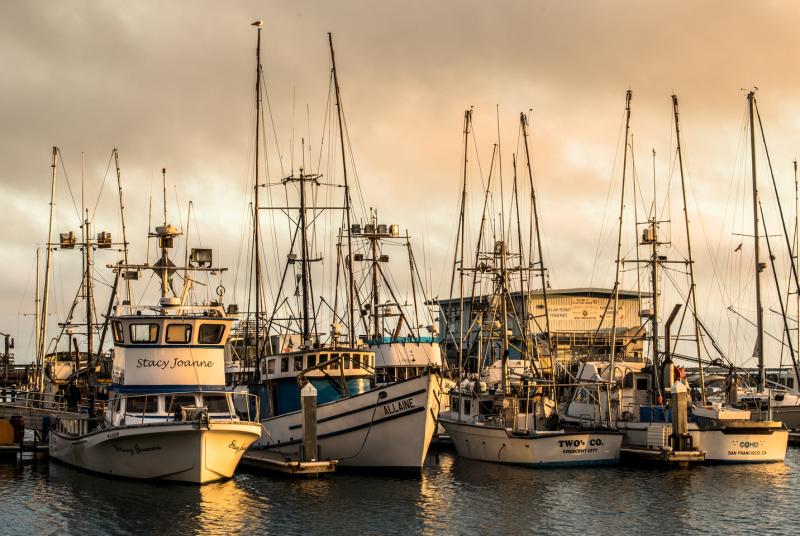 Pillar Point Harbor - Photo by Bradley Wittke

10. Pigeon Point Lighthouse—Pescadero
This lighthouse isn't just a lighthouse—it's a hostel, too! Located 50 miles south of San Francisco, the hostel is anything but humble; you'll find a hot tub and unrestricted views of the Pacific Ocean. The lighthouse itself has been here since 1872 and has guided the sails of many ships. Even if you're not staying as a guest, Pigeon Point Lighthouse is well worth the stop, if only for the view.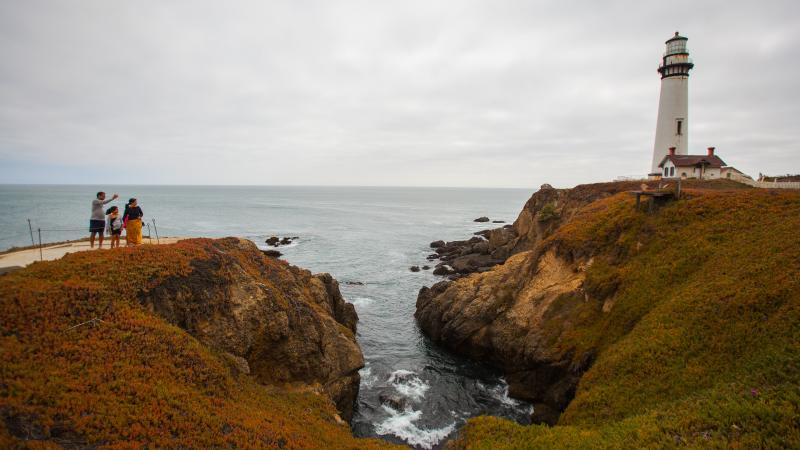 Pigeon Point Lighthouse - Photo by Charly Ramos (Food & Travel MX)
 
---

See all that The San Francisco Peninsula has to offer! Check out our Insider's Guide and start planning your trip!