We hope you're hungry because San Mateo County restaurants offer some of the best spots for outdoor dining! Our destination is packed to the brim with restaurants specializing in just about every type of cuisine, local and exotic. From craft breweries to northern Italian eateries, meals always seem better when enjoyed outdoors. Whether you're exploring Half Moon Bay or Redwood City, here are eight restaurant recommendations for you that offer great outdoor seating!
 
7 MILE HOUSE

If you happen to be in Northern San Mateo County, we highly recommend heading to 7 Mile House in Brisbane, CA! Established in 1858, the historic 7 Mile House is a family restaurant serving up a unique mix of homestyle Italian/American/Filipino food. Located in the SF Bay Area for over 160 years, 7 Mile House is the only mile house still standing in its original location! They are open for patio dining, as well as pickup and delivery. Their hours are Wednesday - Monday from 11:30 AM - 8:00 PM.
 

COCONUT BAY

Meanwhile, in downtown Burlingame, Coconut Bay Restaurant is one of the best Thai food restaurants in San Mateo County. Located on the corner of Howard and Park and only a block away from Burlingame's shopping district, Coconut Bay now has a beautiful and spacious outdoor patio for dining! Coconut Bay prides itself on serving authentic and delicious Thai cuisine and also offers Happy Hour on weekdays from 5 pm to 7 pm.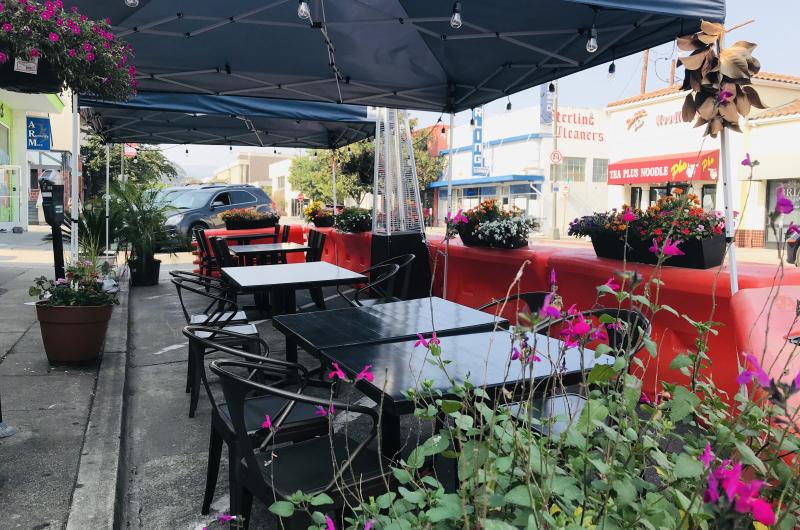 Outdoor Dining Setup at Coconut Bay

PAR 3 AT POPLAR CREEK

Moving down the San Francisco Peninsula and surrounded by trees and evergreen grass, Par 3 at Poplar Creek in San Mateo offers a unique menu and stunning outdoor views. With two outdoor patios, you can enjoy a delicious meal, sip on an artisan cocktail, or choose from 12 rotating craft taps, all while overlooking the gorgeous green golf course!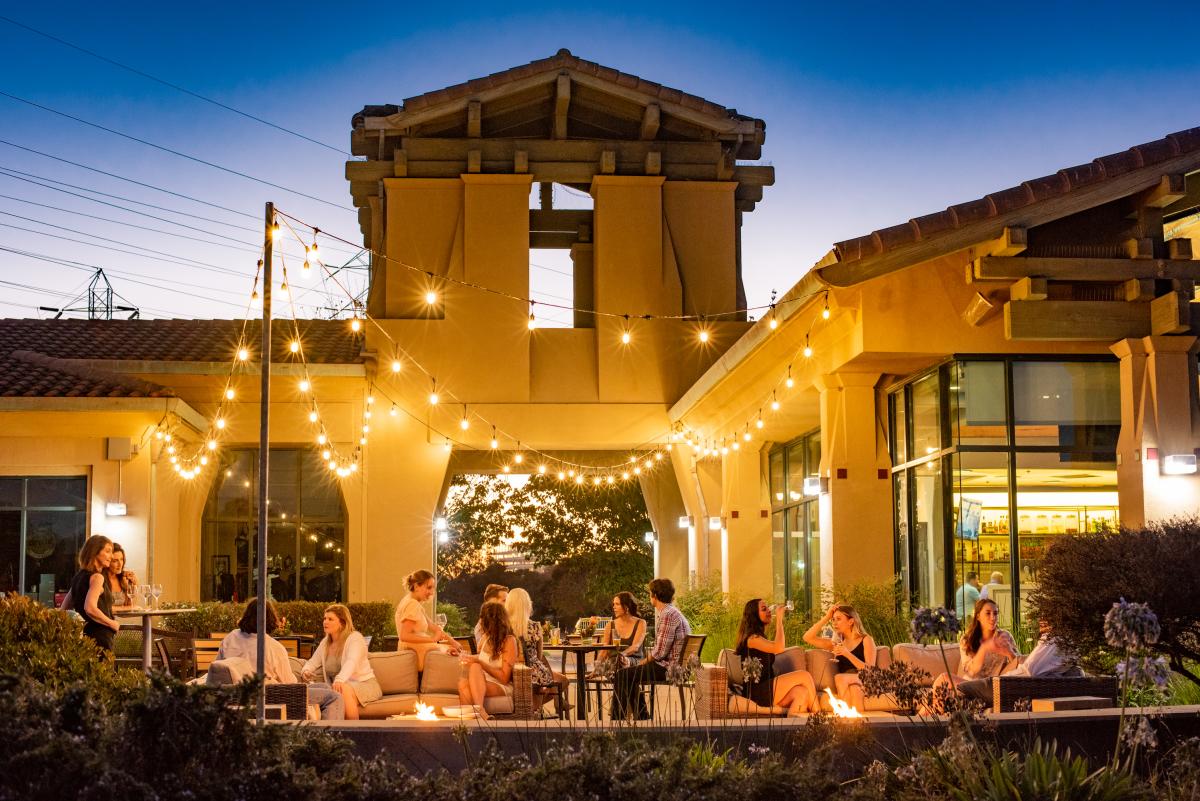 Outdoor Patio at Par 3 at Poplar Creek
JACK'S PRIME

If you're craving an American classic, families will enjoy some of the best burgers and milkshakes at Jack's Prime, as will anyone else with a hearty appetite. The outdoor dining area is casual, covered, and kid-friendly. The modern-day San Mateo diner is a go-to spot to enjoy flame-grilled burgers and hand-spun shakes, as well as beer, wine, and other Californian cuisine staples. Of course, there are plenty of vegetarian dishes as well. Local ingredients are used whenever possible, and for burgers, natural Niman Ranch beef.
 
ANGELICAS

Located in downtown Redwood City, Angelicas is a family-owned restaurant creating vibrant California cuisine dishes with Latin flair, and has been proudly serving the Redwood City area and beyond since 2006. Since then, their mission has been to provide high-quality food for all those that wish to combine fun and enjoyable ambiance with skillful cooking into one magical dining experience. In addition, their beautiful outdoor courtyards are perfect for any special gathering!
 

HALF MOON BAY BREWING COMPANY

Now, if you happen to be visiting our beautiful coastside, we have some additional options for you! After a full day of exploring the San Mateo County coast, you've earned yourself an ice-cold beer at Half Moon Bay Brewing Company. Swing by for a cold brew or a bite to eat and enjoy the view of the Pacific from the outdoor patio. The relaxed brewpub crafts its own beer and uses the finest ingredients available.
 
SAM'S CHOWDER HOUSE

Also, located in Half Moon Bay, Sam's Chowder House is a New England–style seafood house with a patio dining area that overlooks the Pacific Ocean. It's especially well known for its clam chowder and lobster rolls, so don't leave without ordering one (or both)! Sunset views are pretty spectacular from the patio, so try to plan for a late-afternoon or early-evening meal.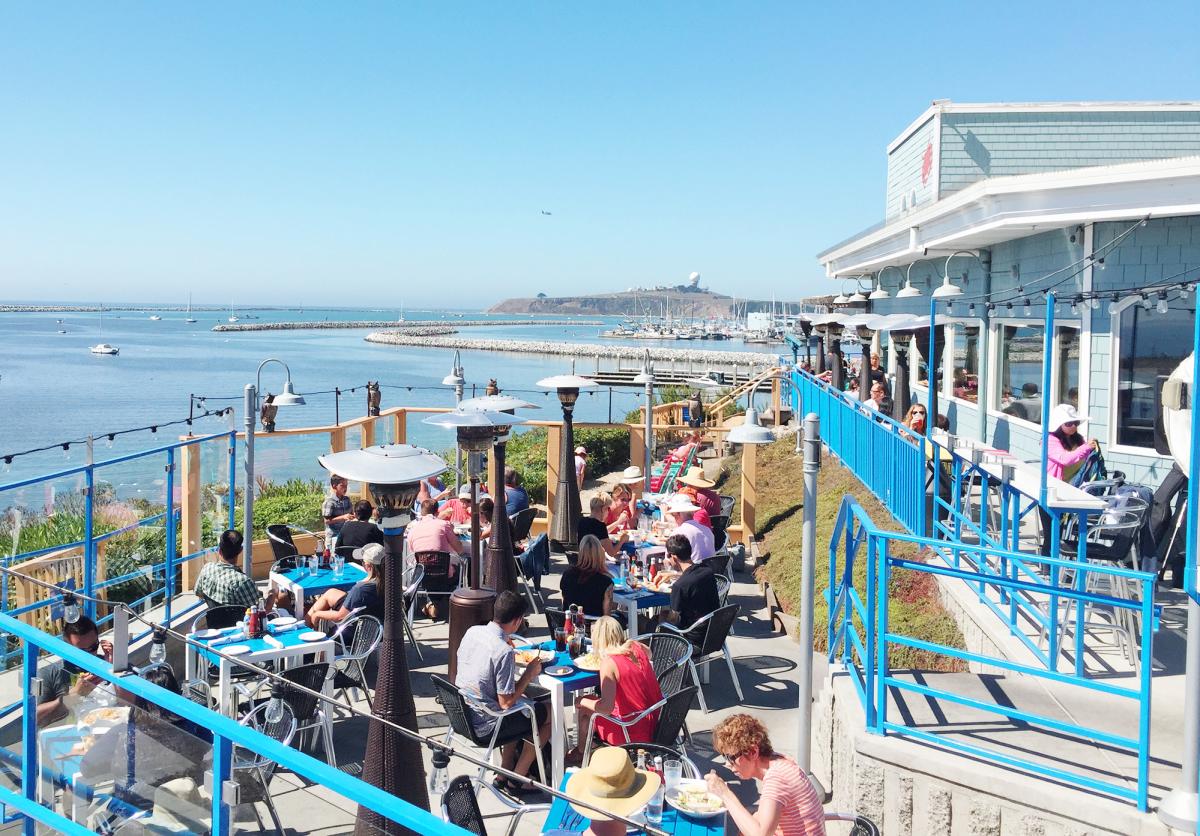 Outdoor Dining at Sam's Chowder House

FLYING FISH & GRILL

The Flying Fish & Grill was established in 1992 in beautiful Half Moon Bay and it has been serving customers for over 25 years! Since the restaurant has been serving the very best-tasting seafood at very reasonable prices. Their pet-friendly patio is also the perfect place to grab something to eat with your BFFs! Flying Fish & Grill offers Happy Hour every Monday-Friday from 2:30-6:00 PM, complete with a special drink and food menu. They also offer a great gluten-free menu with a wide variety of options.


For more restaurant options, check out the restaurant section of our website.
 
---

See all that The San Francisco Peninsula has to offer! Download our visitor guide today and start planning your trip!