If you're planning a trip to the San Francisco Bay Area, we highly suggest making sure Burlingame, CA is on your list of places to stop and stay along the way. Located in the heart of the Peninsula, just south of San Francisco, Burlingame is a quaint town with stunning waterfront hotels, beautiful bayside walking trails, downtown shopping, fun local parks, and water sports galore!

When selecting a hotel, we have a few suggestions for you! The pet-friendly Hyatt Regency San Francisco Airport is located right near the Bayshore and only a few miles south of the San Francisco International Airport. The hotel has 789 stunning guestrooms and suites with gorgeous water views, all situated around a spectacular indoor 10-foot atrium with tons of natural light and modern décor – you will truly feel like you are in Silicon Valley! Of course, they also have all the necessities* such as a fitness room, free WiFi, a heated outdoor pool and hot tub, an on-site restaurant with a bar lounge, and contactless check-in and check-out.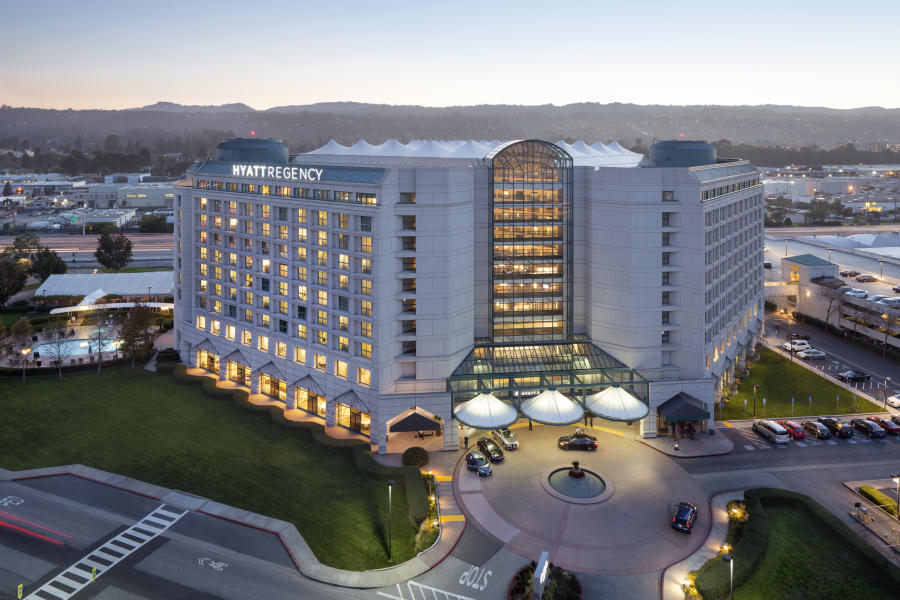 Another great hotel option to consider is the Hilton San Francisco Airport Bayfront Hotel which is located right on a gorgeous lagoon and is within walking distance to bayside Kincaid's Fish, Chops & Steaks. Let me just say, this restaurant is a must stop for lunch, happy hour, dinner, or all of the above! Please try their warm macadamia nut-crusted baked Brie appetizer – you can thank me later! The pet-friendly Hilton* offers an indoor swimming pool, a fitness center, and two on-site dining options: for lunch/dinner try Fire | Vine Grill & Bar, and for breakfast visit the Windows on the Bay Restaurant.

* (Due to Covid-19, some hotel services and amenities may not be available or may be limited during your visit. Please check with the hotel before booking.)

Once you've settled on a hotel, let's break down my top suggestions for things to do in Burlingame:

BURLINGAME AVENUE

PRO TIP: Locals call the downtown area, "The Ave" – short for Burlingame Avenue. If you say, take me to "The Ave", everyone will know where you want to go!  The Downtown Burlingame area – aka "The Ave". It's not far from the Bayfront hotels - you can walk or take a quick ride-share to town, and it will totally be worth it. Downtown Burlingame has so much to do! Here you'll find independently owned boutiques, name-brand retail stores, amazing restaurants and cafes where you can spend a whole day just exploring downtown. One of my suggestions for a must-visit store is Del'Oliva – come with your taste buds ready to try different olive oils and vinegar, and learn a whole lot that you never knew before. Eddie, the owner, is the absolute best. He will make sure you leave with something you will enjoy or a great gift for someone. Looking for even more options? We recommend you also check out Broadway - Burlingame's second downtown destination.
 

LOCAL PARKS

Burlingame is known as the "City of Trees". While you're visiting, be sure to take a stroll through one of the gorgeous tree-filled local parks scattered throughout the city. If you are in Downtown Burlingame, take a quick walk past the train station to Burlingame's oldest park, Washington Park. Here you will see some of these giant trees turned into wood-carved sculptures. This park is dog-friendly and is home to the community center where there is always something fun going on, including bocce ball, baseball, playgrounds, and gorgeous walking paths paved with fragrant roses.
 

Another great park that I highly recommend visiting is Bayfront Park located near the San Francisco Airport Marriott Waterfront and Hyatt Regency hotel. It's a small park, but bring your camera! Here you can admire airplanes taking off and landing over the Bay. PRO TIP: If you love seafood, Bayfront Park is within walking distance from New England Lobster Market & Eatery, a delicious local venue that offers comfortable outdoor and indoor dining, spectacular food, and fresh seafood to-go. Please do not leave Burlingame without trying a cup (or bowl) of their Lobster Corn Chowder! Check out some of our other favorite local parks.

SAN FRANCISCO BAY TRAIL

Burlingame truly is a special place and one of the main reasons why is that it hugs the Bay! Almost all of the hotels in Burlingame offer views of the water. Additionally, almost all of the hotels sit right on the San Francisco Bay Trail. The Bay Trail wraps 500 miles around the Bay Area. With walking and biking paths, bird and wildlife watching, and natural preserves dedicated to restoring the local wetlands, I highly recommend making the Bay Trail part of your stay in Burlingame. PRO TIP: Rent electric bikes for you and your family from ECOBIKE Adventures to explore the trail in style. They also offer guided tours of the area too.
Whether biking, running, or riding on the Bay Trail, be sure to stop and explore along the way. A few must-stop places to visit along the Burlingame Bay Trail: Coyote Point Recreation Area – here you can look for unique shells and stones on the Bayshore and watch local kite surfers, paddle boarders, and kayaks splash in the water. Inside Coyote Point Park you'll find the museum/zoo CuriOdyssey. Here, you can stroll through butterfly and hummingbird gardens and even say hello to a bobcat and river otter, all while learning about science. Perfect for animal and science lovers of all ages! Be sure to also stop in at Par 3 for food and drinks alongside the Poplar Creek Golf Course. PRO TIP: End your day at Par 3 and watch the glow of the sunset light up the gorgeous golf course and sip a cocktail fireside on their pet-friendly patio. The weather is so great in Burlingame, take advantage of eating outside! 
 

Burlingame is extremely family-friendly and a very safe and clean place to visit. Our affordable hotels make you feel like you are living in luxury, while our natural scenery and bay views provide tranquility and adventure at the same time. There are so many things to do in San Mateo County, that one blog couldn't even list it all! Make sure to visit our website for more information to explore all your options.
 
---

See all that The San Francisco Peninsula has to offer! Order a Visitor Guide today and start planning your trip!