With miles of Pacific Ocean coastline and mild temperatures year-round, you can expect The San Francisco Peninsula to have incredible surfing — and it doesn't disappoint! Offering some of the best surfing in the Bay Area, our beaches are perfect for both beginners interested in learning how to surf, as well as advanced surfers ready for a big break. Even dogs catch the waves here at the annual World Dog Surfing Championships in Pacifica.
The San Francisco Peninsula has a long and storied surfing history. The area has attracted surfers for as long as the sport has existed, but Maverick's in Half Moon Bay made San Mateo County one of the most famous (or infamous) surfing locations on the planet. While there are few in the world who are both brave and capable enough to tackle these 60 ft. waves, watching the annual Maverick's Awards Big Wave Contest from the coastline provides plenty of excitement. 
"If you haven't surfed Mavs, are you even pro?"
Surfing has become a cultural staple for locals and the locations are must-visit destinations for surfers around the world. There are beaches and waves that suit all skill levels on the Peninsula, so don't hesitate to partake if you are curious.
To help you plan your next surf adventure, here are the best beaches on The San Francisco Peninsula for surfing.
1. Linda Mar State Beach - Pacifica, California
Also known as Pacifica State Beach, this is a popular beach just 20 miles south of San Francisco perfect for beginner surfers. If you're looking for lessons, Adventure Out is a premier outdoor school specializing in surf lessons and surf camps. They offer children and adult classes at Linda Mar State Beach with experienced and certified instructors. Classes include all the gear and tons of fun!
2. Mavericks Beach - Half Moon Bay, California
Known for the famous Mavericks Festival surfing competition, this beach is for serious surfers only. Located just outside of Pillar Point Harbor in Half Moon Bay, waves can reach up to 60 feet! These massive waves are some of the largest in the world, bringing the best surfers to compete annually. Be sure to check out the iconic Mavericks Surf Shop for gear and rentals.
3. Surfers' Beach - Half Moon Bay, California
Protected by the Half Moon Bay jetty and located right off Highway 1, Surfers' Beach is a popular spot for surfers and boogie boarders. Across the way, there are several spots to refuel after a day of adventure, such as Half Moon Bay Brewing Company and Sam's Chowder House.
4. Rockaway Beach - Pacifica, California
Located just north of Linda Mar State Beach, Rockaway Beach is another great spot for intermediate to advanced surfers. The rip currents here can be strong, so surfers should have adept swimming skills and use caution.
Rockaway Beach also offers the only beachfront hotels between Pacifica and San Francisco, making for a perfect coastal getaway.
5. Montara Beach - Montara, California
On mild days, Montara Beach is a nice spot for beginner and intermediate surfers, though days with bigger swells can certainly challenge advanced surfers. This is a gorgeous beach to explore and also has opportunities for hiking.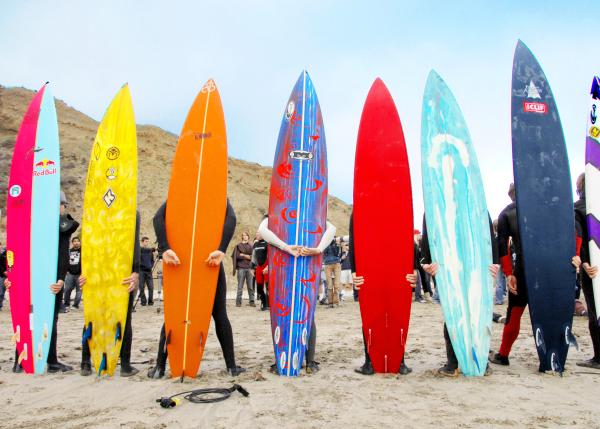 The water activities don't stop here! Whether you're looking to kayak on the Pacific Ocean, rent an electric boat, or take a marine wildlife tour. You can find it all on The San Francisco Peninsula.