HISTORY

The first planting of the Brussels sprout in California was in the 1920's and significant production beginning in the 1940's. Today, in San Mateo County, our farmers dedicate 788 acres to growing the Brussels sprout, and in 2018, it was the top vegetable grown in our county with a crop value of $14.2 million. Our coastal fog and cool temperatures year-round makes us the perfect place to grow this prosperous, edible bud!
But where do Brussels sprouts really come from? They are believed to have originated in Italy during the Roman times, but were first grown in large quantities in Belgium – its name comes from the country's capital, Brussels. They may have started to grow in Belgium as early as 1200, but it wasn't recorded until 1587. However, production in the United States began in the 18th century, when French settlers first brought the little cabbage-like crops to Louisiana.
California currently has several thousand acres of Brussels sprouts in the coastal areas of San Mateo (woo!), Monterey, and Santa Cruz counties. Their harvest season starts in June and lasts through January. The total production of Brussels sprouts in the United States is around 32,000 tons, valued at $27 million. About 80 to 85 percent of the production is for the frozen food market, while the rest is for fresh food consumption. The frozen food market is what actually sky-rocketed the production of Brussels sprouts in California.
 
ABOUT

Brussels sprouts are part of the cabbage family, more specifically, the Brassica family. Each little sprout grows on a stalk, and each stalk produces around 15 to 20 sprouts. These mini cabbages are a good source of dietary fiber, folic acid, manganese, and vitamins A, C, and K. Once harvested, they last for about three to five weeks frozen before wilting and discoloring. They last half as long in just the refrigerator.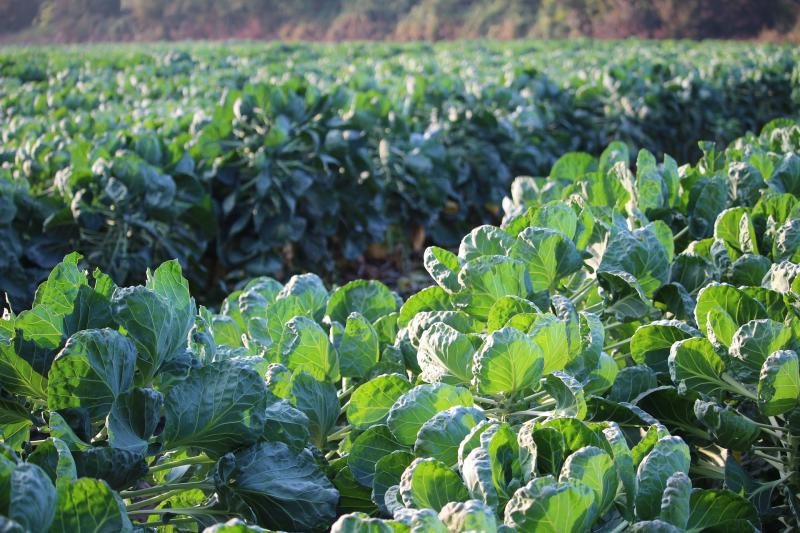 Today, in San Mateo County, our farmers dedicate 788 acres to growing the Brussels sprout, and in 2018, it was the top vegetable grown in our county with a crop value of $14.2 million.
FUN FACTS

- California's fertile fields produce more Brussels sprouts than any other state.
- An 80g serving of sprouts contains four times more vitamin C than an orange, and a cup of cooked Brussels sprouts contains only about 60 calories.
- Bernard Lavery of the United Kingdom cultivated a sprout that weighed more than 18 pounds.
- The little veggies supplied enough power to light up a Christmas tree on London's Southbank in 2013.
- Linus Urbanec from Sweden holds the record for most Brussels sprouts eaten in one minute, with a total of 31 consumed.
 
---

RECIPES

Try out some of our favorite Brussels sprout recipes from our very own "As Fresh as it Gets" cookbook!
 
Brussels Sprouts, Apple & Gruyere Soup by Marisa Johnston – Costanoa

Ingredients:
10 lbs. Brussels sprouts
3 ea. Large yellow onions
3 ea. Granny Smith apples, peeled
2 tbsp. Unsalted butter
4 ea. Garlic cloves, minced
1 tbsp. Dijon mustard
1 tsp. Thyme leaves, chopped
½ c. Heavy cream
1 tsp. Freshly ground nutmeg
4 c. Vegetable stock**
1 c. Gruyere cheese, thinly shredded
10 Thyme sprigs
 
Directions:
1. Cut an "X" on the bottom of each Brussels sprout, about ¼ inches deep. Blanch sprouts in boiling water for about 5-8 minutes. Remove and let cool. Julienne the onions into thin strips. Core the apples and cut into thin slices. Start a large saucepan over medium heat and melt the butter. Add the onions and let cook, stirring, until translucent but not brown.
2. When sprouts are cool, slice in half. Add the apples and 2/3 of the sprout halves to the onions and continue to sauté, stirring for about 10 more minutes. At this point, add about half-teaspoon salt and 1/8 teaspoon pepper. Add minced garlic and cook about 2 more minutes, stirring. Add stock and stir, heating until it comes to a simmer and continue to simmer until Brussels sprouts are fairly tender and starting to fall apart.
3. Run soup through a food processor in batches until smooth. Be careful if the soup is very hot. Only fill processor half full.
4. Return processed soup to the pan and stir in mustard, thyme, cream, nutmeg, remaining sprouts and half of the cheese. Taste for salt and pepper.
5. Garnish with pine nuts, a sprinkle of cheese and a sprig of thyme.
**Vegetable Stock:
Put 3 stalks of celery diced, one peeled carrot diced and one onion diced in a stockpot with 2 garlic cloves, a bay leaf, and 4 peppercorns. Add 1 gallon of water and simmer for 45 minutes.


Brussels Sprouts Roasted with Pancetta & Lemon – Chef Erik A. Cosselmon

Ingredients:
1 ½ lbs. Brussels sprouts peeled and cut in half
¼ Stick unsalted butter, cut into cubes
5 oz. Diced pancetta
1 Lemon, cut into small pieces
Splash olive oil
Salt and pepper to taste
 
Directions:
 
1. Blanch Brussels sprouts in well-salted boiling water until they are tender, but not falling apart. Drain off water and spread onto a tray to cool naturally (don't place them in ice water, which shocks them and affects the flavor). Drizzle olive oil, salt, and pepper over the Brussels sprouts. Place the pancetta on top with the lemon pieces and butter.
2. Place the tray in a 475-degree oven. Roast until the top starts to brown and then turn with a spatula. Roast until the top is brown and serve while hot.