Need a gift for a foodie in your life? Many local shops in San Mateo County and Silicon Valley have a variety of baked goods and specialty foods to choose from. It's a great way to knock out your holiday shopping list while supporting small businesses—a win-win! Read on for some of our favorite places to get delicious, personalized treats in the area.

BONJOUR BAKEHOUSE

Located in San Mateo, Bonjour Bakehouse is an artisanal bakery offering freshly baked goods. French Pastry Chef, Francois, and the team are passionate about creating delicious products while helping to sustain the environment — their packaging is 100% plastic-free and made with fully compostable materials. Shop for holiday gift boxes that include treats such as pear and gingersnap cookies, Ikon whole roasted coffee beans, dulce de cranberry, and more.
 
SWEET55

For those with a sweet tooth, SWEET55 Swiss Chocolates & Confections in Half Moon Bay is a great way to go. They work with the world's most sustainable Swiss vendors to source high-grade materials, and as a result, their award-winning Swiss chocolates are the purest you can find. Their holiday chocolate assortments make a delicious gift, and you can even purchase a "special message" box of chocolates—choose what you'd like to say and SWEET55 will spell it out in one of their seasonal chocolate messages.
 

GOURMET HAUS STAUDT

For a unique shopping experience, be sure to visit Gourmet Haus Staudt in downtown Redwood City. Not only do they go all out with festive holiday décor, but they have chocolate Santas, Marzipan, Stollen, Advent calendars, festive beers and so much more to make spirits bright! While shopping you can also stop into their beer garden and have a pretzel and liter before stuffing those stockings.
 

SIBBY'S CUPCAKERY

Add a personalized touch to your sweet treats with custom-order cupcakes from Sibby's Cupcakery in downtown San Mateo. With flavors like Choco Choco, Carrot Cinnamon, Coconut Snowball, there is something for everyone to enjoy. They are a peanut and tree nut-free bakery and also offer several gluten-free options.
 

LOMA MAR STORE & KITCHEN

Stop by this charming store and restaurant for all sorts of goodies. Loma Mar Store & Kitchen is well-stocked with gourmet cheese and charcuterie, beer and wine, and many local products and gifts. For the holiday season, choose from two beautifully curated gift baskets. The Chef's Companion basket includes unique flavors and quality staples for the curious cook, such as summer strawberry jam, plant-based fig salami, California poppy seeds, black truffle sea salt, and more. For holiday self-care, purchase a Relax & Restore basket which includes a sea salt scrub, sage bundle, lavender blossoms, and other soothing products.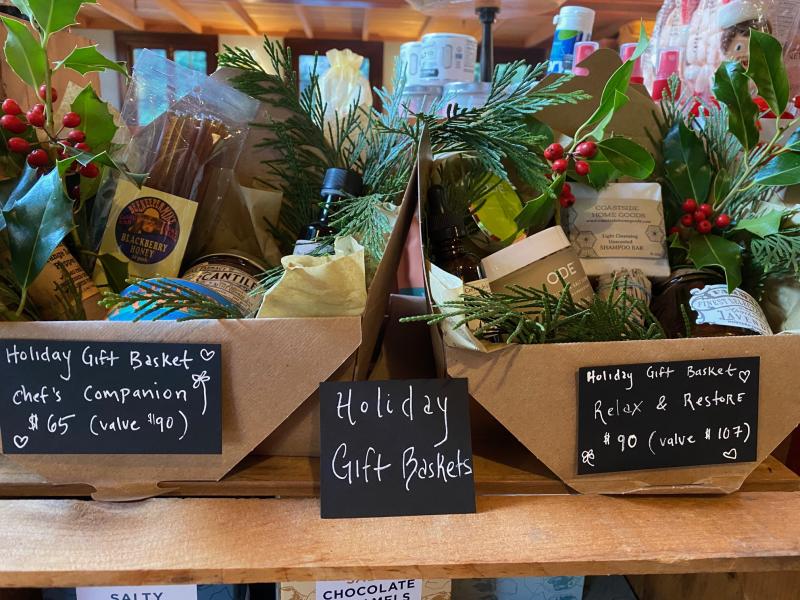 DEL'OLIVA

If you're searching for a gift for chefs and home cooks, Del'Oliva in Burlingame is a great addition to your holiday shopping. They specialize in premium olive oils and vinegar from around the world, and the owners, Eddie and Homa, offer a wealth of knowledge. Stop by to browse their wide selection of specialty foods and gift items, and sample combinations of their incredible oils and vinegar.
 
---

See all that The San Francisco Peninsula has to offer! Order a visitor guide today and start planning your trip!