Nestled between the Pacific Ocean on one side and the San Francisco Bay on the other, Woodside is known for its beautiful preserves and biking routes. Here are the top things to do in Woodside; a historical and charming town by the California redwoods!
Visit Filoli Historic House & Gardens
A must-see for garden and history lovers, Filoli is a beautiful 654-acre estate open to the public year-round. Visitors can plan to spend at least a few hours at Filoli strolling through the gardens, touring the 54,256-square foot historic home, walking the self-guided estate trail, dining at the Quail Café, and shopping for garden-inspired gifts in the Clock Tower Shop.
There is something new to see with every season. In the spring, tulips and daffodils bloom and fragrant magnolias fill the air. Enjoy Summer Nights with live music and refreshing drinks. Come fall, celebrate the harvest season at Orchard Days. And don't miss the Holidays at Filoli, where thousands of twinkling lights are on display.
Stay at Canyon Ranch
For a one-of-a-kind wellness retreat under the glorious redwoods, head to Canyon Ranch Woodside. This experience offers curated programs backed by more than 40 years of integrative wellness knowledge and inspiring rituals. Daily activities include expert-led workshops, creative classes, yoga sessions, outdoor activities, local excursions, meditation lessons, and more. Enjoy chef-made dishes meant to nourish and rejuvenate. Canyon Ranch has earned a San Mateo County "As Fresh As It Gets" Award for sourcing ingredients from local farmers.
Explore Vast Open Spaces
There are several parks in Woodside to center yourself. Favorites include Wunderlich Park, Huddart Park, and Windy Hill Open Space Preserve — all equipped with trails for hiking, biking, or horseback riding. Another great option is El Corte de Madera Creek Trail, where you can see the Tafoni Sandstone formed over thousands of years. Nearby is a massive redwood tree nicknamed Methuselah, which is estimated to be over 1,800 years old!
Stop by the Woodside General Store
Built entirely out of redwood trees, this historical structure was once used as a general store and post office. Now, the Woodside Store serves as a community center and museum, operated by the San Mateo County Historical Association. Visitors can look inside to learn more about the history of The San Francisco Peninsula back when it had a large lumber industry.
Grab a Bite Like a Local
After a day of exploring, head to one of several iconic restaurants in the area. Alice's Restaurant is a local favorite and popular spot for motorcyclists who like to drive down scenic Highway 84.
Another great option is Michelin-starred The Village Pub which offers a contemporary 3-course meal highlighting local cuisine.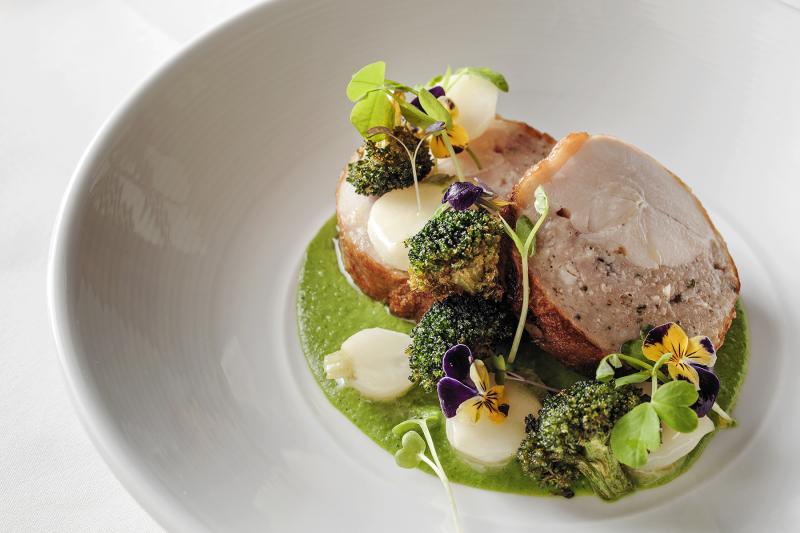 A meal at The Village Pub by Ed Anderson
Looking for more things to do nearby? Check our events page for upcoming festivals, seasonal events, and more!