Peninsula Restaurant Week returns from May 19-27, 2023, and it's time to explore the very best food that The San Francisco Peninsula has to offer. Indulge in special dishes from over 100 top-rated restaurants in this lively Bay Area region and discover new flavors and experiences. From vegan and Italian cuisine to farm-to-table fare, Peninsula Restaurant Week has something for everyone. This event is a chance to support local restaurants while savoring delicious food. To help you make the most of your visit, here are 9 restaurants to try during Peninsula Restaurant Week.
1. The Refuge
If you're in the mood for comfort food, head to The Refuge in San Mateo or San Carlos. Known for their hand-carved, boldly flavored navel pastrami, they also grind their own blend of hamburger on a daily basis and offer Belgian and craft beer on draft.
Special menu: Pastrami steak accompanied by creamy mashed potatoes, house-made gravy, and veggies.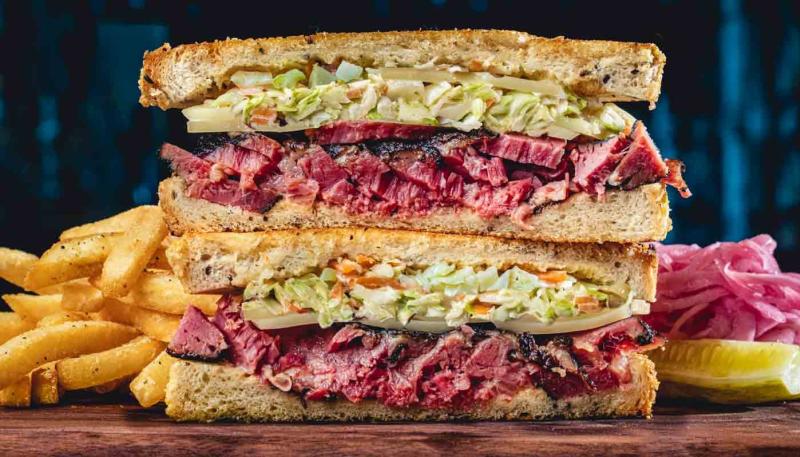 Pastrami sandwich at The Refuge. Photo courtesy of The Refuge.
 
2. Wildseed
For a vegan menu that is both creative and delicious, be sure to visit Wildseed in Palo Alto. This eatery serves up mouthwatering 100% plant-based dishes like polenta cakes, spicy yellow curry, and walnut neatball masala. Enjoy your meal in the airy indoor dining space or on the outdoor patio. Even non-vegans will be impressed by the flavors.
Special menu: 2-Course Lunch for $20 or 3-Course Dinner for $40. 
Lunch items include a small green salad and a choice of sandwich or Wildseed burger. Dinner items include a choice of curried cauliflower or polenta cakes, a choice of fresh pasta or neatball masala, and a vanilla-coconut panna cotta.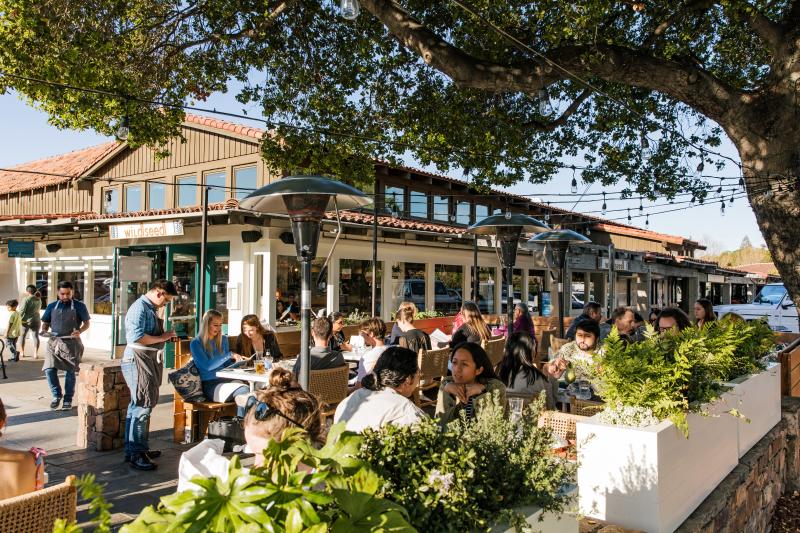 Outdoor patio at Wildseed. Photo courtesy of Wildseed.
 
3. 7 Mile House
Established in 1858, the historic 7 Mile House is a family restaurant in Brisbane serving up homestyle Italian, American, and Filipino dishes. Located in the SF Bay Area for over 160 years, it's the only mile house still standing in its original location. The restaurant is incredibly pet-friendly and won "Best Dog-friendly Restaurant" five years in a row by SF Weekly's Reader's Choice Awards.
Special menu: 3-course meal for $45 plus a drink.
Items include a choice of lumpia, fried calamari, or sweet chili garlic wings, a choice of the famous pork adobo with rice, Brazilian fish chowder, 7 Mile Burger, or fettuccine. Dessert options include ube tres leches, key lime pie, mango cheesecake, and much more. 
 

4. Jettywave Distillery
For a fun outdoor atmosphere, head to Jettywave Distillery in Half Moon Bay. This coastal gem serves refreshing craft cocktails and California-inspired cuisine in an inviting setting, and the outdoor garden lounge is a popular gathering spot for both locals and visitors. Pets are welcome, and the beach is nearby, making it a perfect day trip. Be sure to try the award-winning Coastal Gin or the new Jetty Barrel Bourbon.
Special menu: Once in a Melon cocktail made from the juice of fresh watermelon, cucumber, and ginger married with fresh mint from the outdoor firepit garden, paired with a saffron summer vegetable medley and harissa couscous.
5. Rosalind Bakery
Known for mouth-watering pastries and artisanal baked goods, Rosalind Bakery is a must-visit bakery just a block away from the Pacific Ocean in Pacifica. The mild ocean climate is the secret to their unique flavors, and they were recently hailed by the San Francisco Chronicle as one of the best Bay Area sourdoughs. Stop by and taste the difference for yourself.
Special menu: Real Philadelphia-style cheesesteaks and hoagies.
6. Maverick Jack's
Located right at the Broadway Caltrain Station in Burlingame, Maverick Jack's is the perfect spot to stop for classic American fare during your commute or for a fun night out with family and friends. This family-friendly diner serves up flame-grilled burgers, meal salads, hand-spun shakes, craft beers, and wine. And if you're in the mood for fresh air, be sure to check out their spacious outdoor dining patio.
Special menu: 1 Baja fries appetizer, 2 El Primo burgers with fries or side salad, and 2 dulce de leche shakes for $60.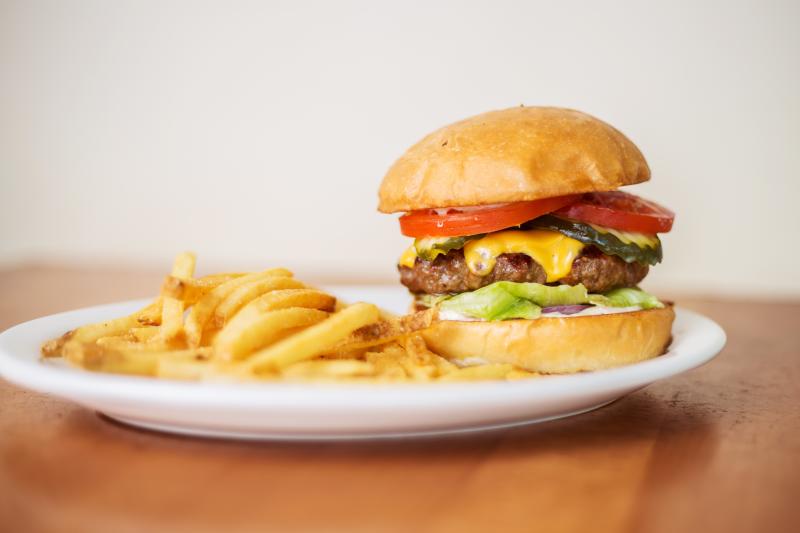 Classic cheeseburger at Maverick Jack's. Photo courtesy of Maverick Jack's.
 
7. SWEET55
For anyone with a sweet tooth, make sure to visit the award-winning Swiss chocolate shop, SWEET55 in Palo Alto. Working with the world's most sustainable Swiss vendors to source high-grade materials, SWEET55 produces a delicious selection of chocolate products made freshly and in small batches.
Special menu: Dessert box for $32.50 featuring four artisan cookies: chocolate chunk cookie (Einkorn flour), Swiss Amaretti cookie (flourless), Swiss Bricelet cookie, Florentiner cookie; one chocolate snack bar; an assortment of four chocolates; and an assortment of five pate de fruit (fruit jellies).
8. Fattoria e Mare
Craving fresh seafood? Look no further than Fattoria e Mare, a vibrant Italian eatery in Half Moon Bay that specializes in sustainable and organic ingredients. The restaurant also offers in-house charcuterie/salumi and freshly made pasta that will leave your taste buds dancing.
Special menu: 4-course dinner for $75 with a choice of Dungeness crab cake or grilled asparagus poached egg, fresh hand-cut bolognese or artichoke tortellini, grilled tagliata steak or king salmon with vegetable vignarola, and panna cotta or semifreddo.  
9. iTalico
Upon entering iTalico, you'll be greeted by the sights and sounds of the open kitchen and bar and the smells of fresh pasta and pizzas. Located in Palo Alto, iTalico serves authentic Italian cuisine and takes pride in carefully sourcing fresh ingredients. The curated list of Italian wines perfectly complements the flavors of each dish, creating an unforgettable culinary experience. Open since 2016, the restaurant has earned itself a prestigious Michelin Bib Gourmand award. 
Special menu: Menu items include tomato bisque, arancini, sea urchin bucatini with Kaluga caviar, black truffle and pork sausage risotto, and pan-seared scallops with fava bean puree.
---
With so many local restaurants offering unique menus, Peninsula Restaurant Week is the perfect chance to try something new or revisit a favorite spot. So, get your forks ready and join this culinary adventure by checking out the must-try restaurants on our list.