Italian Restaurants on The San Francisco Peninsula

Whether you're looking for an Italian restaurant that offers a wide variety of wines, an East Coast-inspired pizza, or an Italian restaurant that offers fresh, farm-to-table dishes, you will find it all here on The San Francisco Peninsula.
Restaurants & More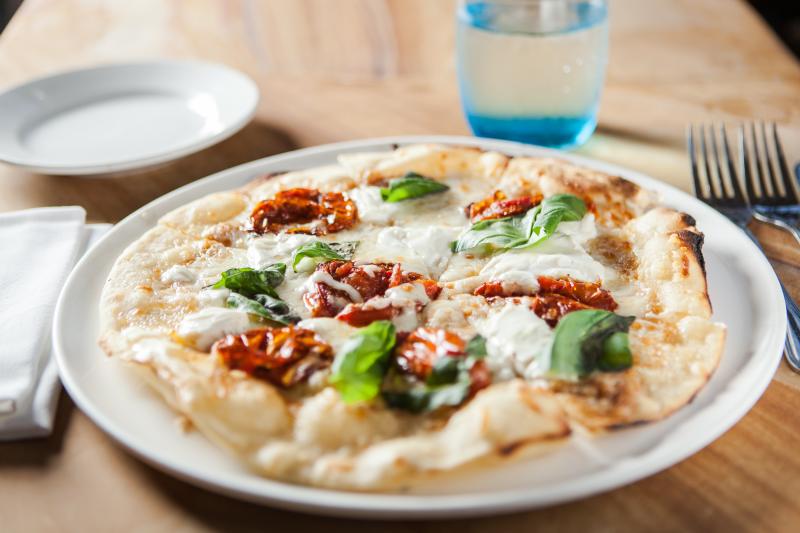 Photo Courtesy of Pasta Moon Ristorante & Bar
Mezza Luna
Nestled in cozy Princeton Harbor, Mezza Luna Italian Restaurant has been a Half Moon Bay favorite since 1993. Family-run for over 30 years, the menu is contemporary Italian with a California flair. Dishes range from homemade pastas and local, fresh seafood to organic meats and Roman-style pizza. In addition to the full-service bar, its wine list is a blend of California and Italian varieties, hand selected to complement its cuisine.
Osteria at Domenico Winery 
Inspired by traditional Italian osteria, Osteria at Domenico, is a playful eatery and bar, drawing inspiration from an aspiring post-war Italy, where street cafes were brimming with life and passion. They offer timeless fare like Cicchetti (small plates), pizza, casual bites, wine, and espresso. The osteria also features to-go bites like sandwiches and Panini for those looking for something quick.

Pasta Moon Ristorante & Bar
Located in Half Moon Bay, Pasta Moon embraces owner and chef, Kim Levin's vision of Farm to Table by using only organic, in-season ingredients to create our contemporary Italian inspired cuisine. Their menu features their delicious home-made pasta, in addition to fresh seafood, the finest cuts of meat & poultry, gelato and desserts, and an extensive Italian Wine list.

Pausa Bar & Cookery
Pausa, Italian for "pause," offers fresh and authentic Italian fare made from scratch with the bounty of Northern California ingredients, paired with an all-Italian wine list, craft cocktails, and spritzes. This great Italian restaurant in San Mateo is a place where guests can take a short recess from their daily pace of life and enjoy a dining experience that transports them to a place of leisure.

Pinstripes
At Pinstripes, you will find delicious food cooked with quality ingredients that bring people together. From their fresh pesto to seasonal gelato and sorbets, hand-rolled gnocchi to hand-stretched pizza dough, they take pride in serving superior Italian/American dishes in San Mateo.

Stella 
The menu at Stella infuses the flavors of the Alps; including braised meats, risottos, pastas and ragus. This Italian restaurant in Burlingame features Chef Matteo's signature dishes such as Veal Osso Buco over Mascarpone Polenta and Nonna's Housemade Potato Gnocchi, which are sure to leave customers wanting more.

Vina Enoteca
Located at the Stanford Barn, Vina Enoteca brings the rustic charm of Italy to the Silicon Valley with food that warms the soul in a setting unlike any other. Come to this Palo Alto restaurant and gather with family and friends and sip fine wine, craft cocktails and savor modern Italian cuisine in a comfortable setting. In addition, their fantastic team will make sure to guide you through an unforgettable dining experience.
 
PIZZA!

Amici's East Coast Pizzeria
With a focus on authenticity, friendly service, customer satisfaction, and with carefully measured growth, Amici's has become the Bay Area's standard for high-quality, freshly made pizzas, pastas, and salads. Their two locations in San Mateo and Redwood City offer some of the best pies in our destination.
Atlas Pizza Parlor
Atlas Pizza Parlor is located in San Bruno and has a unique menu offering delicious Indian and Pakistani-inspired pizzas, pastas, sandwiches, salads and appetizers. Ordering online from their website and picking up at the store will reward you with 15% off your order!
iTalico Ristorante Pizzeria Wine Bar
The team at iTalico cherishes fresh local ingredients, importing only the best raw materials for their pasta and pizzas, and offer a carefully selected list of Italian wines. Open since 2016, the restaurant has earned itself a prestigious Michelin Bib Gourmand award!