As you might have heard, the fall season is arguably the best time to visit The San Francisco Peninsula. The cool, crisp air and colorful vegetation is best experienced in a warm sweater. From a sea of orange pumpkin patches and farms to picking wild sunflowers, seeing breathtaking fall foliage on hikes and visiting cozy restaurants with fall-themed menus - there are countless ways to experience autumn here on the Peninsula.

Plan a visit and indulge in all your favorite fall activities and pumpkin-flavored sweet treats. Whatever your interest is, here are a few great ideas to start planning your fall getaway.

1. Pumpkin Patches and Farms on The San Francisco Peninsula
Here is where the fun begins! Open daily starting September 8, 2023 from 9:00 AM to 6:00 PM, Farmer John's Pumpkin Farm is one of the most popular pumpkin farms in Half Moon Bay. The farm offers more than 60 varieties of pumpkins and squash that are perfect for carving or baking pie! Farmer John's Pumpkin Farm is located just off Highway 1 at 850 Cabrillo Hwy and is a great place to take the family. Meanwhile, Lemos Farm specializes in family-friendly activities, which turns this farm into "Halloween Palooza" with a haunted house, Ghost Train, and tons of pumpkins from which to choose! You have likely already seen the activities at Lemos Farm from the road if you've driven the stretch of Highway 92 between Half Moon Bay and Skyline Blvd (Route 35). While they have events year-round, Lemos Farm comes alive in a special way during holiday seasons.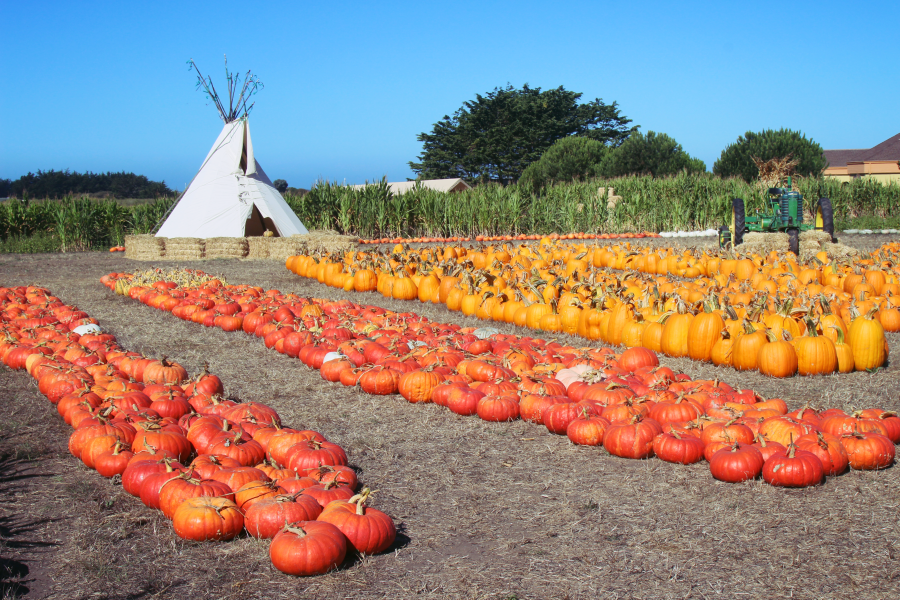 Farmer John's Pumpkin Farm
Also located in Half Moon Bay and just off Highway 1 is Arata's Pumpkin Farm - another great spot to visit with the family this fall. Arata's allows you to lose yourself in their six-acre corn field and pumpkin river!  Want more options? Check out our list all of the u-pick and pumpkin farms in the area.

2. Fun Family Activities This Fall
Plan a visit to the beautiful Filoli Mansion & Gardens! Located in Woodside, Filoli is offering a wide variety of events this fall including their Orchard Days every weekend from September 23 - October 29, 2023 from 10:00 AM - 5:00 PM as well as Monday, October 9. Every year, Filoli's fruit trees produce pears, apples, grapes, persimmons, and more. Additionally, by visiting on Orchard Days, you'll gain special access to the Gentleman's Orchard where hundreds of heritage fruit trees grow. Each weekend during Orchard Days is centered around a theme and features several community partners. Celebrate Hispanic Heritage Month on September 23-24 with live music, food trucks, dance demonstrations by Folclórico Colibrí, a display of Dia de los Muertos Ofrenda, and more! 
Filoli is well-known for its gorgeous gardens and historically significant estate. The location is perfect for a relaxed, easily enjoyable day on the Peninsula.
Other weekend activities include learning about pollinators and California agriculture with Pie Ranch, Norcal Bats, The Bay Area Puma Project, and Bay Area Herpetological Society.
Be sure to also check out our events page for more fun seasonal events.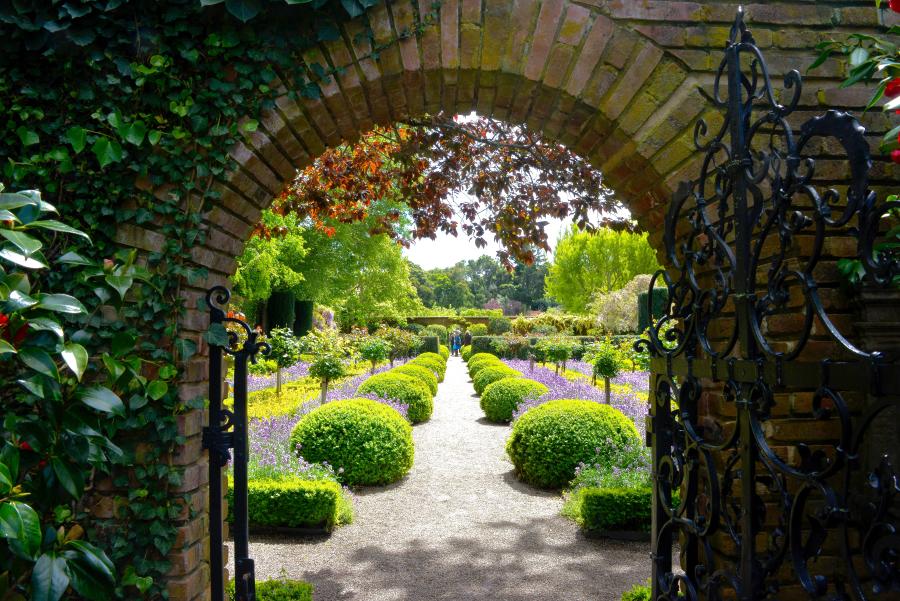 Gardens at Filoli

3. Fall-Inspired Menus
Over in Half Moon Bay, the Half Moon Bay Brewing Company is offering their popular Pumpkin Harvest Ale. This full-bodied Amber Ale is made with locally grown sugar pie pumpkins roasted with a secret blend of spices, which result in a subtle pumpkin pie spice flavor balanced by a biscuit of maltiness. Their menu also typically offers seasonal favorites such as pumpkin soup, pumpkin cheesecake, and other specials made from local squashes. They are open for take-out and outdoor dining on their beautiful patio overlooking Pillar Point Harbor!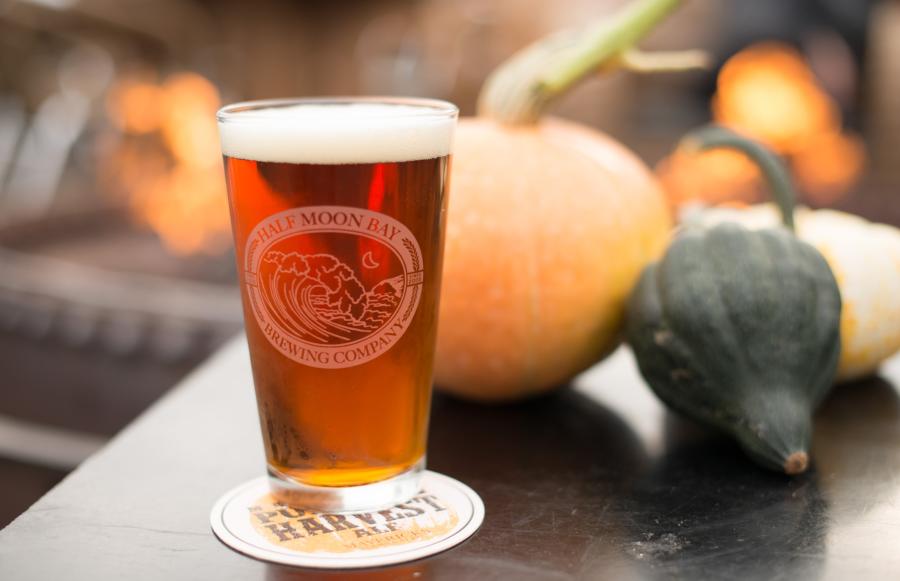 Pumpkin Harvest Ale at HMB Brewing Co.
Any cheese lovers out there? Harley Farms Goat Dairy in Pescadero is home to award-winning goat cheese! Harley Farms is also open for tours, where guests can tour the grounds, meet the goats, and learn more about how to make cheese and run a successful dairy farm. Keep an eye out for seasonal specialties such as the Pumpkin-Spice Fromage Blanc, a slice of deliciously creamy cheese with a pumpkin flair. Harley Farms is open daily from 11:00 AM to 4:00 PM, and tours are available. 
4. Half Moon Bay Pumpkin Celebrations and Events
Celebrate pumpkin season in the Pumpkin Capital of the World! The 51st Annual Safeway World Championship Pumpkin Weigh-Off is back again this year on October 9th, 2023 from 7:00 AM to 11:00 AM. The contest and supporting festival occur on Main Street in Half Moon Bay. Pumpkin growers will gather for an opportunity to compete for the heaviest pumpkin at this incredible annual event. The winner will take home a $9 per pound reward for their champion mega pumpkin and a special $30,000 grand prize will be awarded if a pumpkin breaks the world record. The standing threshold is currently 2,703 pounds set at a 2021 weigh-off in Italy.
The grand champion pumpkin (along with the top four overall) will be on display at the Half Moon Bay Art & Pumpkin Festival on October 14-15, 2022 from 9:00 AM to 5:00 PM. This iconic festival is free for everyone and will feature nonstop entertainment, live music, pumpkin carving, harvest-inspired fine arts and crafts, and so much more!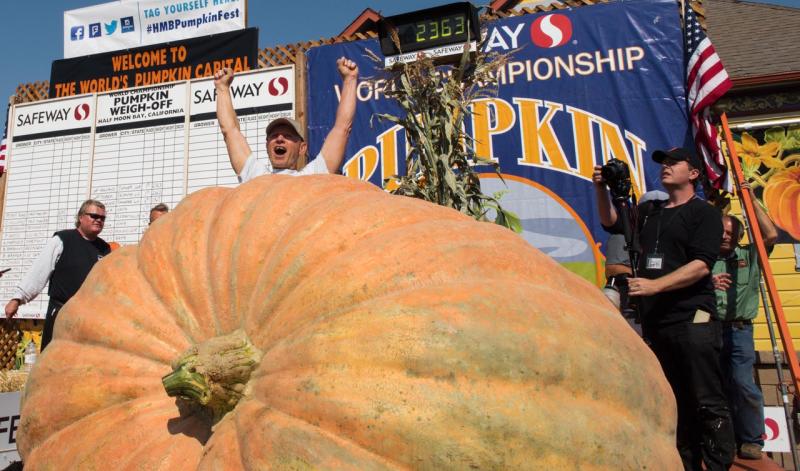 Annual Safeway World Championship Pumpkin Weigh-Off

5. Pumpkin Glass Blowing in Half Moon Bay
Are you looking to take home a beautiful glass pumpkin? Plan a visit to Half Moon Bay Art Glass this fall and check out hundreds of one-of-a-kind glass pumpkins available for purchase, each one personally handcrafted by owner, Douglass C. Brown, who works year-round to create this spectacular display. Interested in making your own pumpkin? You can make your own glass pumpkin or one of eighteen different other hot glass projects at Half Moon Bay Art Glass. Classes are on the weekends and sometimes Friday based on demand. Be sure to use code LEMON40 for 40% off!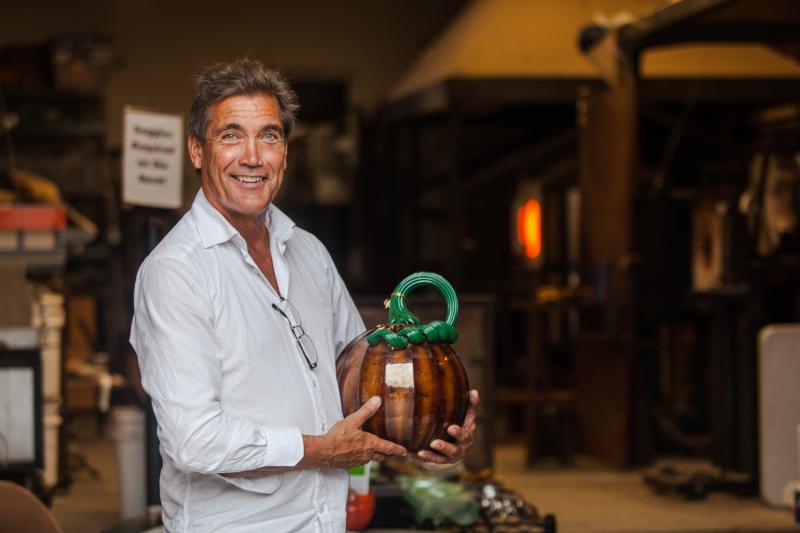 Douglass C. Brown, owner of HMB Art Glass
 
---

See all that The San Francisco Peninsula has to offer! Download our visitor guide today and start planning your trip!